Will Hannah Brown and Tyler Cameron Get Together Post-'Bachelorette'?
I investigated.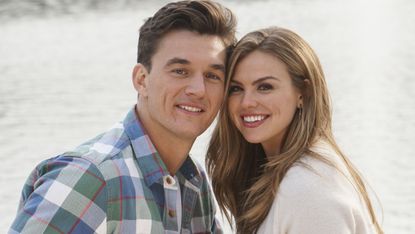 (Image credit: Mark Bourdillon)
Major spoilers for The Bachelorette ahead. Tyler Cameron firmly established himself as a fan-favorite on Hannah Brown's season of The Bachelorette. Hannah didn't pick Tyler—he came in a very close second place—but her engagement with Jed Wyatt torpedoed within a few weeks following the show. Ever since they learned this news, fans have had one question (well, one question that doesn't have to do with the infamous villain Luke Parker): Will Hannah and Tyler get together now that Hannah and Jed are done?
There have been no definitive spoilers, so fans are essentially just speculating at this point. But, there are some signs that the pair is on good terms, and Tyler has set himself apart from the other bachelors by vocally, actively defending Hannah against unfair criticism. So will they, or won't they? Here's the evidence so far.
Hannah told Tyler on the finale that she was falling in love with him.
Update, 7/29/19: We are in the process of watching the two-part finale, and Tyler meeting Hannah's parents was so sweet and lovely. Tyler's parents even addressed the whole consent situation during overnights (having your parents ask your new boyfriend about your sex life together feels like it would be SO AWKWARD). Of course, he handled it like a champion and said that he loved and respected their daughter. He basically charmed the heck out of them. Hannah's parents admitted that the bar had been set really high after Tyler (I feel like they have good insight about the two guys, honestly). And Hannah's parents had big doubts about Jed. Good call, guys.
At the end of their date, Hannah told Tyler she was falling in love with him, and Tyler at one point said he wanted to be married and have babies with her (bawww). It's also obvious that Hannah has a strong connection to Jed and doesn't love that her parents aren't fully on board, which is definitely foreshadowing. Watching all this and knowing what we do is truly painful.
Given their chemistry and Tyler's sweet, earnest nature, I still have some hope that their love can be salvaged. The big Hannah-Tyler conversation is still TBD, but it's probably even more important than anything else on "After the Final Rose."
Tyler just began following Gigi Hadid.
Update, 7/24/19: Well, this is upsetting (although it could be nothing): according to Us Weekly, Gigi Hadid followed Tyler on Instagram, and a few minutes later he quietly followed her back. In addition to breaking Bachelor Nation's heart, this might be a less-than-ideal indicator about Tyler and Hannah's potential future together. Let's break it down.
Of course, Tyler is allowed to follow whomever he chooses. And generally speaking, success on the show can lead to famous fans (see also: Demi Lovato and Mike Johnson fangirling over each other in the cutest way). But there's a reason why "sliding into your DMs" is absolutely a thing on Instagram. People use it as a way to connect, both romantically and platonically.
Fans certainly took it as a sign that they officially don't have a shot at the footballer-model. I mean, who can compete with Gigi? But if the new connection resulted because the two are interested in dating, it also means that nothing's happening between Tyler and Hannah. This is speculation, of course, and I would argue that this thinking would also impact Tyler's chances as Bachelor. TBH, we may just have to wait for what might be the most significant "After the Final Rose" in a long time, when we finally discover what Tyler's thinking and feeling. But I'm becoming less and less hopeful that it's a coupling between him and Hannah.
Spoilers aren't indicating a Tyler-Hannah pairing yet.
Update, 7/17/19: According to Reality Steve (who, granted, isn't always right) says there's nothing happening between Tyler and Hannah post-show. He says they're not getting together on "After the Final Rose," and their on-screen chemistry has no bearing on their relationship today. Also, apparently Tyler's mom was overheard telling friends that her son was going to be the next Bachelor? It's waaay too early for that kind of talk, since shooting won't start until September, but an interesting little bit of info nonetheless. In other words—maybe Tyler knows he's absolutely the frontrunner?
I am...dismayed, to say the least. I mean, I get it: What a cool, cool opportunity to play the role of a lifetime, with all the travel and experiences that comes with it. A respectful, progressive bachelor is absolutely an asset to the show at this exact moment. But. I'm sad that Hannah hasn't found the "fierce love" she was looking for at the beginning of this series. Now, it's not lost on me that this is a (kind of ridiculous) show, built for ratings, and that the relationship success percentage is looooow—usually way less than half of the relationships fail. So maybe I'm just a sucker for the happy ending, but I really fell in love with these two.
Original post, 7/15/19:
Hannah has reservations about Tyler on the show.
In a sneak peek of the episode from People, Hannah expresses doubts about her non-physical relationship with Tyler and says she doesn't want to go on the overnight with him, but it's more likely that she just wants to talk to him a bit first before they, you know:
That's just editing. Of course she takes the overnight with Tyler https://t.co/q74nQcQ6vNJuly 13, 2019
See more
As it played out on the show, Tyler gave a beautiful, nuanced master class in honoring a woman's consent. Hannah said he was the "most respectful man I've ever dated, ever," and cried from (what I imagine was) relief and happiness. So it didn't end up being a problem for Tyler's chances, and we know he makes it to the final two.
BUT. I do wonder if these core reservations ends up making her pick Jed instead of Tyler for the final rose. Hannah says that she needs more from Tyler emotionally, so that could be what's counting against him slightly. Of course, then it all went to crap with Jed after the show, and their relationship's over, so minor lack of emotionality seems like pretty small potatoes at this point.
There's been a little post-show social media activity between the two.
Hannah liked this post, and a similar post from Jed about the Riga episode:
Which makes me think that was something approved by the show, not something we should read into.
This, however, is much more interesting. Tyler came to Hannah's defense after some nasty comments about her decisions, and Hannah liked the tweet:
The things some people do to stay relevant... let our Queen live and let's embrace her on this journey. Very few have a clue what it's like to be in the leads shoes. Our Queen is imperfectly perfect like us all. Dont Christians claim that only god should do the judging-James 4:12 https://t.co/3hZFTGswk7June 26, 2019
See more
Tyler's also been defending other bachelorettes who are in support of Hannah:
Go off sis 💁🏻‍♂️ https://t.co/b2MJQ0PdFVJuly 4, 2019
See more
Hannah, who's been live-tweeting episodes lately, has liked some pro-Tyler content:
They must be like, "We raised you better than this. That Luke boy, bless his heart. But that Tyler, MMM MMM MMMM!!!! 🥰July 2, 2019
See more
My Grandma is truly living her BEST life, tonight on #TheBachelorette pic.twitter.com/wpc6DKOsPzJuly 9, 2019
See more
(The other guy is Peter's dad):
This season on The Bachelorette... good men raising great men #TheBachelorette pic.twitter.com/dGrWHvUJ3MJuly 9, 2019
See more
So the two are still watching each other's content and occasionally engaging, even though both are very limited in their interactions with each other, likely because of their show contracts.
And the two even engaged in a little online joke.
"Windmill sex" is the newest trend sweeping Bachelor Nation:
So granted, Hannah and Tyler aren't chatting with each other directly (Hannah makes a windmill snack sex joke, lol, and Tyler chimes in adding to the analogy.) But I hope that this means they're on good terms, because...
Fans really want this pairing to happen.
I'm afraid I must admit my bias here and admit that I, too, want this to happen.
America loves Tyler C. 👏🥰@BacheloretteABC https://t.co/6U3esWVwZbJuly 10, 2019
See more
I just think they had such lovely chemistry, and he's proven his sweetness and support after the show ended, and I firmly believe both of them deserve a happy ending. After the most conflict we've seen on a Bachelorette season in a long time, I'd love for this drama-free, mega-attractive coupling.
But he could be Bachelor instead.
It would be easy for Tyler to parlay all this popularity for a different role: Namely, that of the titular Bachelor. It really depends on him (I would love Mike to be Bachelor instead, but Tyler would be an intuitive choice, methinks). We might get some updates on "After the Final Rose," during which we'll also get the breakup between Hannah and Jed. It's going to be epic, and we'll update when we know more.
For more stories like this, including celebrity news, beauty and fashion advice, savvy political commentary, and fascinating features, sign up for the Marie Claire newsletter.
RELATED STORIES
Celebrity news, beauty, fashion advice, and fascinating features, delivered straight to your inbox!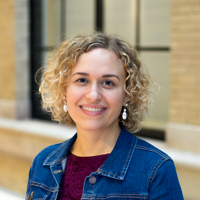 Katherine's a Boston-based contributor at Marie Claire who covers fashion, culture, and lifestyle—from "Clueless" to Everlane to news about Lizzo. She's been a freelancer for 11 years and has had roles with Cosmopolitan and Bustle, with bylines in Parents, Seventeen, and elsewhere. It's "I go to dinner," not "Her huge ego," but she responds to both.