Who Is Lady Gaga's Boyfriend, Michael Polansky?
The pair have been Instagram official for over a year.
Marie Claire Newsletter
Celebrity news, beauty, fashion advice, and fascinating features, delivered straight to your inbox!
Thank you for signing up to Marie Claire. You will receive a verification email shortly.
There was a problem. Please refresh the page and try again.
Anything concerning Ms. Stefani Joanne Angelina Germanotta's love life is indeed important to us, so when we first met her tech world boyfriend, Michael Polansky, early in 2020, we were curious about the mystery man. Well, many months later, the man isn't a mystery anymore, thanks to regular appearances on Gaga's social media feeds and paparazzi shots. Plus, since making it IG official back in February of last year, the pair have only gotten stronger. How can we tell, you ask? Mother monster nearly went pantsless on TWO separate occasions with the guy! That's love in the 2020s, baby!

Here's everything you need to know about the loved-up couple.

When did Gaga and Polansky start dating?
Lady Gaga made it Instagram official with Polansky in the early days of the new decade, posting a photo of the pair all cuddled up on a boat. Gaga, sporting pink hair, a blue bikini, and a black mesh cover-up in the snap, captioned the post, "We had so much fun in Miami. Love to all my little monsters and fans, you're the best!" Cute!
Before that, Gaga spent New Year's Eve in Las Vegas, where she shared a midnight kiss with a "dark-haired, bearded dude named Michael," according to TMZ; seems safe to assume said dude was Polansky. Between then and the Instagram post seen 'round the world, during Super Bowl weekend in Miami (where Gaga performed at the AT&T TV Super Saturday Night show), the couple were photographed kissing on a balcony, as E! reports.
According to Elle, Polansky co-founded Sean Parker's Institute for Cancer Immunotherapy, and is the executive director of The Parker Foundation. His LinkedIn reveals he studied applied mathematics and computer science at Harvard, which, sure, same.
Gaga and Polansky purposefully kept their relationship under wraps for at least a few months, E! reports. "He didn't want to be known yet and neither did Gaga but they decided at the Super Bowl to let it be public," an unnamed source said.
"She's really into him!" the source continued. "They are opposite of each other, which all-around is a good thing for her. He's very well-off, smart and an investor." (Quick note: We may not know about Gaga's investing habits, but she is definitely also wealthy and smart, so "opposites" might be a stretch.) "He definitely cares a lot about Gaga, but is very low-key and not typically one for the public eye."
Lady Gaga's 20 Most Fashionable Red Carpet Outfits of the Last Decade
Image 1 of 19
January 31, 2010: The GRAMMY Awards
Kicking off the new year in an interstellar creation by Armani Privé. This look marked a change in form from the designer who epitomized '80s style with his power suits. This crystal-encrusted dress, complete with orbiting rings and a dangerous looking spiked-star "purse" showed Armani in a creative new light and became the first of many collaborations between the pop star and Milanese powerhouse.
February 10, 2010: amfAR Gala
As a MAC Cosmetics Viva Glam Spokesperson, Lady Gaga walked the red carpet at amfAR's annual gala as a living work of art. Her (real) pearl encrusted look was created as a collaboration between artist Terence Koh and Haus of Gaga.
February 16, 2010: The Brit Awards
For the Brit Awards, less than a week after her appearance at amfAR, Lady Gaga floated across the red carpet in this phantasmic
multi-tiered gown by Francesco Scognamiglio. Her towering wig and white lace mask, created by famed London milliner Philip Treacy, helped this look haunt our memories for years to come.
September 12, 2010: MTV Video Music Awards
In a beautiful tribute to the memory of her friend and collaborator, the late Alexander McQueen, Gaga paired a gown from an unfinished final collection by the designer, with the now iconic armadillo shoes from McQueen's Plato's Atlantis collection—where incidentally, Lady Gaga premiered her song "Bad Romance." She topped off the look with yet another Philip Treacy creation, this time, a gold feathered mohawk crown.
September 12, 2010: MTV Video Music Awards
Later, that same evening, Gaga wore the infamous meat dress designed by Franc Fernandez, to accept her Video of the Year trophy for "Bad Romance."
February 13, 2011: The GRAMMY Awards
For the 2011 GRAMMY Awards, Gaga went full-on extraterrestrial in MUGLER by Nicola Formichetti after hatching from an egg-like "vessel" created by designer Hussein Chalayan. Her look was heightened by facial (and shoulder) prosthetics for that extra alien touch created by famed makeup artist Val Garland.
November 11, 2013: Glamour's Women of the Year Awards
Ghostly Elizabethan looks for day? Why not?? This two-piece Thom Browne suit in cream and white lace, with pearl detailing could almost read as classic—even with the latex underpinnings. But when paired with heavily powdered makeup, a teased to the heavens fright-wig, blacked out sclera lenses, and 10-inch custom made pearl-encrusted sandals, the look went from "lady" to Lady Gaga instantly.
February 22, 2015: The Academy Awards
Who doesn't step up their game for the OSCARS? "You don't understand, this is an ALAÏA." While Gaga has been seen wearing the masterful designer's ready-to-wear in the past, this look marked the first time Mr. Alaïa created a look specifically for the red carpet. With Gaga as his muse, Mr. Alaïa and his team of 25 worked on this embroidered masterpiece for two weeks. (And yes, even the gloves.)
May 4, 2015: The Met Costume Institute Gala - "China: Through the Looking Glass"
Although, at the time, this Balenciaga (by Alexander Wang) look was derided by some critics for being more akin to a cross between a Japanese kimono and a Korean hanbok, her evening cape actually, more than anything, harkened back to the "egg coat" designs of Cristóbal Balenciaga himself from the 1960s. And while his tenure at Balenciaga was short, it was rather well-played of Gaga to support a young Chinese American designer in light of the evening's theme.
January 10, 2016: Thel Golden Globe Awards
Eat your heart out, old Hollywood. Slinking across the stage to accept her Golden Globe for American Horror Story in custom made black velvet Atelier Versace, Lady Gaga left mouths agape. Channeling Marilyn Monroe with her retro bob, she clearly came to win.
May 2, 2016: The Met Costume Institute Gala - "Manus x Machina: Fashion In An Age Of Technology"
Just when we were beginning to think Lady Gaga had gone full Hollywood, she took it back to her cyber roots with yet another custom Atelier Versace look based on a circuit board—perfectly on theme for the night.
January 28, 2018: The GRAMMY Awards
This Armani Privé black lace ball gown complete with a massive train certainly brought all the drama to the arrivals carpet, but it was when Gaga removed the skirt later in the evening to reveal that the look was, in fact, a long sleeve lace catsuit(!!) with detachable ball skirt that even the haters had to bow down.
August 31, 2018: The Venice Film Festival
A star is born, in Valentino Couture. The Venice Film Festival premiered A Star is Born, and this marked Gaga's first in a long series of press appearances for the film. When she hit the red carpet in this giant over-the-top dress made of organza embroidered with tiers of pale pink feathers, we knew we were in for quite an awards season. Oh, and extra points for looking like an angel during a rainstorm.
September 9, 2018: The Toronto International Film Festival
The drama continues on her press tour for A Star is Born, this time, once again, in black velvet Armani Privé. Never one to miss out on "a moment" Gaga, slipped off her tulle veil, mid-carpet to reveal it turns into a shawl, bringing into the spotlight a pair of very serious diamond shoulder dusters.
October 15, 2018: ELLE Women In Hollywood Awards
As she has demonstrated time and again, dress for your audience. While still on her press tour for A Star is Born, Gaga attended the the ELLE Women in Hollywood Awards, where she chose this oversized Marc Jacobs suit. She explained in her acceptance speech—where she would reveal her experience with sexual abuse and discuss mental health—that she selected the suit look (as opposed to the many dramatic gowns she has been wearing recently), to "take the power back." "Today," she said, "I wear the pants."
January 6, 2019: The 76th Annual Golden Globe Awards
Now THIS is a movie star. Lady Gaga shut down the Golden Globes red carpet in this custom-dyed lavender gown by Valentino Couture, and as a final touch tinted her hair to match, natch. The gown pays homage to the 1954 dress that Judy Garland wears in her version of A Star is Born.
January 27, 2019: The Screen Actors Guild Awards
Lady Gaga continued to channel that old Hollywood glamour in Christian Dior Haute Couture, but the shredded tulle and sky-high-slit nod to her rock and roll attitude. The blood red lips, nails, and super sleek hair reinforce her goddess-like look.
February 10, 2019: The GRAMMY Awards
In a break from her full-on movie star mode, Lady Gaga returns to form in this custom silver sequin gown by Celine. This dress was inspired by a look from Hedi Slimane's debut collection for Celine. Gaga was among the first celebrities to sport his collection and crushed it on the red carpet with her no-frills rock-and-roll hair, a smokey eye, and attitude to spare.
February 24, 2019: The Academy Awards
Returning once again to her favorite designer, Alexander McQueen to snatch that Oscar—although maybe not the one she was hoping for. After all the frothy creations Gaga had sported on her press tour for A Star is Born, this Sarah Burton for McQueen dres—with its sculptural padded hips and lengthy train—is far from demure. Oh, and in case you felt like maybe it wasn't enough of a look for you, how about the famous 128-carat canary yellow Tiffany diamond, previously worn by Audrey Hepburn? Casual.
How did Gaga and Polansky meet?
We know Polansky is super tight with Facebook co-founder Sean Parker, and funnily enough, Gaga is familiar with him, too, possibly making Parker the missing link who brought the lovebirds together. A source close to the couple told Page Six that they had "likely known each other for a while through events Parker has hosted at his L.A. mansion," and that they really connected at Parker's December 2019 birthday party.
On a semi-related note that further proves how influential Parker has become in Gaga's life, she also met Bradley Cooper at one of Parker's events in April 2016, when she performed at the opening of the Parker Institute for Cancer Immunotherapy at Parker's home. At the event, she sang Édith Piaf's "La Vie en Rose." "I was at a cancer benefit with my mother. I really did not know Lady Gaga's music," Cooper told W magazine. "They had a surprise musical guest, and Stefani came out with her hair slicked back."
And thus, a star was born (A Star Is Born was born?).
Do they work together?
Yes! Back in April 2020, the day before One World: Together at Home, Gaga posted a sweet Instagram shouting out all the people who helped make it possible.
"With some of my co-fundraisers @booconnor @michaelpolansky #oneworld #togetherathome Miss you @wanaynay our other co-fundraiser and producer and missing our other co-fundraisers @who & @glblctzn."
She also spoke about Polansky's work on the project in an interview with Morning Joe. "With Born This Way Foundation, my mother, Cynthia Germanotta, and our co-founder Maya [Enista Smith], who I love so very much—they are working with my, the love of my life on something for mental health," said Gaga.
Uh, did she just refer to him as the "love of my life"?! We are the literal heart-eyes emoji right now.
A source told Entertainment Tonight that Gaga didn't have plans to fall for him so fast. "She wasn't expecting to get so involved so quickly after her last relationship, but she started telling her friends she was completely in love with him," the source said last March. "Anyone that has spent any time with them can see the connection. They are completely smitten. Her friends haven't seen her this happy in years. It didn't take long for her friends to adore him, too."
What else do we know about the relationship?
Well, for one thing, they quarantined together. If this doesn't prove how strong this relationship is, we don't know what else will! A source told ET, "They both felt social distancing and quarantine was the right thing to do, and it's given them time to spend together and focus on one another without work or any other distractions."
Gaga offered up a glimpse into what their quarantine looked like in the early days of lockdown. In March, she shared a photo of them holding hands on Instagram, captioning the sweet image with, "Day 6 of self-quarantining! Going strong, playing video games and cards, and taking care of ourselves. Important reminder: keep your mind as stress free as possible and your body moving. #selflove #selfcare #bekind try not to pass it in case you have it #corona it's ok and so wonderful to stay home if you can! What a kind act for the world ❤️."
On January 19, the day before Joe Biden's presidential inauguration, at which Gaga literally invented the national anthem and after which she and Polansky shared an adorable masked kiss, the pop star popped over to the Capitol for a quick dress rehearsal with Polansky in tow. Aside from her absolutely stunning look for the day—don't you wear custom Givenchy cape dresses to all your informal practice runs?—perhaps the most eye-catching part of her rehearsal was the fact that she spent much of it hand-in-hand with Polansky (who, by the way, was considerably less decked-out in a baseball hat and fleece pullover).
If it wasn't obvious from that rare bout of PDA, the duo are in fact still "crazy about" each other after more than a year of dating, an insider told People shortly after their January outing. "She's very happy with Michael and feels grateful for his support," they said. "Michael has his own life and work, but they also have shared passions, so it's a nice balance. Things are going really well."
In March 2021, Gaga–who was in Rome filming House of Gucci and breaking the internet with a cableknit sweater-clad Adam Driver–was surprised by Polansky when he sent the singer a massive, rose-dotted flower arrangement to celebrate her 35th birthday. Gaga took to Instagram, posing next to the giant bouquet, and shared a sweet message to her BF, thanking him for the flowers.
"When your bf sends you all the flowers in Rome for your birthday. I love you honey 💕 I can't wait to be home with you and our dogs, that's all I need," Gaga wrote.
It is serious?
It looks like Gaga and Polansky may take their relationship to the next step. While the two have been dating for over a year now, sources close to the couple are saying that Gaga may start thinking about settling down after she completes her upcoming slate of projects. According to ET, Gaga is "super in love" with the tech giant, although the duo haven't begun talking about engagement or marriage just yet.
"She has been telling her friends that she wants to get through a few projects and then focus on settling down," the source told ET. "Gaga wants to have children one day and sees a future with Michael."
"He's different than other guys she's dated in the past because he's very outwardly endearing and loving and has an old-school gentleman vibe about him," the source said. "She loves manly men who take the lead and Michael is definitely that. She feels like a princess in their relationship. She has been somewhat private about their relationship and wants to protect it."
Unfortunately for us, we can't expect nuptials in the near future. "Friends don't think that will happen any time soon," the source said. "She's very busy with her career and is not thinking about long term plans right now, but she loves having him by her side."
In the meantime, I'll spend my time speculating about a possible Gaga wedding fashion statement, because we all know it will be a stunning, imaginative choice.
Celebrity news, beauty, fashion advice, and fascinating features, delivered straight to your inbox!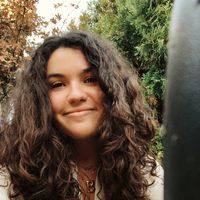 Bianca Rodriguez is the Fashion & Luxury Commerce Manager at Hearst Magazines, covering fashion, beauty, and more for Cosmopolitan, Elle, Esquire, Harper's BAZAAR, and Town & Country. She likes lounging about with a good book and thinks a closet without platform sneakers is a travesty.