5 Reasons to Love Prince Harry's Boo, Cressida Bonas
She might just be a secret Delevingne and we're the first people to have figured it out.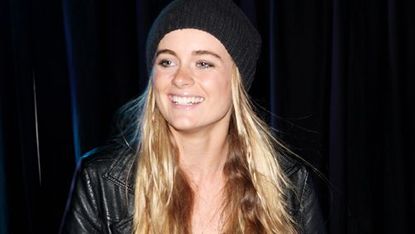 (Image credit: Archive)
Prince Harry and his on-again, off-again socialite sweetheart Cressida Bonas seem to be going strong, with some marriage bell gossip even ringing in from across the Atlantic. So, who is this blonde haired lady-friend of Harry's, and should we hate her for stealing our ginger prince? The answer, we've decided, is no. Here's why.
1. Because not only does she own AIR FORCE ONES, but she also rocks them with overalls and a scrunchie. We all know there's no better outfit than that Holy Trinity.
2. Because she wore this to a WIMBLEDON PARTY. No seersucker allowed!
3. Because why NOT wear a sequined blazer over a tie-dyed maxi dress?
4. Because PINK METALLIC "TRAINERS" (as they say across the pond).
5. Because she could very well become a PROFESSIONAL PRINCESS sometime soon, and she dresses like THIS.
You do you, Cressida.