Kate Middleton's Royal Style
Newly engaged to Prince William, this future princess knows how to make a statement -- and loves a good hat!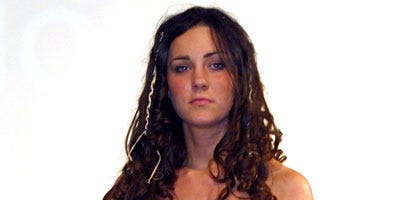 Newly engaged to Prince William, this future princess knows how to make a statement — and loves a good hat!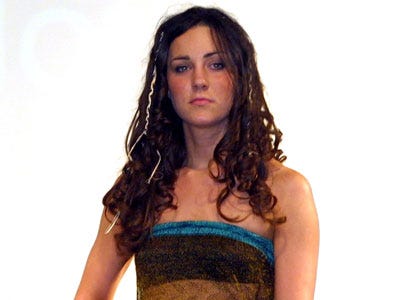 March 2002
Although they first met in September 2001 at St. Andrews University in Scotland, Kate caught William's eye while modeling a sheer black lace dress on the catwalk at a student fashion show.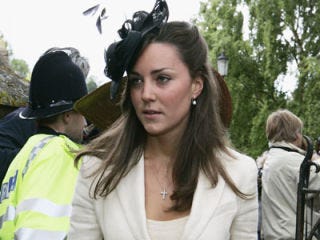 June 2005
A fan of festive hats, Kate — attending as beau William's date — donned one at the high-society wedding of Hugh Van Custem and Rose Aster in Burford, England.
Anwar Hussein/Getty Images
June 2005
Wearing a gown of her own, Kate attended William's graduation from St. Andrews, where he received a Master of Arts degree with upper second class honors in geography — the highest of any heir to the British throne.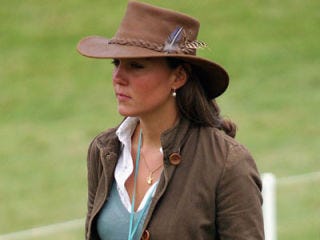 Anwar Hussein/Getty Images
August 2005
More casual in jeans and a riding hat, Kate attended the Gatcombe Park Festival of British Eventing horse trials near Tetbury, England.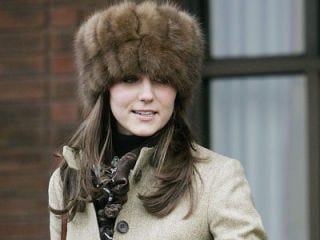 March 2006
Kate stayed warm at the Cheltenham Festival with the help of a Russian-style fur hat on the venal day of the races in England.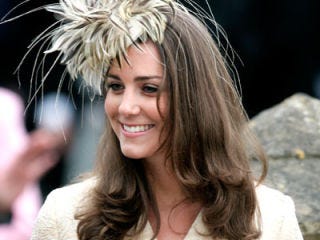 May 2006
The future princess opted for a festive, feather headpiece at the wedding of Harry Lopes and Laura Parker Bowles — the daughter of Camilla, who is the second wife of William's dad, Prince Charles of Wales — in Wiltshire, England.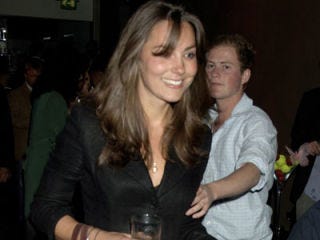 Dave M. Benett/Getty Images
June 2006
Kate, in a floral skirt, attended a pre-Wimbledon party hosted by Sir Richard Branson of Virgin in London.
Anwar Hussein/Getty Images
June 2006
After William successfully completed the Royal Military Academy Sandhurst, Kate — along with the Queen and the Prince of Wales, along with other members of the royal family — attended his graduation parade in England.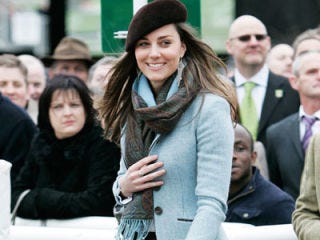 March 2007
In a beret, scarf and knee-high boots, Kate attended the Cheltenham Festival races in Gloucestershire, England.
April 2008
Alongside her longtime boyfriend, Kate — in an ivory A-line coat — celebrated William, who received his RAF wings in a graduation ceremony from the Central Flying School in Lincolnshire, England.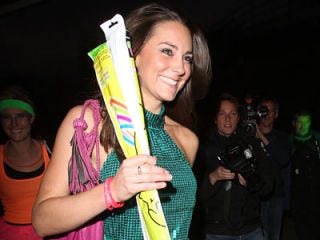 Danny Martindale/Getty Images
September 2008
In yellow hotpants, sequined turquoise halter, and florescent pink legwarmers, the oft-conservative Kate got in the spirit at the Day-Glo Midnight Roller Disco charity fundraiser — which she co-organized — in London.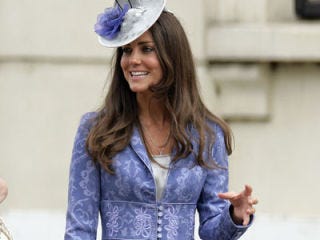 August 2009
Kate went with a lavender coat dress and hat to celebrate the nuptials of Nicholas van Cutsem and Alice Hadden-Paton in London.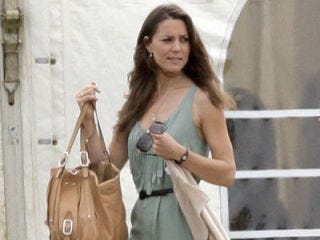 July 2010
A devoted fan, Kate looked casual chic at the Chakravarty Cup in Tetbury, England, where she watched William and his brother, Prince Harry, play in the polo match.
October 2010
Kate stood out with a bold blue dress when she and William attended yet another royal wedding (they've gotten good practice for their own!), this time for Harry Meade and Rosie Bradford in Cheltenham, England.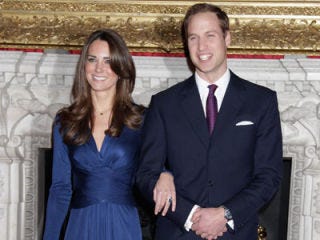 Chris Jackson/Getty Images
November 2010
In an apt color choice, Kate wore a striking royal blue dress — by her favorite brand, London-based Issa — to match her blue sapphire ring at her and William's official engagement announcement in London. He actually proposed to his girlfriend of eight years in October, while on safari in Kenya.
This content is created and maintained by a third party, and imported onto this page to help users provide their email addresses. You may be able to find more information about this and similar content at piano.io