Prince William's Cutest Dad Moments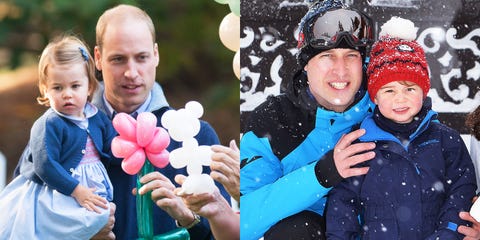 Prince William is not only a royal dad, but about to be a royal uncle! With the birth of his brother Harry and sister-in-law Meghan's baby in the spring (almost exactly one year after the arrival of William's third child, Louis) there will be lots of royal children running around—prime time for the hands-on royal dad. Let's take a look back at Prince William's most heartwarming and sweetest dad moments with Prince George, Princess Charlotte, and Prince Louis. Swoon.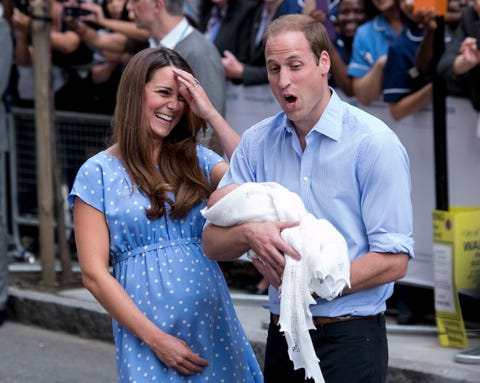 2013
The day it all started! Prince George Alexander Louis of Cambridge came into the world on July 22, 2013 at St. Mary's Hospital in London. It was a joyous occasion celebrated around the world, but no one was celebrating as much as William—who looks maybe a little unprepared—on that day.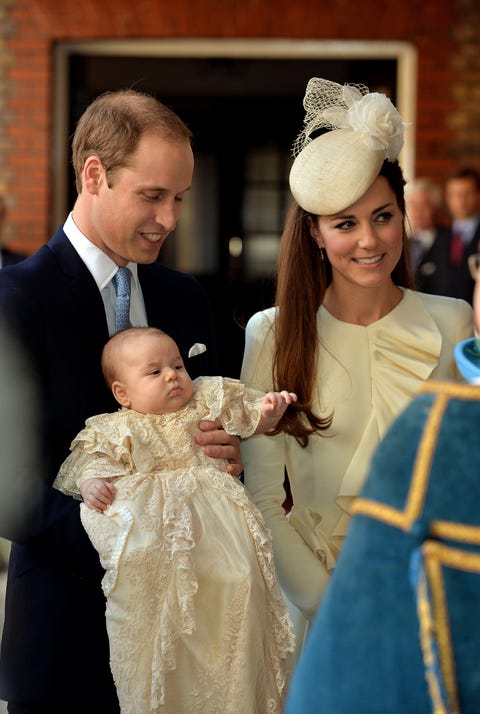 2013
Prince George was christened on October 23, 2013, in an intimate ceremony featuring only 22 people. William was happy to take charge on a big day of Prince George's life, and it made for truly sweet and memorable moments. George truly did change William's life: in an appearance at Talk Vietnam, William shared, "The alteration from being a single, independent man to going into marriage and then having children is life-changing. I adore my children very much, and I've learned a lot about myself and about family just from having my own children."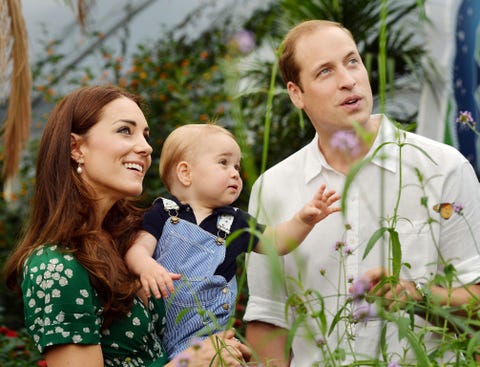 2014
The beauty! The new family of three gathered for some truly gorgeous and romantic portraits featuring baby George, and it's hard to get past how adorable these photos are.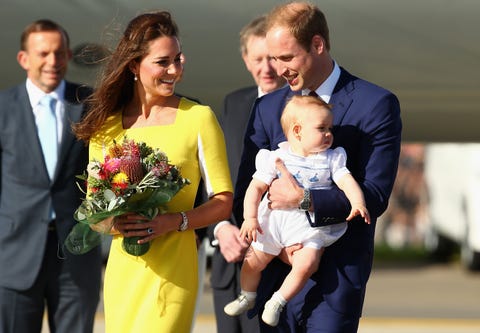 2014
"I did the first nappy, it's a badge of honor," William shared in an interview with CNN about the birth of his first child. Not even a prince can get out of changing diapers!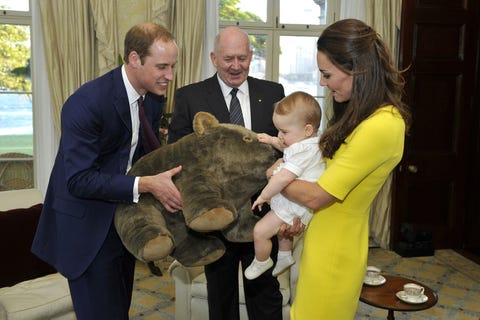 2014
Baby's first stuffed animal! Kate and William took Baby George to Australia, where he was endlessly precious and William took plenty of care to make sure his son had a memorable experience, even introducing him to "wildlife."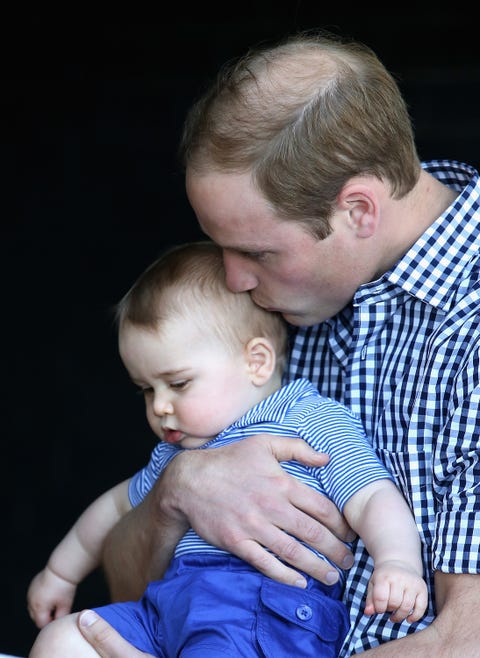 2014
Look. At. The. Gentleness. And the preciousness. Prince William really is #dadgoals. This is the kind of sensitivity we don't often see out of our royals, and we're happy when we do.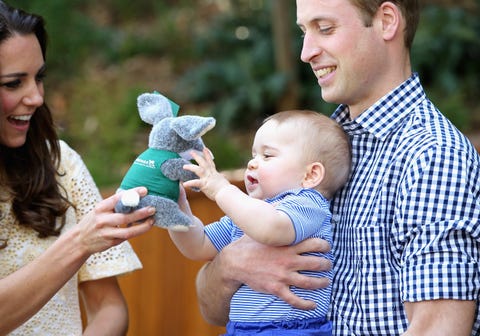 2014
Furthering the love for "wildlife," Kate and William introduced Prince George to a koala during their trip to Australia! So adorable! William looks especially enthused with his son during this entire endeavor.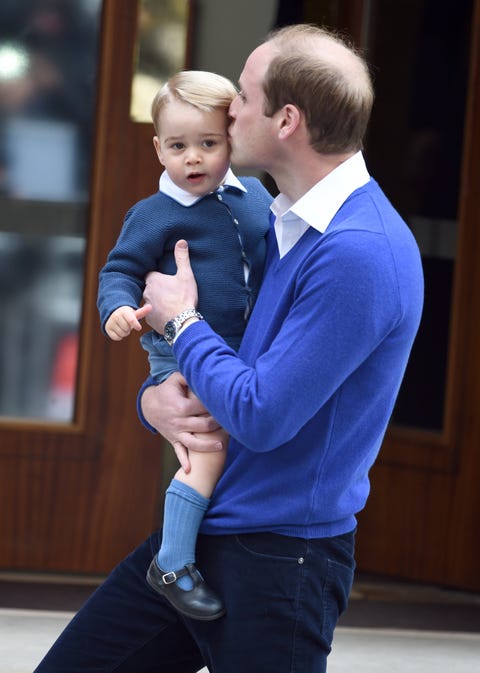 2015
At a visit to youth charity XLP Arts Project, William had this to say about the impending birth of Princess Charlotte: "They say that number one is a life changer and that number two is a game-changer." Here he is making the most of his last few moments with just one child.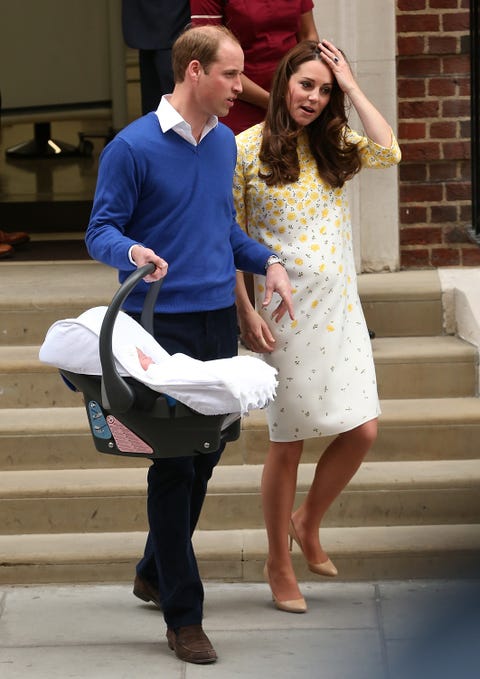 2015
This was hours after Kate gave birth to Princess Charlotte (there she is in the car seat!), so of course William took the reins and helped his wife out.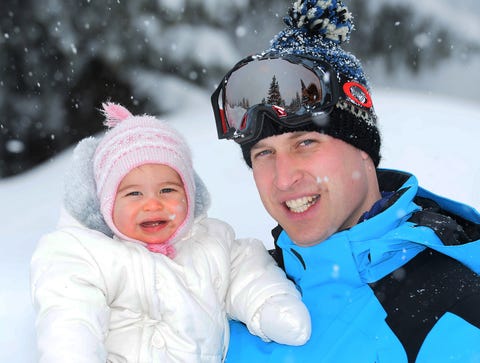 2016
William gushed about the expanded royal family to the BBC, and Princess Charlotte in particular: "It has been fantastic and she has been a little joy of heaven. But at the same time it is more responsibility, looking after two little ones, especially when George is around. He's a little monkey."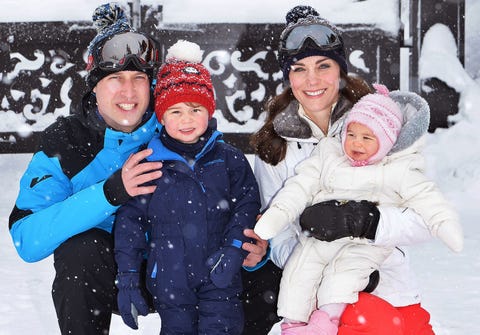 2016
Ski bunnies! The Royal Family (blessedly) shared photos of their trip to the French Alps with the entire world. "The Duke and Duchess of Cambridge are delighted to share new photographs of their family, enjoying a short skiing holiday with their children in the French Alps," says a Kensington Palace spokesperson. "This was their first holiday as a family of four and the first time either of the children had played in the snow. It was very special and fun short holiday for the family, and they are grateful that John Stillwell was able to capture the moment so well."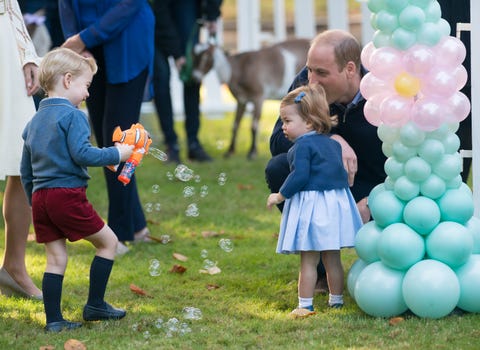 2016
For a Father's Day message for mental health charity Heads Together Wills said, "it is a time to reflect on my responsibility to look after not just the physical health of my two children, but to treat their mental needs as just as important a priority…if your son or daughter ever needs help, they need their father's guidance and support just as much as they need their mother's."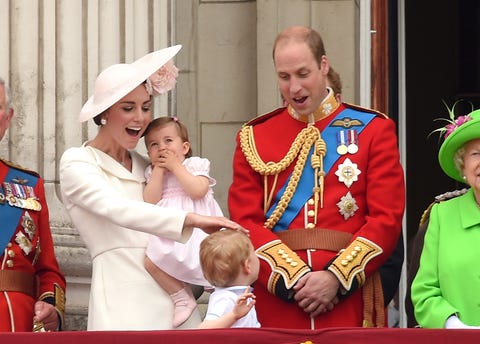 2016
The family that laughs together stays together! William looks positively thrilled at whatever Prince George has to say, and I'd love to be a part of this conversation. Mostly because, whatever it is, it has Charlotte shook and Kate amused.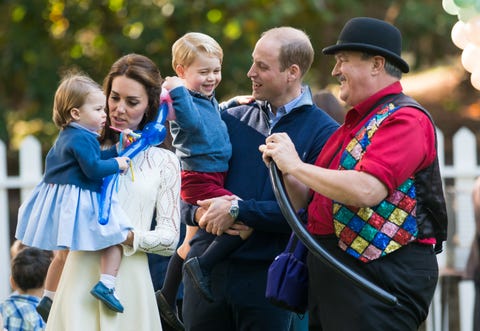 2016
There is so much to love about this photo, but let's focus on Prince George and Prince William, and the enthusiasm on both of their faces. George looks positively over-the-moon, and William is just so happy his son is happy. Same, William. Same.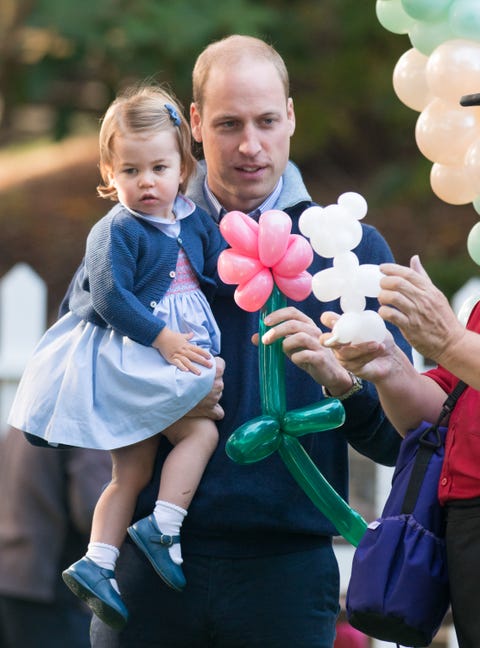 2016
It's already obvious that Princess Charlotte looked identical to her father when she was a baby, and during this children's party for military families during the Royal Tour of Canada, we get a great peek at the resemblance during some daddy-daughter time. About raising a daughter, William said to Independent.ie, "I think she's going to be trouble when she's older. All fathers say that."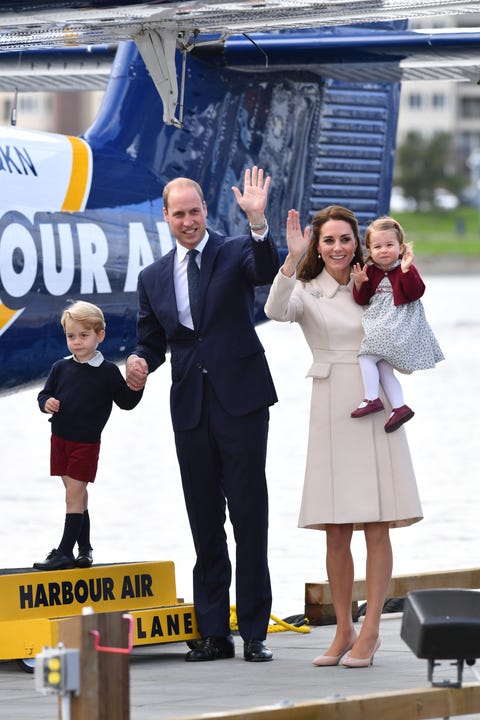 2017
William's a sensitive dad: "Catherine and I are clear that we want both George and Charlotte to grow up feeling able to talk about their emotions and feeling," he shared with CALMzine.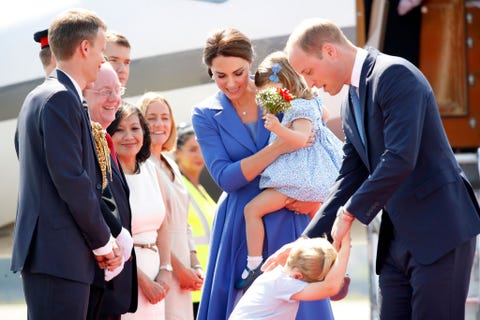 2017
George is known for being particularly rambunctious. "I hope that George doesn't keep you up. He has been known to be particularly vocal at 3 a.m. I swear I heard him doing the haka this morning," William said during a state dinner at the residence of the governor general of New Zealand, referring to a war chant made famous by the country's rugby team.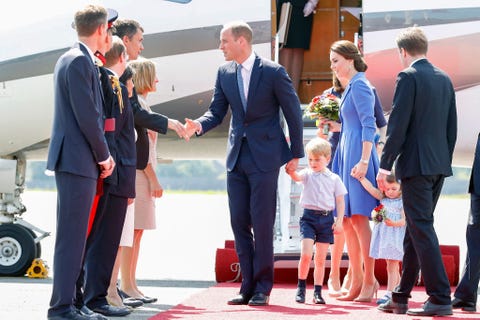 2017
Even when he's doing official Royal Duties, he's still a dad at heart. Shaking a hand while holding a hand? Welcome to swoon city, population: me.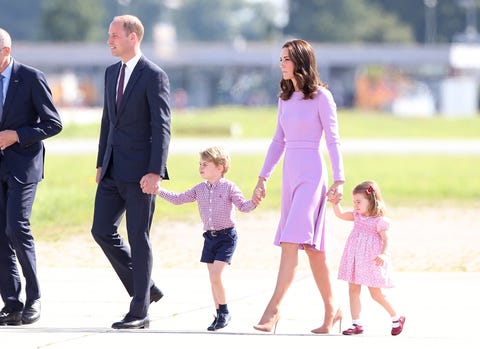 2017
In an interview with Talk Vietnam, William shared his hopes and dreams for his children: "I would like George and Charlotte to grow up being a little bit more simple in their approach and their outlook, and just looking after those around them and treating others as they would like to be treated themselves."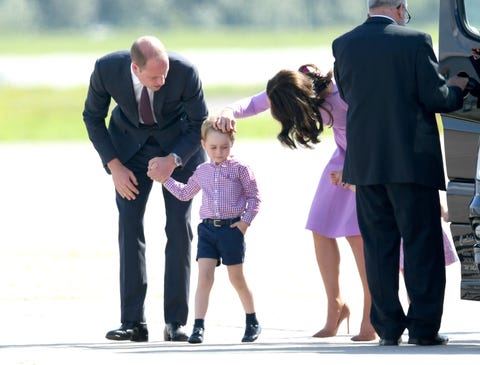 2017
Even royal children need to be fixed up! William takes charge with making sure Prince George is drippin' in finesse, while Kate uses the moment to fix his hair. Parenting is teamwork, and George looks great.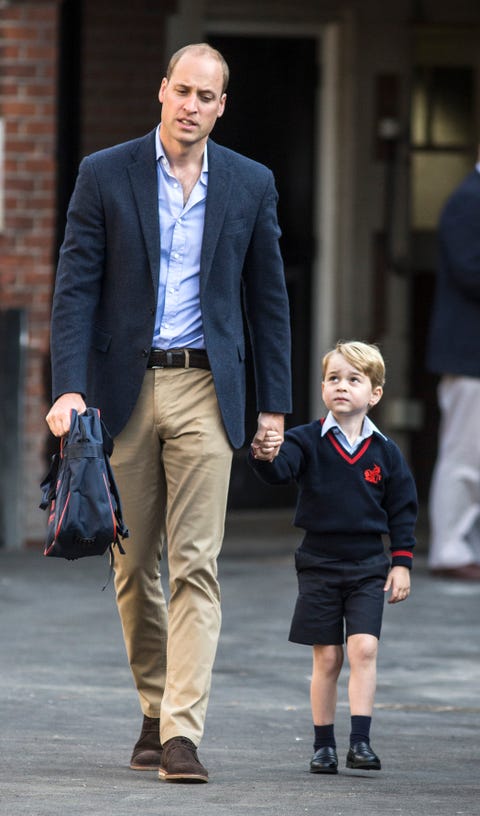 2017
Prince George's first day of school! After leaving George at Thomas's Battersea, William had a hard time holding it together, according to Independent.ie. "It went well. There was one other parent who had more of an issue with their children, so I was quite pleased I wasn't the one."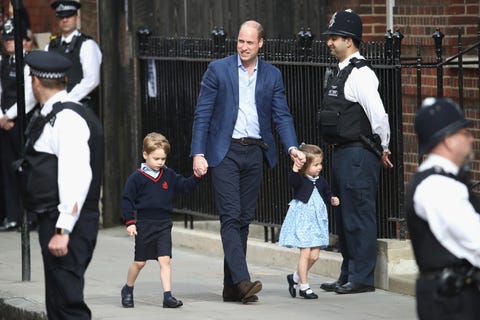 2018
Here, William accompanies Princess Charlotte and Prince George to St. Mary's Hospital so that they could meet their little brother, Louis. At a Kensington Palace event, William looked towards a (sleepy) future: "Two is fine—I don't know how I'm going to cope with three, I'm going to be permanently tired."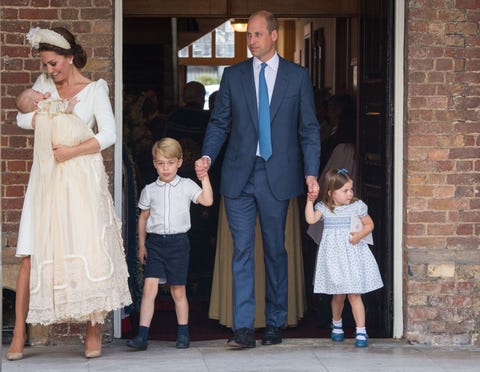 2018
The first photo of the family of five! Wills takes hold of his two eldest children's hands as their mum carries Prince Louis after his christening service at the Chapel Royal, St. James's Palace, London on July 9. Look at that color coordination!
This content is created and maintained by a third party, and imported onto this page to help users provide their email addresses. You may be able to find more information about this and similar content at piano.io