Editors handpick every product that we feature. We may earn commission from the links on this page.
10 Authentically Royal-Approved Gifts You Can Actually Afford to Buy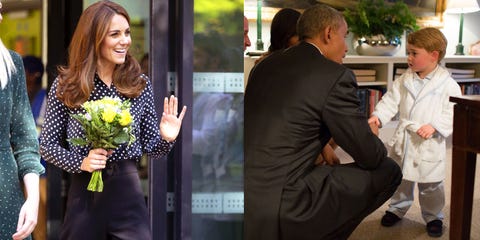 Statistically speaking, you probably know someone who is pretty obsessed with the royal family. Or you're obsessed with them yourself. Or both (probably both, if we're being honest). If that's the case, then what better way to show your love for that special, royal-loving someone (or treat yourself, Tom Haverford style), than with gifts curated by the Windsors themselves. Below are some of the most affordable (and, even more importantly, still shoppable) items owned, used, and loved by the royal family.
Kate Middleton's High-Waisted Zara Pants
Kate Middleton wore these high-waisted, black work pants from Zara this fall and we were immediately obsessed. The duchess wore the wide-legged trousers for an appearance at the Sunshine House Children and Young People's Health and Development Center, but these business casual gems are perfect for any working human, not just working royals.
The Queen's Favorite Tea—Twinings Earl Grey
Twinings
amazon.com
$12.74
The Queen's former butler, Grant Harrold, has confirmed far and wide that Her Majesty is a fan of Earl Grey when it comes to tea, and her favorite brand is reportedly Twinings. The affordable brand is a perfect stocking stuffer for any royal enthusiast (or any tea drinker in general, for that matter).
Prince George's Petite Plume PJs
Petite Plume
petite-plume.com
$58.00
Back in 2016, Prince George caused the world the let out a collective "aww" when he was photographed staying up past his bed time to shake hands with Barack Obama during the then-president's visit to Kensington Palace. George's adorable Petite Plume PJs are still available (and the luxury sleepwear brand sells adult sets that are just as cozy and cute).
Meghan Markle's Madewell x Biltmore Panama Hat
Madewell
madewell.com
$58.00
Meghan Markle is a frequent fixture in the stands at Wimbledon, and has been since before she joined the royal family. Something else about Meghan that hasn't changed since she became a duchess? Her favorite Wimbledon hat. Meghan was spotted wearing her favorite white panama hat from her pre-royal days at Wimbledon this year.
Prince George's Favorite Movie — How To Train Your Dragon
Dreamworks Animated
amazon.com
Prince George, like many six-year-olds, is obsessed with dragons and, earlier this year, Prince William revealed that the young future king's favorite movie is How to Train Your Dragon. Amazon sells a three-pack of all of the films in the popular franchise, so you'll be prepared if Will and Kate ever ask you to babysit last minute.
The Queen's Favorite Essie Nail Polish
It's common knowledge among royal fans that the Queen has one nail polish and one nail polish only: Essie's Ballet Slippers. The Queen has reportedly worn nothing else on her nails since 1989.
Kate Middleton's Favorite Hairspray — L'Oreal Paris Elnett Satin Extra Strong Hold
Meghan Markle's Longtime Favorite NARS Blush
Meghan Markle has been a fan of NARS Orgasm blush and has been gushing about it for years. "I love Nars blush in Orgasm. I use it on- and off-camera because it gives you a nice glow from within," she mentioned in a pre-royal interview with Allure.
Princess Charlotte's Adorable Stuffed Animal
When she was a baby, Princess Charlotte posed for some truly adorable photos playing with her one of her favorite stuffed animals—her Jellycat Fuddlewuddle Puppy.
Kate Middleton's Favorite TV Series, Absolutely Fabulous
Warner Home Video
amazon.com
$129.99
This content is created and maintained by a third party, and imported onto this page to help users provide their email addresses. You may be able to find more information about this and similar content at piano.io