Gwyneth Paltrow on Finding Her Way: "Figuring Out What Kind of Leader I Wanted to Be Was Challenging"
A candid conversation with the multi-hyphenate mogul.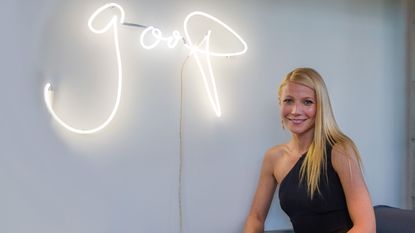 (Image credit: Getty Images)
Marie Claire Newsletter
Celebrity news, beauty, fashion advice, and fascinating features, delivered straight to your inbox!
Thank you for signing up to Marie Claire. You will receive a verification email shortly.
There was a problem. Please refresh the page and try again.
Ahead of Marie Claire's Power Trip, a two-day pop-up conference in New York and San Francisco with 200 influential women, speaker Gwyneth Paltrow and contributing editor Amanda de Cadenet have an honest chat about all things business.
Amanda de Cadenet: You started Goop in 2008 as a way to share what you knew and loved with friends. At what point did you realize that you wanted to turn it into a business?
Gwyneth Paltrow: I started to receive feedback from businesses we were featuring that were selling out of stock, and I began to understand that the brand had power. There was trust established. I didn't know how to monetize that and wasn't sure if I even wanted to. A turning point was when I was approached by a partner in a well-known venture capital firm who started to really push me. She introduced me to our first CEO, who helped me conceive of the business.
AdC: For someone who did not go to business school, how did you take Goop from a friends-and-family newsletter to the hugely successful business it is today?
GP: Learning on the fly, making huge mistakes, reading a few great books, and relying on people much smarter than I am.
AdC: Can you share some of the obstacles you overcame in that process?
GP: I think that the process of figuring out what kind of leader I wanted to be was challenging, because as an actor, you work alone, really. I lead a company of more than 40 people. I have only recently asked myself the question.
AdC: Did you have moments of doubt?
GP: When I started, I had no idea it would ever be a viable business. I don't think, consciously or unconsciously, I would have started it if I didn't know on some level it was going somewhere. But we are always figuring out the process and strategy because it is an ideas business, not a software company or a specific service. I had doubts all the time. I have doubts all the time. I manage it by understanding that this is where I am, and I am going to move forward because there is no choice. Doubt, not self-reflection, comes from a destructive energy, and when it rears its head, I talk to it like a lunatic.
AdC: You know that my entire house is so excited for your third book, It's All Easy (out April 5). My kids come to your house hungry because they know that you are going to feed them well. How did you come up with the book's theme? I know you asked all of us, "What does everyone need?" I remember saying, "I am desperate for something healthy that I can do fast, because I'm busy and I'm tired at the end of the day."
GP: It's funny because this is the only interview I've ever done with somebody whom I regularly cook for. We have this sense of hyper-responsibility, that we're supposed to do everything and do it really well. I am not sure why we are all like that or where we got it from. The common theme was: "I'm exhausted; I'm overextended. I work; I have the kids. And then I want to come home and cook something myself, but I want it to be easy." It's not even that it has to be done in 10 minutes. A lot of the recipes in the book are fast, but it was more like: "I don't want 75 different processes."
AdC: Over the summer, I remember seeing the packaging and trying the Goop skincare line. Talk a little bit about that.
GP: It's our first autonomous product. I worked with this amazing 10-year-old company, Juice Beauty, based out of San Francisco, that did all of our research and development. I worked with a chemist for 14 months on what I couldn't find, which was really luxury-feeling, organic face products. I wanted something that felt as good and worked as effectively as luxurious, conventional products, but where I wasn't putting endocrine disruptors and parabens and silicones on my skin.
AdC: You have been collaborating with so many people over the years at Goop. What was different about doing your own signature product line?
GP: It was really rewarding. It was very scary and very exciting. Normally, other people we collaborate with are coming to the table with a huge part of what we're going to do. This was completely from scratch. And it was amazing to do it.
1. Goop by Juice Beauty Enriching Face Oil, $110, shop.goop.com
2. Goop by Juice Beauty Perfecting Eye Cream, $90, shop.goop.com
For more Gwyneth and Amanda, go to theconversation.tv. This article appears in the April issue of Marie Claire, on newsstands March 22.
Celebrity news, beauty, fashion advice, and fascinating features, delivered straight to your inbox!
Amanda de Cadenet is a contributing editor to Marie Claire and the founder of "The Conversation." See more at www.theconversation.tv.