JFK and Jackie Kennedy's First Year of Marriage In Photos
Rare shots of the political power couple showcase their early life together.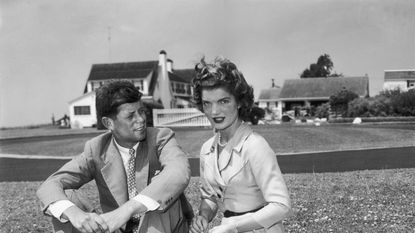 (Image credit: Hulton Archive)
Marie Claire newsletter
Celebrity news, beauty, fashion advice, and fascinating features, delivered straight to your inbox!
Thank you for signing up to . You will receive a verification email shortly.
There was a problem. Please refresh the page and try again.
John Fitzgerald Kennedy and Jacqueline Lee Bouvier's wedding was as fairytale-esque as real life gets. The ceremony was held on September 12, 1953 in St. Mary's Roman Catholic Church in Newport, Rhode Island and a luxe reception followed with more than 800 guests (opens in new tab). But after the celebration, real life began. Here, we share rare photos of the iconic couple during their first year of marriage. Name a more iconic duo; we'll wait.
1/40
Just Married
John F. Kennedy and Jacqueline Kennedy (neé Bouvier) leave the church after their September nuptials.
2/40
The Wedding Reception
Jackie and JFK are surrounded by their family and friends before they cut the cake at during wedding reception. The four-foot-tall cake was baked by William Paul (opens in new tab), the head baker for the Plourdes Bakery.
3/40
Newlyweds
The newlyweds sit on the lawn of the Kennedy compound in Hyannis Port, Massachusetts.
4/40
A Family Affair
JFK, Ethel Kennedy, Jackie, and Robert Kennedy (left to right) take a picture while enjoying a day at the beach in Hyannis Port, Massachusetts.
5/40
Enjoying Down Time
JFK relaxes after the wedding by working on an easel painting. He was already in politics by this point in his life.
6/40
A Young Jackie
The future First Lady got a chic pixie haircut after the wedding, further proving her quintessentially refined style.
7/40
Remembering the Big Day
The newly married couple goes through the press photos from their wedding day together.
8/40
A Fond Farewell
Husband and wife bid farewell to each other outside of their Georgetown home. Jackie, seen with books in hand, is on her way to attend classes at Georgetown University's School of Foreign Service.
9/40
The Family Dog
Jackie gives the couple's dog a quick bath on their outdoor patio.
10/40
The Junior Senator
JFK listens during a meeting in his office in Washington D.C., while representing the state of Massachusetts as a Junior Senator.
11/40
All-American Activities
The future President dresses down in sneakers to throw a football with his brother in his backyard. In the foreground, his sister-in-law, Ethel, and Jackie look on.
12/40
Society Darling
Jackie walks in a runway show for the annual "April in Paris" Ball.
13/40
Meeting President Truman
JFK chats with former President Harry Truman at a Boston fundraiser for the Truman Memorial Library in March 1954.
14/40
Busy at Home
Jackie is photographed deep in conversation as she takes an important phone call in their shared D.C. home.
15/40
Managing Chores
Jackie gets into some housework as she lays out the couple's china set to clean at their duplex in Georgetown.
16/40
A Day at Home
The couple both tend to their own business during a quiet day in their Georgetown home office.
17/40
In Sickness and Health
Jackie meets her husband in the ambulance as he is transported from the hospital following a corrective spine surgery in December 1954 due to injuries he endured during World War II.
18/40
A Formidable Team
The Junior Senator consults his wife, Jackie, on a matter while they are working out of their Georgetown home.
19/40
Out for a Walk
Jackie dresses in a black dress and pearls to take the couple's dog for a walk in Washington D.C.
20/40
A Day of Baseball
Senators Kennedy, Mike Mansfield of Montana, and Henry Jackson of Washington spend a weekend afternoon playing baseball together at a local park in D.C.
21/40
An Evening Commute
Jackie picks up her husband from his office after a long day of work.
22/40
Attending Political Events
The Kennedys mingle with fellow politicians at the opening of Congress in 1954.
23/40
Weekends at Home
The newlyweds enjoys domestic life as JFK is seen reading in the yard while Jackie tends to their garden.
24/40
A Family Wedding
Jackie attends the church service for the wedding of Patricia Kennedy and Peter Lawford with her in-laws in New York City.
25/40
Brother of the Bride
While Jackie sat in the front pew, JFK stood with the bride, his sister Patricia Kennedy, and his father before the ceremony.
26/40
Out and About
Jackie and JFK enjoy a stroll outside of the Capitol building in Washington D.C.
27/40
Running Errands
Jackie dresses to impress as she takes the couple's dog to run errands, like stopping at their florist, in Georgetown.
28/40
Going on Meet the Press
Jackie and Senator JFK appear on Meet the Press in February, 1954. It wasn't his first time on the program and wouldn't be his last either.
29/40
Getting Down to Business
The couple spend the evening intently studying in their office at their Georgetown home.
30/40
A Clever Pet
Jackie makes the couple's poodle, Gaulie–named after French President Charles De Gaulle–wait outside.
31/40
A Relaxed Gathering
JFK and Jackie stroll through their Georgetown neighborhood with Robert and Ethel, as well as other friends.
32/40
An Impressive Throw
JFK tosses the football to his younger brother, Bobby, in their neighborhood park.
33/40
Mingling in D.C.
The couple are joined by a colleague as they sit on a ledge at Capitol Hill. At this time, JFK was still working as a Junior Senator for Massachusetts.
34/40
Working at Home
Jackie spends a quiet moment at home sorting through the couple's record collection.
35/40
Jackie Takes on D.C.
A young Jackie is photographed in front of the Capitol building.
36/40
Stylish Sisters
The Bouvier sisters, Jackie and Caroline Lee Canfield, dress up for the Franco-American Ball at the Waldorf Astoria in 1954.
37/40
A Trip to the Store
Jackie takes a trip to a neighborhood store to fit a painting for a frame.
38/40
Home From the Store
Jackie makes her way back to the couple's home with Gaulie and painting in hand after completing her errand.
39/40
An Evening Out
Jackie is photographed engrossed in conversation at a Washington D.C. dinner party.
40/40
Smile for the Camera
Robert, Ethel, and JFK sit in the backyard of their Georgetown complex as Jackie readies the camera for a photograph.