The 10 Best Movies You Missed in 2014
And how to catch up with them.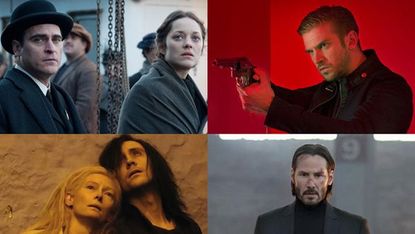 (Image credit: Archive)
You've been chilled by the marriage-gone-awry suspense of Gone Girl, stupefied by the cinematic inventiveness of Birdman, and terrified by the twisted mentor-mentee relationship of Foxcatcher, but what about those other must-see films from 2014 that you didn't have time (or an opportunity) to watch? And, just as important, what about those new releases, from here and abroad, that you didn't even know existed? As the year comes to a close, it's time to partake in the annual game of movie catch-up, so that when the tidal wave of top-10 lists and awards begins to flow, you're not left stranded, scratching your head at all the titles you don't recognize. Plus, what better time than now to enjoy an honest-to-goodness great movie? That's an easy task to accomplish if you track down the following, which rank as the best films you probably missed this year.

The Immigrant

A director of intimate, old-school character dramas, James Gray is one of America's most under-heralded movie talents, and his latest, The Immigrant, is no exception. Recounting the ordeal of a young Polish immigrant (Marion Cotillard) who arrives at Ellis Island in 1921 and is immediately preyed upon by a burlesque theater bigwig (Joaquin Phoenix) whose employees double as prostitutes, it's a wrenching story of exploitation and adversity that's as superbly acted as it is beautifully constructed.
(Available on Netflix, Blu-ray, and rental streaming services)

A Field in England

The hallucinatory and horrifying tale of a group of deserters during the mid-17th-century English Civil War from director Ben Wheatley, who has made his name with bizarre riffs on traditional genres. Shot in black-and-white and opening with a warning about its forthcoming use of strobe lights, it's a study of treachery, greed, madness, and hallucinogenic mushrooms that defies easy categorization or summary, and boasts more jaw-dropping imagery and unsettling atmosphere than any other film this year.
(Available on Blu-ray, and rental streaming services)

Blue Ruin

Revenge results in little more than misery in Blue Ruin, an indie from director Jeremy Saulnier that was partially funded via Kickstarter, and which takes a grim, suspenseful look at one homeless man's attempts to get back at the recently released convict who killed his parents. Escalating with slow-burn intensity, it's a taut drama whose script teases out narrative information in drips and drabs, the better to hammer home its surprises and sudden, ugly bursts of violence.
(Available on Netflix, Blu-ray, and rental streaming services)

The Guest

2014 delivered a handful of great '80s throwback thrillers, and the best of them was Adam Wingard's The Guest, in which a family still grieving over the death of its son (in the line of duty in Afghanistan) is visited by one of the deceased's military comrades (Dan Stevens), whose shadiness is quickly apparent. From that familiar premise, Wingard elicits consistent, tense action and suspense, all of it set to a menacing synthesizer score that further underlines the film's John Carpenter-esque lineage.
(Available on rental streaming services December 16 and Blu-ray in January)

Grand Piano

A compact and creatively staged thriller, Grand Piano details the plight of a concert pianist (Elijah Wood) who, while onstage making a comeback, is forced by a sniper to perfectly play a famously difficult piece of music. That high-wire scenario is shot with Brian De Palma-ish style by director Eugenio Mira, and plotted with escalating cleverness by Damien Chazelle, who—as in his own 2014 directorial work, the acclaimed Whiplash—imagines performance as a literally do-or-die endeavor.
(Available on Netflix, Blu-ray, and rental streaming services)

John Wick

Gangsters learn that you never mess with a grieving man's dog in John Wick, the year's best pure action film, in which a trio of thugs beat Keanu Reeves senseless, steal his car, and kill his pooch (the final gift from his dying wife), only to then learn that Reeves is, in fact, a notorious hitman. Reeves's subsequent quest for vengeance is an insanely violent affair, with more headshots than your average first-person-shooter, but luckily, also more visual panache than most likeminded efforts. It is, as Keanu might put it, totally excellent.
(In theaters)

We Are the Best!

The most electric kids film of the year comes from Swedish filmmaker Lukas Moodysson, whose We Are the Best! is a full-throttle blast of defiant youthful energy. Charting three tween girls' effort to form a punk rock band in 1982 Stockholm, which is complicated by issues of alienation, rebellion, and romantic jealousy, it's an endearing portrait of rock 'n' roll attitude and nonconformity that's bolstered by the year's finest adolescent performances.
(Available on Netflix, Blu-ray, and rental streaming services)

National Gallery

Far from a household name, 84-year-old Frederick Wiseman nonetheless remains one of cinema's enduring greats, a documentarian whose investigations of social and cultural institutions are often epic in length and wide-ranging in thematic scope. His latest, National Gallery, is a nearly three-hour look at London's famed art museum, and in its patient and focused depiction of lecturers, administrators, restoration experts, and visitors, it proves a mesmerizing portrait of the many forces at play at one of the world's most hallowed artistic establishments.
(In theaters)

Listen Up Philip

Alex Ross Perry's third feature is his most assured to date, a literary drama about a rude, arrogant author (Jason Schwartzman) who, on the eve of his second novel's publication, finds himself at odds with his girlfriend (Elisabeth Moss) and, soon after, retreating from New York City to the country to stay at the home of a famed writer (Jonathan Pryce). Caustically funny and aesthetically sharp, it's a small-scale story with expert characterizations, phenomenal performances, and a welcome refusal to shy away from, or denounce, its protagonists' less-than-admirable ways.
(In theaters)
Only Lovers Left Alive
Vampire movies have become ubiquitous over the past few years, but Jim Jarmusch brings a new twist to the bloodsucker genre with Only Lovers Left Alive. Languid and dreamy, his superb film revolves around married vampires (Tom Hiddleston and Tilda Swinton) who, though living on opposite ends of the world, are reunited by Hiddleston's suicidal urges. It has a plush, enveloping atmosphere of decaying hipster ennui and loneliness that's to un-die for.
(Available on Blu-ray and rental streaming services)
HONORABLE MENTION:
Coherence
Heli
The One I Love
Starred Up
The Homesman
Via
Related Links:

55 Movies You Have To Watch By The Time You're 30


8 Movies That Don't Make Sense If You Really Think About Them
Nick Schager is a NYC-area film critic and culture writer with twenty years of professional experience writing about all the movies you love, and countless others that you don't.