The New 'Riverdale' Trailer Is Steamy, Scary, and Totally Suspenseful
Shower sex scene alert!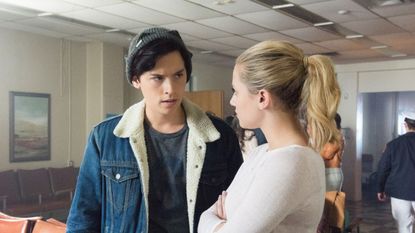 (Image credit: The CW)
The world is so so close to finally watching the second season of Riverdale, and to tide fans over, the CW has released yet another trailer that teases sex, violence, and more big-time intrigue in this very much not-ordinary small town:
The main characters all get a little update. Here's Bughead alive and well, with Jughead now working at Pop's?
Meanwhile, Archie and Veronica are escalating their super sexy (and secret) romance:
More Bughead updates: Jughead's got a motorcycle (that he really should wear with a helmet!). Just look at how adorable Betty is in her's.
But it seems that Archie's got more on his mind than just high school romance. After season one's finale hit too close to home, he's now defending himself with a baseball bat.
And there are dramatic hospital group hugs in the show's future, but does this come before or after Archie calls his mom up to share, "Mom, we're in trouble here?"
As for what happens with the rest of Riverdale's case of characters? (Especially my personal fave Cheryl.) There's only one way to find out. Tune in October 11 to watch these small town terrors and tumultuous romances unfold.
P.S. If you're wondering what that beautiful trailer song is, it's a cover of the jazz standard classic "I'm Confessin (That I Love You)" by Mallori.
I'm the night shift at Cosmopolitan.com and a writer and reporter around the web. I spend my daylight hours playing music, crafting, cooking, scheming, and rearing my pet chameleon.