15 Things No Grown Woman Should Ever Have in Her Home
Time to grow up.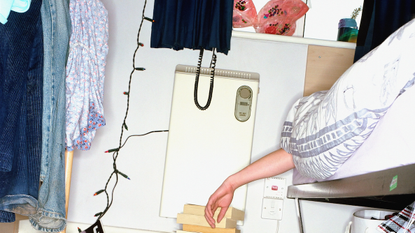 (Image credit: Archives)
1. A futon
"Futons are le worst! The older you get the squishier your bed should be," says designer, potter and author, Jonathan Adler.
2. Temporary furniture
"Often I see people waiting to move into the 'forever home' before they begin to decorate, and until then, simply buy whatever is on sale to fill up the space," says designer Scot Meacham Wood. "Invest in some classic pieces that you can carry with you, but stop waiting."
3. TV Stands
"Be gone, TV stands that were purchased with your TV!" says Lauren Buxbaum and Sasha Adler, Design Directors at Nate Berkus Associates. "It's time to do something a little less functional and a little more decorative."
4. Art or posters taped to the wall without frames
Come on, start looking into custom framing, says designer Nicole Gibbons.
5. Florescent floor lamps
"They can be very unflattering," warn Buxbaum and Adler. "Incandescent and soft lighting floor lamps are just as accessible, but they're easier on the eyes, prettier in the space, and do wonders for your complexion." Sold.
6. Bare wood floors and postage stamp size area rugs
Rugs ground a room and bring so much warmth and life to a space. "Instead of reaching for the quickest solution, reach for a rug that adds texture, color or pattern—in the largest size your room can handle!" advise Buxbaum and Adler. "It's amazing how it can elevate the whole look of a room."
7. Cheap bedding
"Really, there's no good reason to have cheap bedding whatever your age might be," explains Wood. "You should really be treating yourself better."
8. An unmade bed
"It takes 60 seconds in the morning to make up your bed, and it starts off your day with an accomplished feeling," says designer Ryan White.
9. Plastic dishware and serving pieces
According to Buxbaum and Adler these just aren't necessary, "unless it's for the garden party."
10. Kitchy picture frames
Yes, the ones of you and your childhood friend that say "Best Friends." "In your 30s, its time to invest in timeless pieces that you'll carry with you forever," says Gibbons. "Think classic silver-plated frames or other styles that feel sophisticated and coordinate with your décor."
11. Accent walls
"Rather than enhancing a space it feels like it does just the opposite," explain Buxbaum and Adler. "There are so many other ways to create a focal point and make a statement."
12. Shot glasses from your college spring break adventures on display
"These are only okay if you're still in college AND live in a sorority house!" says Gibbons.
13. An empty fireplace mantel or bookshelf
Use flowers, art, and accessories to add drama to any surface, advises White. "Buy interesting and fun objects to dress up your storage spaces," he says.
14. Fake plants or trees
Even if you don't have a green thumb these just aren't necessary. "Use air plants that only require a small about of water and attention to green up any room," says White.
15. The pillows sold with the sofa
They are boring and so not comfortable. "Buy different sized pillows and play with different colors and textures," says White.
You should also check out:
10 Things You Must Have In Your Home By 30
10 Things Every Man Needs At Home
I'm the Assistant Social Editor for Elle Decor, House Beautiful and Veranda. I am coffee-obsessed and a lover of travel, photography and all things with color and shine.