This Is the Weirdest and Most Amazing Movie Kristen Wiig Has Ever Done
You're gonna want to see this.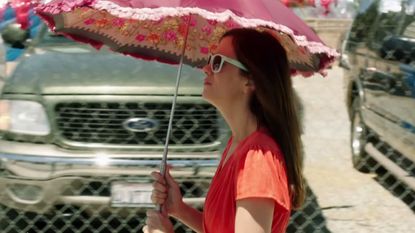 (Image credit: YouTube)
If you're one of those people who regularly finds yourself craving more Kristen Wiig in your life (really, who isn't?), this should make your day: The first trailer for her upcoming movie, Welcome to Me, has just been released.
The film stars Wiig as an Oprah-obsessed, former veterinary nurse with Borderline Personality Disorder who wins an $86 million lottery jackpot—which she then spends to create and star in a TV talk show about her own life. It garnered rave reviews at last year's Toronto Film Festival.
Aside from already being a critical success, Welcome to Me is bound to be Wiig's boldest move to date (bar her utterly fantastic Grammys performance with Sia and Maddie Ziegler, of course): There's a scene in which the SNL alum goes full-frontal in a casino—a move Wiig told E! was "completely terrifying."
Slated for release in early May, the dark comedy has an all-star supporting cast, including Jennifer Jason Leigh, James Mardsen, Wes Bentley, Joan Cusack, and Tim Robbins. Also worth noting: Will Ferrell produced it, and Bill Murray really, really liked it.
"It's one of the strangest movies I've ever seen," said Murray during the premiere. " The bravery to make this movie is pretty impressive. It's quite a piece of work. I mean, the funny stuff is maybe bolder than anything we've seen in a very, very long time." Not too shabby.
Watch the preview, below.
You should also check out:
You Are Not Seeing Things: Kristen Wiig DID Just Perform with Sia at the Grammys
The State of Women on TV: Lena Dunham, Mindy Kaling, and Kristen Wiig Get Candid at Sundance