13 Things You Should Have in Your Closet by the Time You're 30
We're not just talking about clothes.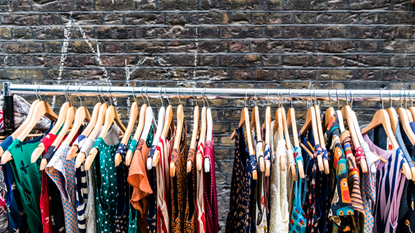 (Image credit: Archives)
Marie Claire Newsletter
Celebrity news, beauty, fashion advice, and fascinating features, delivered straight to your inbox!
Thank you for signing up to Marie Claire. You will receive a verification email shortly.
There was a problem. Please refresh the page and try again.
1. Something Cozy Underfoot
You know how you feel when you step into your favorite slippers? It's like that, but EVERY time you walk into your closet. "I think that by the time you're 30 you should really be personalizing your closet," says Melissa Picheny, Principal of Declutter + Design. "It shouldn't just be a place to throw your things anymore it should be something that showcases your personality and speaks to who you are." Choose a great sisal or leaf rug to warm up hardwood flooring or use floor tiles to create your own design.
2. Great Lighting
Not only will lighting make you feel great, but you'll be able to see your entire wardrobe. Picheny suggests lighting that automatically turns on when you open the door or a great table lamp or chandelier to add character to the space. "It's time to make the investment—to be on your way to seeing the differences between your black and navy tops and trousers!" says celebrity closet designer, Lisa Adams of LA Closet Designs. "If you have a walk-in closet, it's nice to have a chandelier or some type of ceiling fixture to complete your closet design; if not or in addition, replace your hanging rods with lighted hanging rods."
3. A System for Your Shoes
By 30, shoes should not be thrown on the floor or under your bed. "You should have a dedicated space for shoes—for all types of shoes (e.g. flats, heels, wedges, boots, etc.), and they should all be visible so you will wear them," says Adams. "If you have to rotate shoes by seasons, then do so, but the ones you can wear should be easily seen at first glance."
Small space tip: Not everyone has a walk-in closet but great organization will make the most of your space. "You can do a simple canvas shoe bag on the top of the door," suggests Picheny. "I wouldn't hang it over the top of the door—I would drill it into the door by the corners."
4. A Place for Treasured Items
Like handbags and jewelry. "Having a special place and moment for these things in your closet is important," says Picheny. "So you know where to find them and where to put them."
For jewelry: Use inserts or a small jewelry box to fit in the drawer. She also suggests putting treasured items toward the back of your closet.
For handbags: Open shelving and clear dividers are a must! "[Handbags] should be on display because they are so beautiful," says Picheny.
Quick tip: Avoid storing items in the space between your top shelves and your ceiling, it's hard to access and the space gives a less cluttered feel.
5. A Designated Space for Everything Else
"Each category of clothing should have its own space," says Picheny. "You should have a drawer (or two or three) for your workout clothes, for lingerie and undergarments. Same for your handbags and jewelry." It's not only aesthetically pleasing but you'll know where to find your things, and you'll know where to put them which is key. That's where people get a little lost—they have all this stuff and don't know what to do with it.
6. Pliios and Acrylic Shelf Dividers
These are a great way to keep everything tidy. "College T-shirts have left (or they need to now!) and you are now buying designer pima cotton T-shirts," says Adams. "Pliios are a great way to organize your T-shirts in a drawer in a filing system, so every T-shirt is visible when you open the drawer."
7. Hardware
"Be your own designer!" says Adams. " Pick out your own handles and/or knobs for drawers based on your design style. The options are unlimited."
"Leather drawer pulls add richness to the space," explains Picheny. "Or go fun and flirty with jewel tones. Something that really accents who you are. It changes everything."
Budget tip: You can use beautiful hardware to get an expensive look. Cheaper shelving and drawers can be elevated with beautiful drawer pulls.
8. A Mirror
A full-length one either in or near your closet. "It's an important element to have in your dressing process," says Adams. "Adding a decorative frame to your mirror creates a nice design touch and can add glam in an instant!"
Small space tip: Short on space? Picheny advises using a built-in, pullout mirror to make the most of the room you have. Or purchase a mirror with shelves built in the back—a great way to sneak in extra storage.
9. Walls Painted In a Color You Love
Nothing changes the look of a space more than the wall color. Add a color that shows your personality. This is your space, "paint it a color that really speaks to you," says Picheny.
Renting? She recommends temporary wallpaper to get the same glam look without losing your security deposit.
10. A Scent
It will make you feel like you're shopping in a boutique every day. Put sachets or diffusers in your drawers or around your closet. "It looks pretty and it makes your whole closet smell good," says Picheny. "And the scent gets on your clothes as well."
11. Hooks
"Pullout valet hooks are underrated and a must have for everyone," advises Adams. "They are perfect for packing, unpacking dry cleaning, and deciding what to wear every day."
12. Matching Hangers
By 30, you should have all of the same hangers. "Pick what you like and make them all the same," says Adams. "Having all of the same hangers is a quick way to beautify your closet!"
13. A Safe
"A must-have by the time you're 30," says Picheny. "You've probably built up a little collection of jewelry or things that are important to you so it's good to have a safe tucked away and feel safe about where your items are."
You should also check out:
15 Things You Should Never EVER Have In Your Home After 30
10 Things You Must Have In Your Home By 30
10 Things Every Man Needs At Home
Celebrity news, beauty, fashion advice, and fascinating features, delivered straight to your inbox!
I'm the Assistant Social Editor for Elle Decor, House Beautiful and Veranda. I am coffee-obsessed and a lover of travel, photography and all things with color and shine.