Ballet Phenom Misty Copeland Just Made History
Serving up fouettés and inspiration.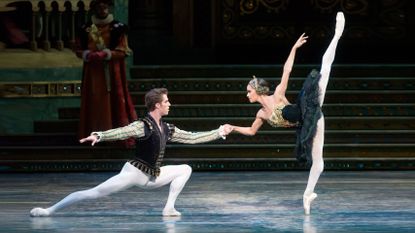 (Image credit: Gene Schiavone)
Update, 6/30: Misty Copeland was promoted to principal dancer at the American Ballet Theater on Tuesday, the New York Times reports, becoming the first African-American woman in the company's 75-year history to hold that position.
Copeland, who recently gave a breathtaking and critically acclaimed performance of Swan Lake, has been vocal about race and its effect on her career. "My fears are that it could be another two decades before another black woman is in the position that I hold with an elite ballet company," she wrote in her memoir. "That if I don't rise to principal, people will feel I have failed them."
Brava, Misty. Well-deserved.
Original post, 6/26: American Ballet Theatre soloist Misty Copeland has become an unstoppable force—she first made headlines for becoming ABT's first black soloist in 20 years, then for writing an arresting memoir about her struggles with racism in the ballet world, then for being the face of a beautiful, powerful Under Armour campaign, then for being named one of Time's 100 Most Influential People, and now—phew, you still with me?—for being one of the first black ballerinas to dance the starring role in Swan Lake.
She debuted, as dancers taking on major roles for the first time often do, outside New York, at Washington, D.C.'s Kennedy Center. "There were so many emotions—I'm still adjusting and trying to understand what happened," she saidof the final bow then.
But this week, she made her much-hyped New York debut at the Metropolitan Opera, and even The New York Times' notoriously tough dance critic Alistair Macaulay noted that she danced the role "successfully." She was, in no small way, a hit.
Making the historical performance even more poignant, barrier-breaking black ballet dancers Raven Wilkenson (Ballet Russe de Monte Carlo) and Lauren Anderson (the first black ballerina to become a principal of an American ballet company, with the Houston ballet) brought Copeland bouquets on stage.
Copeland has since posted a video of her performance:
And here's Raven Wilkenson and Copeland sharing a very special moment on stage:
And if you wanted a little more Copeland #inspo today, here she is in her campaign for Under Armour: