The Heart-Wrenching Way Prince Harry and Meghan Markle Honored Princess Diana at the Royal Wedding
Get your tissues ready.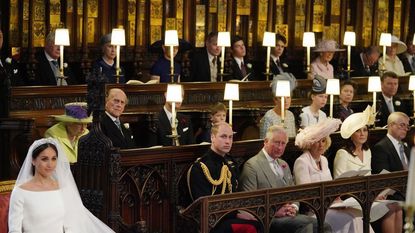 (Image credit: Getty Images)
It's pretty clear that there was a LOT of thought put into the wedding, from the decidedly American touches like a gospel choir, to breaking a lot of (rather stuffy) royal traditions. Also front of mind? Paying tribute to Prince Harry and Prince William's late mother, Diana, the Princess of Wales.
Harry said earlier this month that he was "keen to involve his mother's family in his wedding," and had already done so by using diamonds from Diana's jewelry collection for Meghan's own engagement ring.
RELATED STORIES
From including some of Diana's favorite flowers in Meghan's bouquet and having Diana's sister, Lady Jane Fellowes, give a reading, Diana was present in spirit in many ways. But perhaps the most heart-wrenching was by leaving an open seat for her in the chapel, in front of Prince Phillip and next to Prince William. Excuse us while we sob uncontrollably.
Prince William, too, made sure to honor his mother's memory when he tied the knot with Kate Middleton in April 2011. Along with proposing with Diana's sapphire-and-diamond ring, he and Kate reportedly visited Diana's final resting place in central England ahead of their wedding.
It goes to show that while the People's Princess is gone, she's certainly not forgotten.
Follow along here as we report on the royal wedding in real-time—from the dress to the tiara to Harry and Meghan's most adorable moments.
Beth Stebner is a Brooklyn-based writer and editor whose work has appeared in the Wall Street Journal, Vanity Fair, and Cosmopolitan.