9 'Daria' Details I'm Praying to See in MTV's Reboot
Mystik Spiral forever.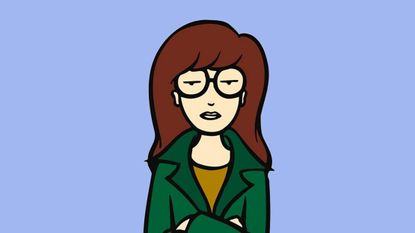 (Image credit: MTV)
Excellent news, fellow cynical former-teens! Sixteen years after Daria left MTV, the network announced that it's planning a reboot. The move comes as part of a new production unit, MTV Studios, which is also bringing back classics like The Real World (!) and Made. But Daria has been gone the longest, and might be the first good reboot idea in years. The animated show perfectly captured what it was like to be a teenager, in a way that was very of its late-'90s and early-aughts time period while also being universal and timeless.
What we know so far: The series will be helmed by Grace Edwards, who's previously worked on other instant-classic shows like Broad City, Unbreakable Kimmy Schmidt, and Inside Amy Schumer. (That's quite a resumé.) The show will be called Daria and Jodie, and will come from the perspective of the original titular character and her friend, Jodie Landon. "These two smart young women take on the world with their signature satirical voice while deconstructing popular culture, social classes, gender and race," the network said in a statement.
Because it's probably been a while, here are nine things you should remember about the original series before you tune into the revival (a premiere date hasn't been revealed yet).
Jodie Landon
Daria had two close friends: Her bestie and fellow goth Jane Lane, and her intellectual equal, the observant and driven Jodie Landon. Jodie will obviously be taking a much bigger role in the new series, which makes sense: She was a character very ahead of her time.
Recall, for instance, how she often lamented her school's lack of diversity. When she and her boyfriend, Mack, are elected Homecoming Queen and King, she figures it's because the school is using them as tokens. Jodie was the mouthpiece for conversations about race and Black womanhood in a show for teenagers, which is pretty groundbreaking stuff. It also makes her the character that could translate most easily to 2018.
Sick Sad World
Speaking of 2018, do you remember Sick Sad World, the weird, show-within-a-show that appeared via voiceover on every episode? This staple of the series is pretty cute now, given the state of the actual news ("Are drug-crazed rodents raiding your child's medicine cabinets?"). TV commentary is a constant on other Mike Judge-affiliated shows—Daria was actually introduced in an episode of his hit, Beavis and Butthead, in which she goofs on music videos with the guys—but Sick Sad World is in a class of its own. Some highlights include umbilical cord art, "G-string grandmas," and a fly-fishing pathologist who uses human organs as bait ("A liver runs through it, next on Sick Sad World").
Jane Lane
I have to admit, I was a little surprised that the show didn't have Jane somewhere in the title. As Daria's best friend and cynical touchstone, she was a crucial figure in the series, able to see the big picture side of Daria's misanthropic worldview.
The several seasons Daria spends having an awkward crush on Jane's cool brother, Trent, can't shake their bond, though Daria later dating Jane's ex-boyfriend, Tom, provides a bigger obstacle. (They eventually got over that, too.) Daria and Jane had one of the most complex, hilarious, and human portraits of teenage female friendship on a TV show, so you can probably assume she'll show up somewhere in the new series.
Quinn Morgendorffer
Daria's younger sister and diametric opposite, Quinn was the effortlessly popular and hilariously shallow Fashion Club member who pretended to be an only child. Of course, because this show gave its characters genuine nuance, it's suggested that Quinn's Valley Girl persona is mostly performative, and Daria even calls her out for denying how smart she really is. That's one of the great things about this series: Its characters weren't fixed in their ways. Quinn actually grows and matures throughout the show's run, an opportunity not a lot of series allow their tertiary characters.
The Alter Egos
In the final credits of every episode of Daria were these brilliant sketches of the show's characters either dressed as different versions of themselves or as famous characters throughout history. Think: The Fashion Club as Mount Rushmore, or Daria as Queen Elizabeth.
Tom Sloane
Tom was Daria's (formerly Jane's) cute, cynical boyfriend whom she dates from the last part of the series through graduation. Hilariously, he drove a Ford Pinto and tried to deny his extremely wealthy family background—even if he eventually goes to a big Ivy League school thanks to his parents' connections. Not only was Tom the most normal and serious relationship Daria had on the show, he also showed that she was genuinely interested in trying to be happy—something not really conveyed through the dismissive one-liners that make up most of her dialogue. They were the easiest couple to root for on the whole show (aside from Daria's parents, anyway) and it'd be a shame if Tom never showed back up.
Mystik Spiral
For such a terrible band, you couldn't throw a rock at an episode of Daria without hitting Mystik Spiral. Trent Lane, was apparently based on Nine Inch Nails' Trent Reznor, so it's fitting he was the frontman. And what they lacked in actual talent, they made up for in cool—even if they couldn't decide on whether to keep the name. Since Daria got over her crush on Trent after a few seasons, who knows if we'll see him int he reboot, but it's a safe bet we'll get a little homage to Mystik Spiral.
Daria's Parents
Only looking back on this show years later do I now understand that Daria and Quinn's mom, Helen Morgendorffer, is Mom Goals. She's a high-powered, take-no-prisoners attorney who never stops trying to connect with Daria. You can even sort of see where Daria gets her sarcasm from. Jake Morgendorffer, on the other hand, is hyperactive and charmingly clueless, hellbent on spending quality time with his daughters. Daria's parents are flawed, but they try to understand her at every turn, and it was nice to see a show from a teenager's perspective that didn't cast the parents in a totally unflattering light (even if both Helen and Jake were over-the-top most of the time).
Is It Fall Yet?
So many things happened in Is It Fall Yet?, the 2000 Daria TV movie. Quinn tries to be less ditzy and gets rejected by a tutor voiced by Carson Daly! Jane and Daria fight over a guy! Daria and Tom break up and then get back together! Dave Grohl voices a creepy art instructor! And most important of all, you can still buy the DVD on Amazon.
Or if you want to catch up even more, all the episodes of the original Daria are available to stream on MTV and Hulu.
RELATED STORY
Cady Drell is a writer, editor, researcher and pet enthusiast from Brooklyn.