How an Accidental Death, a Babysitter's Guilt, and a Dramatic Birth Resulted in a Viral Photo
When Francie Webb was 14, the child she was watching died. The photo that made her famous was the result of a 20-year recovery.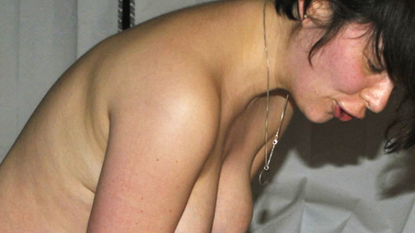 (Image credit: LEONARDO MAYORGA)
A teenage girl sits in a rocking chair holding a fussy infant. She rocks back and forth, and gradually the baby calms, soothed by the motion. She whispers "shhhhhh," looking up at the Winnie the Pooh prints hanging on the walls of the nursery. She rocks back and forth. The baby is quiet. Gently, the girl places the baby in her crib. She turns out the light and closes the door. Some time later, the baby begins to cry. The girl stands at the foot of the stairs, uncertain. Should I go up? she wonders. The crying stops.
Francie Webb was 14 years old in 1995 when a tragedy transformed her life. Babysitting for a family in her Virginia town, she spent a typical evening chasing their two-year-old son and caring for their 11-week-old daughter, Catherine. She put the fussy infant to sleep and tried to wrangle the active toddler toward bedtime. When the children's parents returned, Francie went home. Her family received a phone call a few hours later letting them know that Catherine had died that night.
Through a haze of shock, Francie remembers the memorial service—the casket so small it made her sob. She remembers Catherine's parents hugging her, telling her, "We love you so much," although they hardly knew her. She remembers breaking down at school in the middle of a translation in Latin class.
The cause of Catherine's death was Sudden Infant Death Syndrome—that mysterious and terrifying diagnosis that, at the time, killed more than 6,000 infants every year. Just a year earlier, the national "Back to Sleep" campaign had been launched, urging caregivers to place infants on their backs to reduce the risk of SIDS. While the cause of SIDS is still unknown, studies have shown that back-sleeping has a dramatic impact, and by 2000, the campaign had succeeded in reducing SIDS rates by over 50 percent. Francie had put Catherine to sleep on her stomach, as she had been taught, as she had done hundreds of times for her own siblings and the other children she babysat.
Devastated, Francie remembers asking her mother if the tragedy was her fault, if there was anything she could have done to save the baby girl, and was reassured that there was not. But she was not convinced. She felt deeply responsible for Catherine's death.
As Francie grew older, a sense of shame tainted her relationships. She used the painful story as a loyalty test, always wondering whether people would still want to be close to her if they knew what had happened. The thought of becoming a mother herself was too terrifying to imagine. But she never talked about or really admitted her own grief.
It wasn't until Francie graduated from college that she began to notice the cracks in the façade of strength she had constructed. A counselor encouraged her to contact Catherine's family, who had moved and were then living in England. Although she hadn't spoken to them in more than seven years, Francie wrote a letter to the family in which she admitted her struggles, her sense of guilt, and her hope that she hadn't been responsible for ruining their lives.
Catherine's mother Nadine remembers that their response was immediate. "My husband just said, send her a plane ticket," Nadine says. "Just get her over here and let her know that we're okay. Show her that we've moved on."
The visit to England was healing for Francie. Together, Francie and Nadine watched the only video that exists of Catherine, taken three days before she died. Nadine had only found the courage to watch it for the first time almost five years after Catherine's death, while pregnant with her second son. What she found was both unexpected and comforting. "I felt watching it that somehow the light had already gone out of her," Nadine says. "She didn't ever look at the camera.…She was almost, sort of, on another planet...Like something in her had already gone even though she hadn't actually died yet."
Watching the video, Francie felt the same. It was as if "she wasn't meant to stay." Francie takes comfort from a belief common to many cultures about children who don't stay in this world, a sense that this is unpreventable. Some stay and some go. "I think…that was the first step in putting it all behind her, knowing we didn't blame her," says Nadine.
Francie flew back to the U.S. feeling comforted and reassured. But nothing prepared her for the fear and anxiety unleashed almost a decade later by her own pregnancy. Concerns about the baby's size forced her to see a maternal-fetal medicine specialist and kept her on bed rest for months. She lived in terror that she would somehow lose her own child. Francie reached out for support, hiring a birth doula, and talking with her OB and pediatrician. Ultimately, she was able to have an un-medicated birth in a hospital. She was stunned by the "unfathomable pain" of labor, as she puts it, but she also felt empowered and transformed by the experience. She had done this thing. She had birthed her baby into her hands and held her before anyone else. "Next time, we do this at home," Francie told her husband. "I'm not afraid anymore."
Two years later, Francie was determined that her second pregnancy would be entirely different. She found a midwife. She planned a home birth. She chose not to have a single ultrasound scan of her developing baby, preferring to allow her child to simply be who she was. She worked to prepare for the birth not physically, but emotionally. She wrote in a journal. She began to operate from a place of trust.
But Francie's home birth did not go as planned. While she had imagined laboring in a birthing pool surrounded by women—the midwife and assistant, the doula from her first labor, a birth photographer, her mother, and close friends—no one managed to get there in time. Less than an hour after she realized she was in labor, Francie found herself alone on her bed, her husband on the phone with the doula, getting ready to push her baby into the world by herself.
"The only thought I had was: surrender. Let go. Allow this to happen," Francie says. "When I felt an inkling of fear, I decided to pray. I said to the baby, 'I need you to be okay, and I need you to let me know you're okay.' I pictured her coming out, looking healthy and crying. And that is exactly what happened."
Francie believes, as many obstetricians and midwives do, that there is a physiological relationship between a mother's emotional state and the process of giving birth. There are many approaches to this mind-body connection, ranging from meditation and visualization techniques to self-hypnosis and yoga. The process of working through past traumas or fears has been most famously documented by midwife and author, Ina May Gaskin, as an essential step in allowing a woman's body to physically open for the baby. By doing her own emotional work over the course of 20 years, Francie believes that she created the conditions for an empowering and beautiful birth in an active way. It didn't just happen.
While Francie had planned to document her first moments with her child, she never imagined that the photo of herself in the act of birth would later go viral. She posted the photo on Facebook on her baby's first birthday—the day that children officially age out of the risk of SIDS.
Reactions to the photo, which Francie shared in a private Facebook group dedicated to pregnancy and childbirth in New York City, were swift and severe. While many group members responded warmly, within an hour the photo had been removed for violating Facebook's anti-nudity policy. Articles about the photo's censorship rapidly began to appear in the media. Some expressed outrage at Facebook for labeling the photo "sexually explicit" and pointed out that the site allows images of "women actively engaged in breastfeeding or showing breasts with post-mastectomy scarring." Others questioned whether the photo was "over-sharing" or whether the ban on childbirth images contributed to a social media culture that shames and disempowers women.
[image id='175f551c-8f71-47d2-96bb-2f66e5c8646d' mediaId='2ca81622-a003-446f-b71f-5865830de5d4' caption='Francie Webb with her younger daughter' loc='C' share='true' expand='true' size='M'][/image]
But for Francie, the photo simply represents her transformation. It marks the end of a 20-year journey of recovery from the life-altering tragedy that nearly prevented her from becoming a mother at all. "I need people to understand that this was not easy," Francie says. "This was not an isolated incident. This was not an accident. I started preparing for this birth twenty years ago when I thought I could control whether or not a baby survived, and I couldn't."
Even in the depth of her grief and guilt, Francie always had a feeling that she would someday use the experience of Catherine's death to help others. It led her to become a birth doula and to create a website, TheMilkinMama.com, dedicated to teaching mothers how to hand express breast milk. It brought her to that moment of total courage, alone on a bed, holding her newborn baby in her hands.
Catherine's parents donated her corneas after her death, and months later they received a certificate telling them two children now had the gift of sight because of Catherine. "Initially," Nadine says, "I thought, maybe one of these children will go on to be an amazing doctor or an amazing artist. And then you think, wait a minute, maybe one of these children will just go on to be an amazing mother."
Sarah Yahr Tucker is a freelance writer and parenting blogger for Mom.me. She lives in Los Angeles with her husband and daughter.
Follow Marie Claire on Facebook for the latest celeb news, beauty tips, fascinating reads, livestream video, and more.