The Cast of 'Gossip Girl' Had Way More Drama Off-Screen Than On
You know you love this messy cast. XOXO.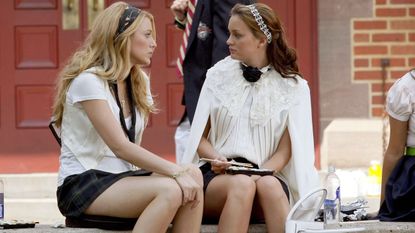 (Image credit: The CW)
As of today, it's exactly 10 years since the pilot episode of Gossip Girl debuted, introducing us both to the scandalous lives of Manhattan's elite, and to the sometimes equally scandalous cast of actors who played our favorite Upper East Siders. While most of the gang were probably consummate professionals most of the time, thrusting a whole lot of very young actors very suddenly into the limelight is a surefire recipe for at least a little bit of scandal, as GG showrunners Josh Schwartz and Stephanie Savage knew well from their time onthe O.C.
Here, we're revisiting nine of the most dramatic behind-the-scenes moments from the set of Gossip Girl.
RELATED STORY
1) When the entire cast was low-key hooking up.
Blake Lively and Penn Badgley weren't the only couple whose on-screen romance became a real-life relationship—in fact, with the exception of Chace Crawford and Taylor Momsen, everybody in the main cast apparently hooked up with at least one costar. Leighton Meester and Sebastian Stan (who will always be Carter Baizen in our hearts, even now that he's Marvel-famous) were a thing for a while, as were Ed Westwck and Jessica Szohr—which, we know, Chuck and Vanessa barely count as an on-screen romance, but they did hook up that one time. And the adults on set weren't immune: Matthew Settle and Kelly Rutherford were also rumored to be involved for a while.
"I remember there was one point where we were just afraid of how our personal lives overlapping our work life could be perceived by our bosses," Lively told Vanity Fair recently, "[but then] we were like 'oh no, that's exactly what they want.' They wanted us all to date. They wanted us all to wear the same clothes that we're wearing on the show. They wanted that, because then it fed their whole narrative. People could buy into this world."
RELATED STORY
2) When Taylor Momsen turned to the dark side.
If you've re-watched Season 1 of GG recently, you may have had the deeply surreal experience of reacquainting yourself with the fresh-faced, sweet Little J of old. While Jenny's innocence was always going to end up being compromised by her social-climbing tendencies, Momsen's off-screen punk rock transformation and work with her band, the Pretty Reckless, took things a little further than the writers had planned. By Season 2, Jenny's raccoon-eyed bad attitude had become her defining character trait, and Momsen's personal life—including allegations of unprofessional behavior (more on that below)—spilled over into storylines in ways that sometimes worked, and sometimes… didn't.
"I certainly did not see that coming…I don't think anybody did," GG casting director David Rapport told Buzzfeed of Jenny's character arc. "Taylor actually read on tape and we cast her off tape, so we never had her here in person. We were looking for a girl who was on the brink of becoming a woman—I don't think we saw that goth side yet [because] she was still really young; she was maybe, like, 13 when we cast her. Again, I don't think anyone had met her in person and everything was fine as far as I knew, and then it kind of took a turn." Sure. Did.
3) When Penn Badgley kind of despised the show.
Like the real-life Lonely Boy he was, Badgley hasn't really made a secret of his feelings about GG since the show ended. "I look at Gossip Girl as an endurance test of all kinds," he told The Guardian in 2013. On the same press tour, for Jeff Buckley movie Greetings from Tim Buckley, he told Salon, "To be proud of something is a really nice feeling...And it's a new feeling, and it's something that I wanna keep going with. I can walk a little taller feeling that I don't have to be constantly apologizing for the work that I've done in the past." Ouch.
"Penn didn't like being on Gossip Girl, but…he was Dan," onetime showrunner Josh Safran has said, accurately. "He may not have liked it, but [his character] was the closest to who he was."
RELATED STORY
4) When Gossip Girl's author said the show ruined a character.
Cecily von Ziegesar, who authored the Gossip Girl books, was generally on board with the show's adaptation. But you know which character she was not into? Honestly, you can guess.
"I think Vanessa is one character they ruined," von Ziegesar told MTV in 2008. "In the book, she's kick-ass and has a shaved head and wears lots of black...Even though I don't like Vanessa's character, it's nothing against Jessica. I just wish Vanessa was like she is in the books a bit more."
5) When Blake Lively and Leighton Meester were maybe feuding.
Serena and Blair's intense frenemy relationship had its ups and downs, but almost from day one of GG, their off-screen dynamic was reportedly way frostier. Even New York Magazine reported rumors that the pair "avoid each other like the plague" on set. While the alleged details varied over time, from "Leighton thinks Blake is an egomaniac" to Lively's gripe with Meester's wardrobe budget, the basic rumor never really died down during the show's six-year run.
The most solid evidence of this whole beef came, ironically, from a PR statement. "Blake and Leighton have never been best friends, and never professed to be," Lively's publicist was quoted as saying by Wetpaint. "Blake goes to work, does her job, and goes home."
6) When Taylor Momsen got called out by Tim Gunn, because why not?
Remember when Project Runway mentor Tim Gunn guest-starred as himself, interviewing Jenny for a job in Season 4? As it turns out, their off-screen interaction went even worse than the interview on the show. In a scathing interview with E! Online, Gunn called Momsen incredibly difficult to work with. "What a diva!" he said. "She was pathetic, she couldn't remember her lines, and she didn't even have that many. I thought to myself, 'Why are we all being held hostage by this brat?'
Shortly after this mess, Momsen was put on "indefinite hiatus" from the show, and aside from one more brief appearance, wasn't seen again until the series finale.
7) When there was a straight-up Russian hack.
This 2016 election realness took place way back in the fourth season of GG, but came to light in a recent Vanity Fair article. "All season, our scripts were ending up online, and we couldn't figure out how," a producer on the series told VF. "We hired a private investigator. We didn't understand what was happening, because everything was getting leaked, every detail…A teenager, I think either [from] Russia or Bulgaria, had hacked one of the writer's e-mails, and was selling scripts on eBay. But they were underage, so they couldn't be prosecuted. It was a fucking production nightmare. We would have to 'X' out every script. We would have to print on red paper. ….It was like there was a 'Gossip Girl' in our system."
8) When Blake Lively called the show "personally compromising."
Badgley isn't the only cast member to posthumously slam GG. "People loved it, but it always felt a little personally compromising—you want to be putting a better message out there," Lively told Allure in 2015. "It's a weird thing when people feel like they know you really well, and they don't… I would not be proud to be the person who gave someone the cocaine that made them overdose and then shot someone and slept with someone else's boyfriend." Which, okay. Fair.
9) When Leighton's music got priority over Taylor's.
The truly iconic rivalry of GG was not Blake and Leighton, but Leighton and Taylor—and the fact that it was probably kind of one-sided only makes it more amazing. Back in Season 3, rumors began to fly of a music feud between the two, who were both releasing music on the side; Taylor with her band The Pretty Reckless, and Leighton solo, although her biggest hit was with Cobra Starship.
Taylor was reportedly pissed because the show had featured two of Leighton's songs, and none of her music. In response, a CW rep issued quite literally the shadiest publicity statement in recorded history: "The show will support Taylor and her music when the time is right, but her music is not ready yet." OOF.
Follow Marie Claire on Facebook for the latest celeb news, beauty tips, fascinating reads, livestream video, and more.
Celebrity news, beauty, fashion advice, and fascinating features, delivered straight to your inbox!
Emma Dibdin is a freelance writer based in Los Angeles who writes about culture, mental health, and true crime. She loves owls, hates cilantro, and can find the queer subtext in literally anything.