Editors handpick every product that we feature. We may earn commission from the links on this page.
50 True Crime Podcasts We've Been Hooked On This Year
Seriously, you need to keep up with these.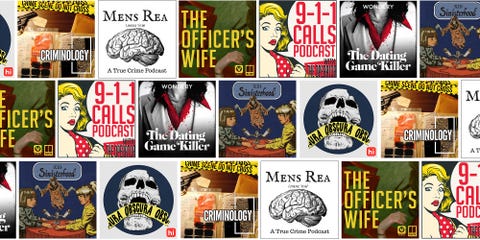 Design by Morgan McMullen
We love true crime here at Marie Claire, but there are some things a Lifetime movie cannot capture. Podcasts are the new frontier of the genre, allowing listeners to go deep on cases, form their own theories, and occasionally even help out the investigators in real-time. The best true crime podcasts are ones that say something about society while providing an intriguing narrative, and those are the kind we've listed here.
Sure, if you're not in the kind of mood to go down a path most often dark, there are loads of other types of podcasts. Learn more about your favorite artist in a series of music podcasts, or tell your friends and family that you actually learned something new besides that TikTok dance you spent three hours on with an educational episode! Or because you've always been a trendsetter, check out our round-up of the best podcasts of 2020 in all genres. Regardless of your listening preference, we're all friends here, and by friends, I mean lovers of true crime.
Allow us to present: Our 50 picks of the best true crime podcasts currently available. There's plenty to binge-listen to on your next long road trip or train ride or just, you know, Sunday.
This content is created and maintained by a third party, and imported onto this page to help users provide their email addresses. You may be able to find more information about this and similar content at piano.io