The 2021 Book Releases to Order Now and Thank Yourself Later
New titles from Jennifer Weiner, Akwaeke Emezi, Sally Rooney, and more.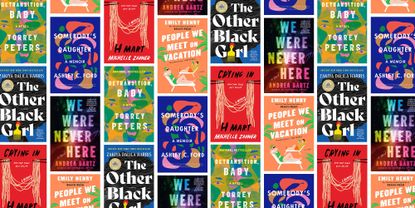 (Image credit: Design by Morgan McMullen)
Marie Claire Newsletter
Celebrity news, beauty, fashion advice, and fascinating features, delivered straight to your inbox!
Thank you for signing up to Marie Claire. You will receive a verification email shortly.
There was a problem. Please refresh the page and try again.
2021 has given us some incredible books. While you're perusing through this year's top releases, expect a brilliant mix of fiction from bestselling authors like Morgan Jerkins and Sally Rooney, along with an invitation into the lives of prominent figures like Senator Mazie K. Hirono in Heart of Fire and Tarana Burke in Unbound. Ahead, our list of the best books of 2021 to order today and thank yourself later.
1/85
'The Push' by Ashley Audrain
If you're looking for a psychological drama about motherhood, Ashley Audrain's The Push takes readers inside the mind of main character Blythe who questions her relationship with her daughter when she's born, forcing her to eventually confront some truths about herself.
Available January 5, 2021
2/85
'One of the Good Ones' by Maika Moulite and Maritza Moulite
When teen activist Kezi Smith is killed after attending a social justice rally, her family is left to wonder what it actually means to be "one of the good ones."
Available January 5, 2021
3/85
'The Prophets' by Robert Jones, Jr.
Robert Jones, Jr.'s debut novel, The Prophets, is a queer love story centered on two enslaved men, Isaiah and Samuel, who live together on a plantation in the Deep South—forced to confront oppression, betrayal, and ultimately, the threat of their existence.
Available January 5, 2021
4/85
'Black Buck' by Mateo Askaripour
Twenty-two-year-old Darren seemingly goes from a Starbucks employee to a ruthless salesperson at an NYC tech startup overnight, becoming unrecognizable to his family. After tragedy strikes, he turns his grief into action by devising a plan to help young people of color enter America's salesforce and achieve the "American dream."
Available January 12, 2021
5/85
'Detransition, Baby' by Torrey Peters
When Reese's girlfriend Amy decides to detransition and become "Ames," Reese finds herself engaging in self-destructive behavior. Things get even more complicated when Ames impregnates his boss and lover, Katrina. Alas, it gives him a chance to decide whether this is an opportunity to have both Reese and Katrina in his life.
Available January 12, 2021
6/85
'Aftershocks' by Nadia Owusu
Nadia Owusu's gripping memoir helps readers struggling with their own identity feel seen through Owusu's recount of her unstable childhood, family secrets, and depression that eventually lead to her self-discovery.
Available January 12, 2021
7/85
You Have a Match' by Emma Lord
Tweet Cute author Emma Lord returns with You Have a Match, where main character Abby finds out that she has a secret sister who she decides to meet at summer camp. Expect some juicy drama to follow.

Available January 12, 2021
8/85
'Concrete Rose' by Angie Thomas
Fans of The Hate U Give will be excited to learn Angie Thomas' second book in the series, Concrete Rose, takes readers to Garden Heights 17 years before the events in the first novel.
Available January 12, 2021
9/85
'Run to Win' by Stephanie Schriock and Christina Reynolds
In Run to Win, EMILY's List President Stephanie Schriock and VP of Communications Christina Reynolds create a guide on how to run for office and win. It includes a foreword from Vice President Kamala Harris who knows a thing or two about winning.
Available January 12, 2021
10/85
'Shipped' by Angie Hockman
When a workaholic marketing manager and a remote social media manager (who are both up for the same promotion!) are forced to go on a company cruise together, they discover that their virtual love/hate relationship may not include much hate in real life after all.
Available January 19, 2021
11/85
'Let Me Tell You What I Mean' by Joan Didion
Readers who have been longing for new Joan Didion will be thrilled to learn she's publishing 12 previously uncollected essays in Let Me Tell You What I Mean.
Available January 26, 2021
12/85
'The Ex Talk' by Rachel Lynn Solomon
If you happen to love a good romance and NPR, look no further than Rachel Lynn Solomon's The Ex Talk.
Available January 26, 2021
13/85
'The Girls I've Been' by Tess Sharpe
Soon to be a Netflix film starring Millie Bobby Brown, The Girls I've Been centers on Nora, the daughter of a con woman, who is caught in a bank heist and determined to get herself, her girlfriend, and her ex/best friend out safely...no matter what it takes.
Available January 26, 2021
14/85
'Girl A' by Abigail Dean
Behold a psychological novel about a girl who escapes captivity, and later finds herself at the very place she escaped from—forced to confront her identity as "Girl A."
Available February 2, 2021
15/85
'Surviving the White Gaze' by Rebecca Carroll
In Surviving the White Gaze, cultural critic Rebecca Carroll reflects on her childhood growing up Black in a white rural New Hampshire town and how she forged her path as a Black woman in America.
Available February 2, 2021
16/85
'Milk Blood Heat' by Dantiel W. Moniz
If you're obsessed with Florida, Dantiel W. Moniz's Milk Blood Heat uses the state as a backdrop to tell compelling stories of ordinary people in this memorable debut.
Available February 2, 2021
17/85
'This Close to Okay' by Leesa Cross-Smith
In This Close to Okay, Leesa Cross-Smith tells the story of recently-divorced therapist Tallie Clark, who spots a man named Emmett on a bridge who's seemingly trying to end his life. As they learn more about each other (the book is told in alternating perspectives), Tallie chooses not to tell him she's a therapist. Instead, they have to learn the truth about each other—and themselves—the hard way.
Available February 2, 2021
18/85
'Fake Accounts' by Lauren Oyler
Allow Lauren Oyler to take you on a wild ride in Fake Accounts, where a woman discovers her boyfriend is an anonymous online conspiracy theorist. Believe it or not, that's only the beginning.
Available February 2, 2021
19/85
'My Year Abroad' by Chang-Rae Lee
When Pong Lou, a Chinese American entrepreneur, takes Tiller, an average American college student, with him on a trip across Asia, his perspective on life is forever changed.
Available February 2, 2021
20/85
'Do Better' by Rachel Ricketts
Rachel Ricketts's Do Better: Spiritual Activism for Fighting and Healing from White Supremacy addresses anti-racism from a spiritually-aligned perspective, providing readers with a guidebook on how to fight racial injustice and white supremacy from the inside out.
Available February 2, 2021
21/85
'The Kindest Lie' by Nancy Johnson
Nancy Johnson's The Kindest Lie finds main character, Ruth, back in her hometown that's plagued with racism and despair during the 2008 financial crisis. There she befriends Midnight, a young white boy who helps her uncover secrets from her past.
Available February 2, 2021
22/85
'Kink' Edited by R.O. Kwon and Garth Greenwell
Featuring an incredible roster of writers, Kink is a short fiction collection that explores love, lust, BDSM, and more, edited by bestselling author R.O. Kwon and Garth Greenwell.
Available February 9, 2021
23/85
'Sparks Like Stars' by Nadia Hashimi
In Sparks Like Stars, Sitara Zamani is transported to a new American life after communists staged a coup in her home of Afghanistan, assassinating the president and her entire family. Forty years later, she encounters the soldier who saved her (and may have been responsible for her family's death), prompting her to return to the country for answers.
Available March 2, 2021
24/85
'My Inner Sky' by Mari Andrew
There's something about Mari Andrew's words and illustrations that make you feel at home. My Inner Sky reminds readers of the shared grief, joy, and sorrow that we experience throughout life—and how to cope with it.
Available March 2, 2021
25/85
'Professional Troublemaker' by Luvvie Ajayi Jones
If you've been consumed with imposter syndrome or, frankly, anything that's been holding you back in life, allow New York Times bestselling author and keynote speaker Luvvie Ajayi Jones to help you tackle that fear through her signature wit and refreshing honesty.
Available March 2, 2021
26/85
'Infinite Country' by Patricia Engel
Patricia Engel's Infinite Country takes readers into the lives of a Columbian family who has immigrated to the U.S. and is forced to weigh the all-too-familiar struggle of risking deportation or willingly returning to the very country they decided to flee from.
Available March 2, 2021
27/85
'How Beautiful We Were' by Imbolo Mbue
When the fictional African village of Kosawa is being destroyed by an American oil company, the people residing in the village decide to fight back, prepared for the consequences that they'll face.
Available March 9, 2021
28/85
'Black Girl, Call Home' by Jasmine Mans
Jasmine Mans's highly-anticipated poetry collection, Black Girl, Call Home, beautifully illustrates what it's like to be a queer Black woman in America.
Available March 9, 2021
29/85
'Act Your Age, Eve Brown' by Talia Hibbert
Talia Hibbert's third book in the Brown Sisters series focuses on the unpredictable Eve Brown and the unexpected love she finds at the bed and breakfast she interviewed as a chef for. She may or may not have also ~ accidentally ~ hit the owner with her car, but we'll leave the rest of that story for the book.
Available March 9, 2021
30/85
'Justice, Justice Thou Shalt Pursue' by Ruth Bader Ginsburg and Amanda L. Tyler
In Justice, Justice Thou Shalt Pursue, readers will learn even more details about the late Supreme Court Justice Ruth Bader Ginsburg's family life and lifelong career fighting for gender equality. The book was heading into production around the time of RBG's death.
Available March 16, 2021
31/85
'Of Women and Salt' by Gabriela Garcia
Gabriela Garcia's Of Women and Salt spans across multiple generations of women living in Cuba, Miami, and Mexico and the decisions they have made that ultimately connect—and shape—their lives.
Available March 30, 2021
32/85
'Libertie' by Kaitlyn Greenidge
In Reconstruction-era Brooklyn, Libertie Sampson is conflicted between the life she feels compelled to live and the one her mother wants for her: to go to medical school and become a doctor. Things become increasingly complicated when Libertie accepts the marriage of a man from Haiti, only to discover her freedom is further limited as a Black woman in their relationship.
Available March 30, 2021
33/85
'The Beauty of Living Twice' by Sharon Stone
In The Beauty of Living Twice, actress and humanitarian Sharon Stone reflects on how she rebuilt her life after a massive stroke that altered her family, love, and career.
Available March 30, 2021
34/85
'Girlhood' by Melissa Febos
Here, Melissa Febos brilliantly explores society's definition of becoming a woman and the values—or lack thereof—it taught her growing up.
Available March 30, 2021
35/85
'You Love Me' by Caroline Kepnes
Caroline Kepnes is back with the third book in the You series (yes, the original books from the Netflix series). This time around, Joe is headed to the Pacific Northwest and, well, you probably have an idea of what happens next.
Available April 6, 2021
36/85
'Caul Baby' by Morgan Jerkins
Morgan Jerkins's first work of fiction is about a woman named Laila, desperate to become a mother, who's in search of a caul from an old and powerful family in Harlem known as the Melancons. What follows is a deep search for familial connection after Laila's niece, Amara, gives birth to a child named Hallow that she gives to the Melancons to raise. When Hallow and Amara cross paths years later, Hallow must decide where she truly belongs.
Available April 6, 2021
37/85
'Peaces' by Helen Oyeyemi
Helen Oyeyemi, bestselling author of Gingerbread, returns with another magical storyline. This time, in Peaces, a couple finds themselves on a sleeper train that turns out to be anything but ordinary.
Available April 6, 2021
38/85
'When the Stars Go Dark' by Paula McLain
Paula McLain, New York Times bestselling author of The Paris Wife, is back with When the Stars Go Dark—a story about a detective named Anna Hart who becomes obsessed with a missing persons report in her hometown that's reminiscent of an unsolved murder from her childhood.

Available April 13, 2021
39/85
'Aquarium' by Yaara Shehori
Yaara Shehori's debut centers on two deaf sisters, Lili and Dori Ackerman, raised by deaf parents who refuse to let them interact with anything or anybody in the world of hearing. That is, until they suddenly find themselves in it and are forced to relearn everything they've been taught.
Available April 13, 2021
40/85
'Hana Khan Carries On' by Uzma Jalaluddin
Uzma Jalaluddin's rom-com with competing halal restaurants is exactly the kind of novel we need in 2021.
Available April 13, 2021
41/85
'Heart of Fire' by Mazie K. Hirono
Mazie K. Hirono, the first Asian-American woman and the only immigrant serving in the U.S. Senate, shares her inspiring journey growing up in rural Japan and eventually becoming one of the most influential members of Congress.
Available April 20, 2021
42/85
'Crying in H Mart' by Michelle Zauner
If you read Michelle Zauner's viral New Yorker essay about crying in H Mart after her mother's death, you'll want to order her memoir, which expands on the essay, immediately.
Available April 20, 2021
43/85
'Anna K Away' by Jenny Lee
At last, Jenny Lee's Anna K—a modern adaptation of Anna Karenina—returns with its sequel, Anna K Away, set over the course of the next summer after Alexia Vronsky's tragic death.
Available April 27, 2021
44/85
'You Are Your Best Thing' by Tarana Burke & Brené Brown
Tarana Burke, acclaimed activist and founder of the Me Too movement, and Dr. Brené Brown, New York Times bestselling author and professor, teamed up to create an anthology on the Black experience that includes essays from some of the most vital voices of our time.
Available April 27, 2021
45/85
'The Last Thing He Told Me' by Laura Dave
You know it's probably a good thriller when Reese Witherspoon decides to transform it into a limited TV series starring Julia Roberts. When main character Hannah's husband disappears and leaves a note telling her to protect his daughter, she finds out her husband wasn't exactly who he was cracked up to be. Together, the mother and stepdaughter start to discover the truth about the man they thought they knew.
Available May 4, 2021
46/85
'Notes on Grief' by Chimamanda Ngozi Adichie
The exquisite author Chimamanda Ngozi Adichie's latest work, Notes on Grief, is a book we can all relate to in our ways during the COVID-19 pandemic. Here, Adichie details the loss of her father last summer.
Available May 11, 2021
47/85
'That Summer' by Jennifer Weiner
The summer wouldn't be complete without an aptly-titled novel from New York Times bestselling author Jennifer Weiner that explores themes of friendship and power.
Available May 11, 2021
48/85
'Billie Eilish' by Billie Eilish
Billie Eilish fans, rejoice: The 19-year-old singer/songwriter is publishing a visual introspection into her life with never-before-seen photos.
Available May 11, 2021
49/85
'Yearbook' by Seth Rogen
As Seth Rogen perfectly put it, "I wrote a book called Yearbook. It's true stories and essays and stuff that I hope you think are funny. It comes out in May, but if you like you can order it now. Yay!"
Available May 11, 2021
50/85
'People We Meet on Vacation' by Emily Henry
If you enjoyed Emily Henry's Beach Read, you'll appreciate People We Meet on Vacation—a novel about two best friends, Alex and Poppy, whose annual vacation ritual is halted after they've stopped speaking. And yet, somehow they convince each other to go on one final seven-day vacation together in an attempt to make it right.
Available May 11, 2021
51/85