'The Flight Attendant': Meet the Cast of HBO Max's Intense New Thriller
HBO Max's new thriller 'The Flight Attendant' concerns the mysterious death of a plane passenger. Here's who's who in the cast, from Kaley Cuoco to Rosie Perez.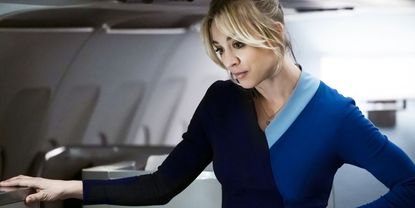 (Image credit: Warner Bros/Phil Caruso)
Marie Claire Newsletter
Celebrity news, beauty, fashion advice, and fascinating features, delivered straight to your inbox!
Thank you for signing up to Marie Claire. You will receive a verification email shortly.
There was a problem. Please refresh the page and try again.
Being a flight attendant seems like a pretty sweet gig (in non-COVID times, at least): You get to fly all over the world, meet new people, and explore new places—on top of the free flight perks you get to use in your off hours. Here to burst that dreamy bubble, however, is The Flight Attendant, HBO Max's new darkly comedic mystery series about, yes, a flight attendant who gets swept up not in the jet-setting lifestyle, but in the middle of a murder investigation. To be fair, the aforementioned airline employee was seemingly the last person to see the murder victim alive, was the one to discover his slit throat, and also promptly fled the crime scene without telling anybody about what she woke up to find. Not suspicious at all, Cassie!
The Flight Attendant proceeds to spend its eight episodes diving deeper and deeper into the whodunit, with near-constant twists and reveals. Translation: It's the perfect mind-bending mystery in which to get fully swept up during that weird limbo period between Christmas and New Year's. With every episode of season one now available to stream and a second season already on the way, it's the ideal time to dive in—after getting to know each of the main characters and the famous faces behind them.
1/10
Kaley Cuoco as Cassie Bowden
The titular flight attendant, Cassie has a penchant for spending her layovers over-imbibing and hooking up with passengers—until she wakes up one morning to find her latest conquest dead in their hotel room. She spends the series trying to piece together the events of their night together.
This marks Cuoco's first recurring role in a (live-action) TV series since The Big Bang Theory. Other recent appearances include the lead role and an executive producer credit on the animated Harley Quinn series and a starring spot in the upcoming action comedy movie The Man From Toronto.
2/10
Michiel Huisman as Alex Sokolov
Alex is the unlucky airline passenger who quickly sees his trip to Bangkok go downhill: Sure, he gets to hook up with Cassie, but his trip is cut short by a slit throat. You win some, you lose some.
You probably recognize Huisman, a Dutchman, as one of Hollywood's go-to romantic leads in recent years—from Game of Thrones to Age of Adeline to Orphan Black. Next up are roles in the upcoming films The Boy Called Christmas and Kate.
3/10
Zosia Mamet as Annie Mouradian
Fortunately for Cassie, her best friend and closest confidante is also a lawyer. Annie jumps immediately to her friend's defense, helping Cassie navigate the case against her and tapping her network to get the inside scoop on the FBI's investigation.
Mamet isn't new to runaway HBO hits—her most recognizable role is probably still Shoshanna Shapiro on Girls. More recently, however, she's also popped up in Dickinson, Tales of the City, and rom-dram The Boy Downstairs.
4/10
T.R. Knight as Davey Bowden
Cassie's brother Davey has a strained relationship with his sister, owing to their shared childhood trauma. Each of their interactions only serves to further stress Cassie out, which isn't exactly the best situation for someone at the center of a murder investigation.
Knight has nearly two decades of TV credits under his belt, including in The Comey Rule, The Good Wife, and Grey's Anatomy, in which he played Dr. George O'Malley. He's also had a wide-ranging stage career, with Broadway credits including It's Only a Play and A Life in the Theatre.
5/10
Michelle Gomez as Miranda Croft
Miranda is a business associate of Alex's who maybe met up with him and Cassie in the hours before his death—at least, according to Cassie's post-traumatic hallucination of Alex. Either way, it's not not suspicious that she suddenly starts following Cassie around N.Y.C.
Gomez is a Scottish actress who is perhaps best known for dabbling in the supernatural: as Missy, an incarnation of The Master in Doctor Who, and Mary Wardwell, aka Madam Satan in Netflix's Chilling Adventures of Sabrina.
6/10
Colin Woodell as Buckley Ware
It's understandable that someone being investigated for the murder of a vague acquaintance and further stressed out by tense familial relationships would need to blow off some steam. Enter Buckley, a stranger-turned-reliable booty call for Cassie.
Past recurring roles for Woodell include The Purge, Designated Survivor, Masters of Sex, and The Originals. Most recently, he starred alongside Harrison Ford in The Call of the Wild.
7/10
Merle Dandridge as Kim Hammond
Along with Van, Kim is one of the FBI agents investigating the murder of Alex—an investigation that increasingly seems to point toward Cassie as the culprit. Whodunit, indeed!
Dandridge is a certified triple threat, with almost 30 years' worth of roles on stage and screen on her resume. Her Broadway credits include Once on This Island, Spamalot, and Rent, among many others, while highlights from her TV career include Greenleaf, The Night Shift, and Sons of Anarchy.
8/10
Griffin Matthews as Shane Evans
Shane initially seems like Cassie's brother in arms, a fellow flight attendant with a similar love of using layovers as a chance to visit the world's best nightclubs. But underneath his impeccably dressed exterior, everything is not as it seems...!
Matthews is another prolific alum of both TV and the theater. Not only did he co-write and star in the Off-Broadway show Invisible Thread, but he's also appeared in Dear White People, Ballers, and Law & Order: SVU.
9/10
Nolan Gerard Funk as Van White
Kim's partner in the FBI investigation of Alex's death, Van is a junior agent with a reputation as a bit of a hothead. He's hoping to prove himself to his superiors, and decides the best way to do so is to focus solely on Cassie as the prime suspect.
Funk is a Canadian actor who you've probably seen on The Marvelous Mrs. Maisel, Counterpart, Awkward, and Glee. He'll next appear in the film You Above All, and also had a starring role in the 2009 Broadway revival of Bye Bye Birdie.
10/10
Rosie Perez as Megan Briscoe
Another of Cassie and Shane's in-air coworkers, Megan has something of an on-again, off-again friendship with Cassie. Could it be because she's hiding some pretty huge secrets underneath her uptight exterior?
Since making her film debut in Spike Lee's Do the Right Thing in 1989, Perez hasn't slowed down for a second: She's had multiple long-running TV roles, done her fair share of stage work, starred in more than 40 films—including 1993's Fearless, for which she received an Oscar nomination for Best Supporting Actress—and also earned three Emmys for her work as a choreographer on In Living Color.
Celebrity news, beauty, fashion advice, and fascinating features, delivered straight to your inbox!
Andrea Park is a Chicago-based writer and reporter with a near-encyclopedic knowledge of the extended Kardashian-Jenner kingdom, early 2000s rom-coms and celebrity book club selections. She graduated from the Columbia School of Journalism in 2017 and has also written for W, Brides, Glamour, Women's Health, People and more.