The New Trailer for Amy Schumer's 'Trainwreck' Will Be the Highlight of Your Day, Maybe Week
"We're going to have two mimosas, hold the orange juice."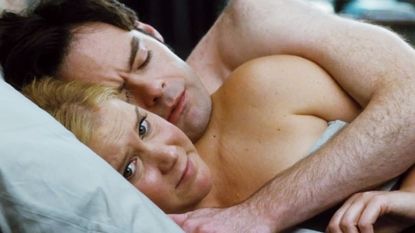 (Image credit: Universal)
Update, 6/23: Tilda Swinton with blue eyeshadow and long hair! A scene with Bill Hader outside the OR in which they argue about dating! Brunch! All this new stuff is in the international trailer for Trainwreck, and you can see it below.
Original post, 2/11: There's no better feeling than seeing a trailer for a movie that looks HILARIOUS and gets you pumped for the release date. And Amy Schumer's Trainwreck has us, in fact, super pumped. From the looks of the trailer, the rom-com has an emphasis on the com—which makes sense since Schumer wrote it, and Judd Apatow, the dude behind Bridesmaids, Knocked Up, and Forgetting Sarah Marshall, directed it. We get lines like "I'm just a modern chick who does what she wants. Last week it was this guy"; "You dress him like that so no one else wants to have sex with him, that's cool"; and even a great Downton gem from LeBron James,"Are we watching Downton Abbey later? Listen, I'm watching it tonight because I'm not going to go practice and all the guys are talking about it and I'm left out." The fabulous Bill Hader plays Schumer's love interest, which only seals the deal.
Meanwhile, our new favorite sports team is the Orlando Blooms, too. The film hits theaters July 17, 2015. Can't freaking wait.