The New Guard: America's 50 Most Influential Women
Our 4th-annual list of movers, shakers, and rule breakers.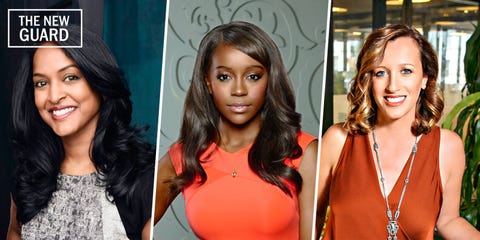 We are in the throes of a revolution. The power paradigm is shifting before our very eyes. Got a sharp voice and a point of view? Your Snapchat account could command as many viewers as a cable-news network. Got a revolutionary idea and some deep-pocketed friends? You could be the genius behind the next SoulCycle or LinkedIn. Got a brilliant concept for a Web series? Whip out that iPhone and start filming, girl.
Power and influence have been untethered from all the traditional metrics: paychecks, office sizes, fancy titles. Today's power brokers are those who can open the doors to opportunity. They know exactly whom to call for financing, support, and talent. In our fourth-annual New Guard list, Marie Claire salutes the next generation of women leveraging their smarts and all-important contacts to build fortunes, upend industries, and even change the world. Remember the names of this badass collective, these 50 powerhouses. Follow them. Connect with them. Then join them. There's always room for one more.
This content is created and maintained by a third party, and imported onto this page to help users provide their email addresses. You may be able to find more information about this and similar content at piano.io