It's Time to Say Goodbye to 'Sex Education'—Here's Where All of Our Faves Ended Up
The finale was tender and bittersweet.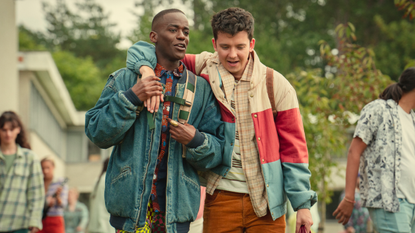 (Image credit: Samuel Taylor/Netflix)
When Sex Education premiered in 2017, the British series from creator Laurie Nunn was a breath of fresh air for fans of teen dramas. Following the relationships and sexual escapades of the students of Moordale High, the acclaimed show has constantly turned the genre's tropes on their heads, while living up to its title with plain explanations of intimate scenarios and presenting a wide-ranging cast of characters that (unlike some other recent teen dramas) are actually realistic depictions of Gen Z. Otis, Eric, Maeve, and the gang have tackled everything from masturbation, sexual health, and body image, to sexual assault, drug addiction, and mental health, while also highlighting the importance of friendship as much as romantic relationships.
In season 4, much has changed for the former Moordale students, who now attend the progressive, high-tech, queer-friendly Cavendish College—minus Maeve, who's away studying in America. Goodbye bullies and Untouchables, hello constant (maybe near toxic) positivity and the Coven, a group of new queen bees led by Abbi (Anthony Lexa). Not only that, Cavendish already has their own sex therapist O (Thaddea Graham). After three seasons, our faves are left to find new places among their peers, while also wrapping up season-long storylines.
Last July, Nunn revealed that season 4 will be the last of Sex Education, explaining that this felt like the "right time to graduate" for the high school-set series. In a letter to fans, the writer described the series as "a show that would answer some of the questions we all used to have about love, sex, friendship, and our bodies. Something that would have helped our inner teenagers feel a little less alone."
So, where do the kids of Moordale end up at the end of it all? Read on for our breakdown of the Sex Education series finale, organized by the beloved characters.
Cal
While most of the former Moordale students were at a crossroads in Episode 8, Cal (Dua Saleh) was facing the strongest inner turmoil. At the start of the season, we learned that Cal had started testosterone therapy (or T therapy) and was struggling to get used to their changing body as they went through a sort of second puberty. They also found a new community after starting at Cavendish, with friends including Coven member (and love interest) Aisha (Alexandra James) and Roman (Felix Mufti), who is trans-masculine. Throughout the season, Cal wants to transition and Roman shares his top surgery experience, but Cal faces a long wait for an appointment under England's National Health Service, and can't afford to go the quicker, private route.
By the finale, Cal's gender dysphoria has reached its peak, and they've gone missing. Their mother goes to Cavendish to look for them, and the Coven rallies the students together to search for them at the last place they said they were going, the town mall. Though the kids do find Cal's bag (which they dumped, including their phone), it's eventually Eric (Ncuti Gatwa) who finds Cal in the woods, with the help of some divine intervention (more on that later). Cal is sitting beside a cliff, and they admit that they were having suicidal thoughts but eventually became scared. They say, "I don't think the world really wants people like me in it," which is heartbreaking in the current political climate of trans persecution.
Eric—as well as Jackson (Kedar Williams-Stirling), who eventually realizes where Cal would go—comfort Cal and remind them that they are loved, and that things have to change because people like them aren't going anywhere. Eric and Jackson walk Cal back home, where Cal is still hurting, but safe. Later that night, Aisha visits Cal and asks if that evening's school fundraiser can raise money for their top surgery. Though Cal declines her invite to go to the event, they are touched by the gesture, and they spend the night being comforted by their mom.
Ruby and O
While Sex Education season 4 doesn't have a straight-up antagonist—at least to the point of headteacher Hope (Jemima Kirke) in season 3—Otis (Asa Butterfield) and Ruby (Mimi Keene) do clash throughout the season with Cavendish's resident sex therapist, O (Thaddea Graham). Otis bristles upon first meeting O because he thinks she's stolen his idea of being a student sex therapist (like no one else could have ever had the idea...we're all in agreement that Otis can be the worst, right?). Meanwhile, Ruby actually has reasonable beef with O. It turns out that they used to be classmates in primary school; after briefly befriending Ruby and earning her trust, O revealed that Ruby had wet the bed during a school trip, ruining Ruby's reputation. In fact, that incident appears to be the genesis of Untouchables leader Ruby, who became the type of mean girl that used to torment her, so that she would be the one in control.
Throughout the season, Ruby helps Otis campaign to become Cavendish's sole sex therapist, or student counselor, as the subject is put up to a vote. Since both O and Otis are perfectly adequate counselors, the race quickly dissolves into attacks on reputation: O accuses Otis of sharing his dad's chauvinistic views; Otis accuses O of ghosting all of her past love interests; in response, O comes out as asexual and Otis is cancelled for outing her; then Ruby releases the recording of O bullying her for bedwetting. By the end of the cancel-fest, both O and Otis's reputations are in the toilet and Ruby is campaigning for another random student named Connor who's probably going to win.
The fundraiser is also the announcement of the election results, and as expected, Connor wins. However, he tells everyone that he can't accept the position because, after actually holding some therapy sessions, he's realized that the job is "exhausting and a bit gross" and that he only ran so he could get a gig on Otis's "super hot" mom's radio show (again, more on that later). With Connor out of the running, the runner-up and winner is Otis, who got at least one dude to vote for him. However, he also turns down the slot because, after getting to know O and hearing why she set up her clinic, he's realized that he was being an ass, and that he shouldn't have tried to take over her space. However, O is still cancelled for being a bully, and that's where Ruby comes in.
Backing up a bit, we learned O's backstory in Episode 7. After a season of being conflicted about Otis seeing O as some sort of villain, it turns out that she's also just a person who made mistakes. When she entered Ruby's primary school, she was the new kid with the weird accent and one of the only students of color, so she decided to throw Ruby under the bus as a way to get status with the popular girls for a bit of protection. Meanwhile, she was also confused why she didn't have the standard boy-craze of preteens, so she learned everything she could about sex, and became fascinated. Though she still didn't have any sexual urges herself, she began using her knowledge to give people advice, and set up her sex clinic.
When O and Ruby met again at the beginning of the season, O just pretended that she didn't know Ruby. She admitted to Otis (and to everyone else in a mass apology at the start of the finale) that she felt bad about what she did, but she never actually apologized to Ruby herself. Eventually, during the search for Cal, she and Ruby actually have that private moment and Ruby accepts her apology. So, when the Cavendish kids boo O off the stage that night, Ruby jumps up and admits to everyone that it didn't feel good to destroy O like she'd destroyed her. Ruby says (in a perfect, annoyed effect) that even though she thought Cavendish's whole thing of "being kind" was stupid, the college is starting to make her have "the feelings" and realize that they just want to make the world a better place. The Cavendish thing to do would be to give O another chance, and if Ruby can do that, why can't they? (That second half was just implied rather than said, but still.) So with that, O assumes her rightful place as the school's student counselor, and after the moment of vulnerability, Ruby—who had been struggling with no longer being Queen Bee all season—earns the respect and possible friendship of the Coven.
Jackson and Viv
Jackson and Viv (Chinenye Ezeudu) remained as one of Sex Education's most adorable friendships over the course of the season. There were small tiffs, as they both dealt with their own struggles, but they always came back together and had each other's backs. Jackson and Viv forever! (Okay, now for the actual summary...)
At the start of season 4, Jackson was already hurting from the end of his relationship with Cal, and he continued to go through it over the course of the episodes. After a casual hookup partner let him know that she felt a lump in his balls, the teen went through an existential health crisis as he wondered whether or not it was cancerous. During all this, after his doctor asked if there was a history of illness in his family, Jackson decided he wanted to find his biological father, and he went ten toes down on the search after getting a clean bill of health. However, his moms (Sharon Duncan-Brewster and Hannah Waddingham) tell him not to look for his dad; they tell him that he needs to focus on his final year of college, but it's clear that there's also a bad history there.
Jackson is the typical rebellious teenager and searches anyway, but he can't find any record of a sperm donation. After searching his parents' room, he finds a love letter addressed to his mom Roz (Duncan-Brewster) from a man named Jerome. He even goes to Jermone's house, but the man reacts negatively and slams the door in his face. (We also hear Jerome's son call out for him in the background). It turns out that Jackson was conceived when Roz had an affair with a married man, before she met Sofia (Waddingham). Roz was ecstatic to be a mother, but Jerome didn't want to know anything about Jackson; she sent Jerome updates but he always sent the letters back unopened. Roz and Sofia never told Jackson because they never wanted him to feel unloved. Jackson is upset by the news, and with his mothers, but it's clear that the trio will get through it with love and support.
Meanwhile, Viv had a life-altering romance this season, but unfortunately not with the unbelievably-hot Eugene from season 3, who she broke up with in between seasons in order to focus on her final year. Instead, she strikes up a romance with Beau (Reda Elazouar), who comes on to her very quickly but in a very sweet and loving manner. Once he and Viv are boyfriend and girlfriend, Beau reveals his true colors. First, he starts getting jealous of Viv's friendship with Jackson, claiming that they must be secretly together. Jackson and Viv even briefly fight over this, with Jackson (rightfully) saying that Beau's too intense. (He also catches Beau going through Viv's phone at [see Maeve's section]). In Episode 7, right before their mock exam, Beau accuses Viv of flirting with a random guy who she chatted with, and when she tried to go into the exam room, he grabbed her arm tight enough to hurt.
In the finale, Viv admits what's going on to Jackson, Aimee (Aimee Lou Wood), and Isaac (George Robinson) during the search for Cal. Aimee explains that with what she's read of abuse, Beau sounds emotionally coercive, and that love shouldn't be confusing and scary. (Another perfect example of Sex Education demystifying relationship dynamics that are so common and not discussed widely enough.) The support of her friends gives Viv the courage to end things with Beau, which she does in a spectacular fashion outside of the fundraiser. I won't recite the whole thing, but the best line is, "I don't know what made you like this, and it's probably something really sad, and I hope you seek out therapy, but if you keep on trying to contact me, I will report you." Viv forever. Viv and Jackson forever. Friendship forever.
Aimee
Aimee's journey of healing from being sexually assaulted in season 2 has been heart-wrenching and cathartic and beautifully dealt with throughout the series. She's still on her healing journey in season 4, which mostly consists of testing out intimate toys and journaling her notes at the start. When she arrives at Cavendish, she decides to take an art class after learning about art therapy. Though she initially doesn't get art (girl, same), her new classmate Isaac—who has been enrolled in Cavendish since the start of term—introduces her to photography and self-portraiture, and she takes to the art form, eventually decides to explore her assault in her practice. She also bonds with Isaac and begins to develop romantic feelings for him, though she's immediately worried that this breaks girl code with Maeve (Emma Mackey).
After a brief period where Maeve doesn't want Aimee and Isaac to get together, Maeve accepts that those feelings were just out of fear of losing her two best friends who are pretty much her family. (I promise, we'll get to Maeve soon.) At the start of the finale, Aimee and Isaac are pretty much together, but when they go in for their first kiss, Aimee decides against it. She later admits to him that she still has problems with intimacy, and he completely understands, but the dilemma spurs Aimee to create her greatest work so far. She goes back to her old regular bus station, wearing the pants that she wore when she was assaulted and couldn't bring herself to throw away. After a few self-portraits, she takes the jeans off, drops them in the road, and sets them on fire as she starts dancing. After this, she heads to the fundraiser where her art is part of the auction, and at one point in the night she brings Isaac into the darkroom, where they finally have their first kiss.
Adam and the Groffs
After breaking up with Eric last season, Adam (Conor Swindells) has decided not to go back to college, but his mom Maureen (Samantha Spiro) won't let him just sit at home staring at old pictures of his ex. Instead, Adam enrolls in a farm apprenticeship, a gig which gives him two dilemmas: he has to get over his fear of horses (they're much bigger than dogs), and learn how to drive a car. For the latter, former headmaster Groff (Alistair Petrie) offers to teach him. Michael's now substitute-teaching at Cavendish and doing an online course on how to be a better man, but he and Adam run into similar problems that have plagued their relationship. By Episode 7, Adam has summoned the bravery to confront his father about his years of emotional abuse, and how Adam has lived his entire life believing that he is a failure and a disappointment. He also tells Michael to stop pretending that he likes him, as he believes that Michael was just trying to bond with him to get back with Maureen. (The two had started hooking up about midway through season 4, but it had nothing to do with Adam.)
After learning of Cal's disappearance in Episode 8, Michael goes to visit Adam at his farm job. He tells his son that after hearing about Cal, he began worrying that Adam may go missing still believing that his father didn't like him. Michael tells Adam that he loves him. He apologizes for making Adam feel small because he didn't like himself, and lets him know that he's trying to change. Adam offers to have Michael hug a horse (a new form of comfort he's discovered while learning to ride), but instead the father and son hug.
Fast-forward a couple scenes, and Michael has stuck around to join Adam's first ever horse-riding lesson. Yes, that means getting on a horse, and yes, the former headmaster is terrified and sore after. Later that night, Michael drops Adam off at home, and Maureen's there watching the in-universe Housewives spoof. Adam invites Michael to stick around and watch the show with them, and the Groff family is briefly (though probably not brief for long) reunited.
Though Adam's storyline focused more on his family this season, there were a bit of romance updates. Adam and Eric finally reunited at Maeve's [wait for Maeve's section]. During an emotional catch-up, Adam tells Eric that he finally came out to his parents, but he also admits that it's hard to be fully out. Adam also admits that though he knows he and Eric weren't right together, he still misses him. The two leave each other on full terms. As for that being fully out comment, Adam's been having some chemistry with his boss at the farm, Jem (Bella Maclean). Before the funeral Adam had opened up to her about being nervous to see an ex, and when Jean assumed the ex was a she, he didn't correct her. However, in the finale, he let her know that his ex was called Eric. "I'm attracted to both men and women. It's not a phase. That's just who I am," he says. In response, she asks him out on a date. (That this scene premiered on Bisexual Awareness Week is a nice coincidence.)
Eric
Sex Education's best character (I said what I said) went through crises of faith and friendship this season. Upon arriving at Cavendish, Eric quickly became friendly with the Coven, and flourished with the queer friend group and progressive environment. However, his new social status meant he was spending less time with Otis, who was also preoccupied with the whole student therapist election and his long-distance relationship with Maeve. The issues that had been affecting their relationship for the entire series had also come up, including Otis's tendency towards self-absorption and dumping Eric to prioritize Maeve, and the common differences that come up in friendships between queer and straight people. Eventually, Eric admitted that he felt like Otis didn't listen to him or care about what was happening in his life, and Otis said he felt the same way. The two decided to take some time apart.
By the finale, Eric and Otis had each separately worked through some issues in their personal lives—and begun to miss each other during the time apart—and they come back together ahead of the funeral. Otis admits that he has sometimes felt uncomfortable about their differences, but he hasn't known how to approach the topic since he's always afraid that he'll upset Eric and he "wouldn't survive if he lost [him]." Eric lets him know that he'll never lose him, and invites Otis to get ready for the fundraiser with himself and the Coven, in a huge development from earlier in the season when he uninvented Otis from the queer night.
On the faith side, Eric was struggling throughout the season to be both a proud gay man and a Christian. His religious family members were constantly asking if he could get baptized (been there), but he struggled with the decision all season. Even though his church seems particularly cool, especially the choir and the kind pastor, he knew that the conservative congregation wouldn't approve of him as a gay man. He also saw a sort of mirror of his experience in Adedeyo (Shak Benjamin), a fellow member of the church whom Eric hooks up with at queer night. Adedeyo keeps his sexuality secret, but he's happy to get baptized because the church is his community. Eric also discusses his hesitation with Coven leader Abbi (Anthony Lexa), who is also a Christian but left her church when she transitioned. As part of Eric's efforts to live in his full self, he convinces the Coven that the money for this year's Cavendish fundraiser should go to his church so they can fund their regular soup kitchen.
Baptism day comes in the finale. When Eric arrives at the church, the pastor lets him know that someone looked up Cavendish, and that "the college values are something that the church cannot support." The church has decided not to accept the fundraiser money (which eventually ends up going to Cal). In response, during the ceremony, Eric announces to the church that he won't get baptized that day unless they accept him for who he is, going public with his sexuality. Though his mother stands and declares that she loves Eric as he is, the rest of the church stays silent, and he leaves. Afterwards, he's walking home through the woods when he receives a text about Cal's disappearance. At that moment, someone runs up and takes his phone.
Throughout the season, a mysterious woman (played by Jodie Turner-Smith!!!) has appeared at times where Eric was struggling with whether to get baptized. First, she was a homeless woman who asked Eric for some change. He told her about his church's soup kitchen, and she insisted he walk her there. Once he got there, he was quickly enlisted to help distribute food, and that night he briefly felt a renewed connection to the church. Then, she appeared again in a dream, and she was God. ("Please don't tell me you were expecting an old white guy," she told him. I effing love this show.) She asked him why he was leaning toward not getting baptized, and told him that she and the church needed him. Also, several random symbols that cae up during the dream (including a psychedelic fish and a mispronunciation of "effervescent") end up happening in real life.
In their third meeting, the woman leads Eric through the woods as he chases her to get his phone back. After she reveals herself, Eric explains that he couldn't get baptized, but the woman responds that he did exactly want she wanted him to do. She tells him today is the start of a long and hard road, explaining, "You will change hearts and minds, and let everyone know that I love them for who they are... I made you this bright so that others would see in the darkness." Eric denies his calling at first, as he's overwhelmed and scared, but when the woman vanishes he sees Cal, sitting by the cliff in the distance. After he helps Cal, Eric seems to be a bit more open, and then a little more later on when some members of his church show up at the fundraiser. His pastor offers to work with Eric, in exploring how his church can be more open and inclusive. By the end of the night, Eric has decided: he wants to become a pastor. And who's the first person he tells? Otis.
Maeve and Otis
When the season began, Maeve was away in America, studying at a prestigious (very New England-core) university and navigating sexting with Otis as they're finally sort of together. However, Maeve ended up clashing with her "genius" professor Molloy (Dan Levy), a published author who's more soul-crushing than encouraging. Midway through the season, the aspiring writer receives a one-two punch when Molloy tells her that he thinks she's not cut out to be a writer, right before she receives news that her mother Erin (Anne-Marie Duff), had overdosed again. Maeve quickly flew back to Moordale and her older brother, Sean (Edward Bluemel), could see her, Erin died.
Maeve couldn't catch a break as she spent time in Moordale organizing her mom's funeral, while also struggling with the loss. Her relationship with Otis was strained, as they had been fighting long-distance and he was going through his own things (which I'll touch on more later) when she returned. She didn't have a great reaction to Aimee's confession that she had feelings for Isaac, and she told her that she didn't want them to explore it. Meanwhile, Sean had been flighty and belligerent during the funeral planning, and it turned out he was using. The day of the funeral was rough, but most of the former Moordale students showed up to support her in the difficult time. (This is the event where a lot of stuff happened, as I mentioned above.) After the ceremony started, a very late Sean showed up and started disparaging Erin, as his grief had manifested in a deep bitterness towards his mother.
Eventually, in an emotional moment spurred by Isaac, Maeve delivered a beautiful eulogy for her mother. "A mother can be a pretty s--- parent sometimes and you can still love them, and want them to get better. And someone can be an addict and still be generous and kind," she said. "I really hate her for everything she put me through, but I also miss her with every cell of my being."
Following the funeral, Maeve was resigned to stay in Moordale and possibly get a job, as her confidence was still at an all-time low after Molloy. However, everything changes when Jean (Gillian Anderson) invites Maeve over for dinner to get to know her. In the pair's first extended period of time together, with Otis stuck in an elevator at Cavendish, Maeve discusses both her grief for her mother and her time in America with Jean. In a lovely moment, the therapist reminds Maeve that she was good enough to get into the course and deserved to be there. All Maeve needed was someone to remind her to believe in herself. After this encouragement, Maeve decides to go back to America, and maybe never come back. She and Otis agree to go their separate ways, and they finally have sex in their last night together.
When Maeve arrived back in Moordale earlier in the season, Otis saw a return of his sexual performance anxiety from Sex Education's earlier seasons. Though his trouble was previously connected to him seeing his dad cheat on his mom as a kid, we also learned in season 4 that Jean had gone through a serious depressive episode after Otis's dad left. With the help of O, Otis realizes that his performance issues are related to seeing his mom go through that, and his deep-seated fear of truly opening up to someone (via sex) in case he would ever be hurt that much. This affected both his friendship with Eric, as he was afraid to really talk to him about some things, and his relationship with Maeve. By the finale's penultimate scene, Otis even discusses it with Jean, as they reconcile after Otis previously blew up at her for "therapizing" Maeve and making her leave. Jean tells him that blocking out the negative emotions is how unresolved heartbreak turns into something bitter, and that he needs to feel all the feelings. (That's like the tagline for this show: Feel all the feelings.)
The series ends with Otis discovering a non-love letter that Maeve left for him on his bedside table. Maeve writes that before they met, she had closed off her heart to keep anyone from being able to hurt or let her down, which she was most used to. But as they worked together on the clinic, she realized that all those kids just needed connection, and that she was the same. As we see Maeve staring out of her window an ocean away, her voiceover tells Otis that he helped her not feel alone, which helped her imagine a bigger world for herself. She promises she won't ever close herself off again, and thanks him for everything. As Otis looks out of his window, the credits roll over a slowly expanding view of the English countryside. Sex Education: Feel All the Feelings.
Marie Claire email subscribers get intel on fashion and beauty trends, hot-off-the-press celebrity news, and more. Sign up here.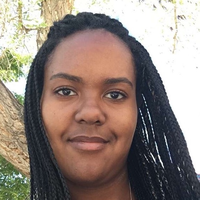 Contributing Culture Editor
Quinci LeGardye is a Contributing Culture Editor who covers TV, movies, Korean entertainment, books, and pop culture. When she isn't writing or checking Twitter, she's probably watching the latest K-drama or giving a concert performance in her car.