Are Dom and Georgia From 'Perfect Match' Still Together?
The pair quickly became one of the villa's strongest couples.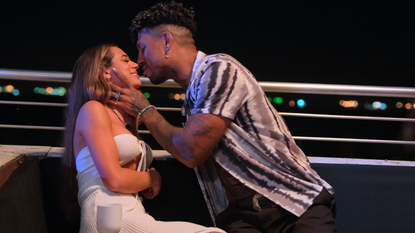 (Image credit: Courtesy of Netflix)
Dom Gabriel and Georgia Hassarati have one of the most complicated yet heartening relationships on Netflix's latest reality hit Perfect Match. After their initial matches with other Perfect Match cast members didn't work out, including Dom's sad split from Francesca Farago, the Too Hot to Handle and The Mole alums explored their interest in each other, quickly becoming one of the strongest couples in the villa.
Read on for our breakdown of what happened between Georgia and Dom on Perfect Match, and whether the couple are still together post-filming.
What happened between Dom and Georgia on 'Perfect Match'?
Dom was one of the original members of the villa, and he matched with Too Hot to Handle alum Francesca on the first night. They stayed loyal to each other over the next couple of matches, but they were on different wavelengths, with sensitive sweetie-pie Dom focusing on their emotional connection and Francesca looking for a physical spark. Once they made it to the Board Room, and Francesca's old friend Damian showed up on the board, she decided to put herself on a date with him and explore their unresolved connection.
Meanwhile, Georgia was brought into the house by Chase, who manipulated his way into the Board Room by faking his scores in the blind kiss ranking. At first Georgia is interested in him, but she quickly loses trust in Chase, both from chatter among the villa that he's an obvious villain, and from his hedgy answers when she asks him about his relationship status outside of the show.
After Francesca rematched with Damian, leaving Dom resigned and ready to leave the show, both Georgia and The Circle: France alum Ines encouraged him to stay on the show and explore other connections. Georgia also admitted that she had been interested in him since she arrived in the house, but that she had understood that he was focused on Francesca. Though she understood that his feelings for Francesca wouldn't go away over night (he even told her that he loved her), Georgia asked Dom to match with her. He was surprised, but he also saw that Georgia was amazing, and he was willing to explore their connection.
Once they were matched, Dom and Georgia remained committed to each other, becoming more and more into each other as time went on. Though some people (mostly Francesca and her clique) questioned whether their pairing was just a rebound, Dom showed his loyalty, turning down both Colony and Diamond when he was sent on dates with them. By the end of Episode 8, Dom has even asked Georgia to be his girlfriend.
Are Georgia and Dom still together after 'Perfect Match'?
Based on their Instagram activity, Georgia and Dom have remained friends following the show. They both follow each other, and have left comments on some of each other's posts. However, they're one of the few Perfect Match couples where we have concrete proof that they didn't continue dating after filming. Instead, Georgia's been connected with a different Netflix reality show alum: Harry Jowsey from season 1 of Too Hot to Handle.
For anyone who needs their memory jogged, Harry was one of the most famous stars of THTH's first season when it dropped all the way back in April 2020. The Australian influencer was actually best known for his relationship both on and after the show with Francesca Farago; the two broke the most rules while filming their season in March 2019, and they dated on and off (opens in new tab) for the next two years.
Harry and Georgia were first linked in June 2022, a few months after Perfect Match was reportedly filmed around February-March 2022. The two Australians actually broke up later that fall, but they've since reconciled, with both Georgia and Harry making regular appearances in each other's TikToks for the past few weeks.
"[Georgia] broke up with Dom like three days after filming [Perfect Match]," claimed Francesca Farago in a TikTok. Georgia hit back: "Not true at all," adding, ""We finished filming in February. I met Harry on his podcast in April."
Dom and Georgia fully confirmed their breakup in an interview with TODAY (opens in new tab) published a day after the finale. The couple said that even though they "fell hard" in the villa, they ultimately broke up due to long distance. (Georgia is originally from Brisbane, Australia, while Dom is from Toronto, Canada.)
"I think after the show there's a lot of things that you have to take into account, such as distance," Dom told the outlet. "And going from being in a house with cameras around you all the time is tough. We're on good terms and there's no bad blood there."
"I think it was the kind of thing where, 'Let's see where the future leads us. Let's kind of do our thing on our own,'" he continued. "If the future has something else in store, if it's meant to be, then it's meant to be."
The pair also addressed their breakup in Netflix's "Where Are They Now" clip, where Dom confirmed the timeline of Georgia meeting Harry. "After the show we ended before we even got the chance to redeem our prize," he confirmed.
"We were still talking. We were together and she had to go do a certain podcast. The podcast came out and the title of the podcast was 'Georgia and Harry Jowsey Fall In Love.' Yeah, I would say I was blindsided," he added.
In response, Georgia posted a message to Dom on her IG story: "We saw each other a few weeks ago with the rest of the cast we spoke and hugged, you were lovely and said no mention of any concerns...We messaged after seeing each other that night in the days following and you were normal over message. But conveniently stopped replying when you started hanging out with Francesca again. Coincidence? I think not." In response, Dom fired back: "We saw each other at the 'where are they now' shoot and we didn't speak or hug," and the two went on to share screenshots in efforts to back up each of their claims.
In Netflix's "Where Are They Now" clip, Georgia also spoke on her connection when she met Harry, pointing out that they both are originally from Brisbane, Australia, and were both on Too Hot to Handle.
"Meeting Harry was so weirdly unexpected... There's so many synchronicities and similarities between us. That is the perfect recipe for me to find someone when there's no pressure," she said.
As for her and Dom, she said, "We were at different levels of the relationship and he's such an amazing person. The last thing I wanted was for it to be an ugly ending to something so beautiful," before wishing him all the best.
Dom also addressed his depiction on the show, saying that he's just as much as a romantic lover boy as he appeared. "I think who I was on the show is who I am in real life. I'm loyal to a fault. I think I learned I can endure a lot when it comes to a relationship. I think a lot of things got thrown my way throughout the course of the show," he said. "Like, I like falling in love."
As for Dom's relationship status, the sensitive fan-favorite may have found love with a different cast mate. He and Ines have been spending time together over the past month, both posing for pics together at the premiere of the Netflix film Your Place or Mine and attending a Super Bowl party together, per Ines' Instagram. When a commenter asked whether she and Dom are "besties or romantic," Ines replied with three heart emojis.
However, as of now, Dom seems to be spending time with himself. He says in the Netflix clip that he is "single, like a Pringle, ready to mingle." He also gave Ines a shoutout in a Vulture (opens in new tab) interview, saying, "Ines and I are still really close. I consider her my little sister. She's one of my best friends."
So that's Georgia with Harry, and Dom single and mingling, possibly with Ines. Meanwhile, in case anyone was curious about Francesca, she's currently in a serious relationship with trans TikTok star Jesse Sullivan. In a recent Variety (opens in new tab) interview, she shared that Sullivan isn't going to watch the show, but that he's "very supportive."
Now everyone's coupled up, Francesca and Dom even appear to be friends again, appearing in multiple TikTok videos together—but as Francesca and Georgia, they're no longer friends, Francesca confirmed in her TikTok comments. "With her current relationship we can all assume that's a no," she wrote of Georgia. For his part, Dom wrote on Instagram that he wanted no part of Georgia and Francesca's "weird tension."
Contributing Culture Editor
Quinci LeGardye is a Contributing Culture Editor who covers TV, movies, Korean entertainment, books, and pop culture. When she isn't writing or checking Twitter, she's probably watching the latest K-drama or giving a concert performance in her car.