Jennifer Lawrence's Half-Up, Half-Down Look
Jennifer Lawrence's hairstyle on the Hunger Games tour is almost as good as the trilogy itself! Learn how to copy the look at home.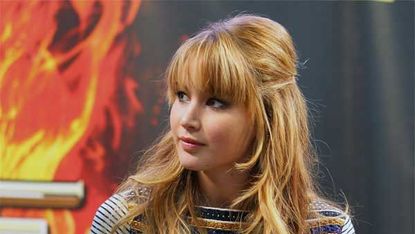 (Image credit: Getty Images)
I am, admittedly, late to The Hunger Games party, but after seeing the heart-stopping movie trailer, I picked up the first book in the airport. I'm now halfway through the second book, and am counting down to the March 23 film release.
Jennifer Lawrence, the actress who plays Katniss Everdeen, recently went on tour to promote the film. Hairstylist David Babaii (Kate Hudson's mane man) did her 'do for each stop, my favorite of which was a half-up, half-down, Brigitte Bardot look. I'll be trying this one at home as I daydream about District 12.
1. Apply Italy Purity Design Pure Fluid Experience (opens in new tab) ($11), a modeling serum, to damp, clean hair for a medium-soft hold.
2. Dry hair with fingers to create defined texture, smoothing bangs straight with a round brush.
3. Take the top and sides, lifting them slightly, and secure with pins for a small — not Snooki — bump.
4. Curl the bottom section with a large barrel iron to create loose waves.
5. Finish by finger-combing hair with a medium-hold hairspray — I like Italy Purity Design Pure Definition Hairspray (opens in new tab) ($17.50) — to keep loose waves in place.
Elizabeth Dehn is the editor-in-chief of Beauty Bets (opens in new tab), an award-winning blog chock-full of product reviews, wellness tips, and DIY ideas.