Willa is the New Noxema
Even kids are in on the natural-skincare movement! Eleven-year-old Willa developed a line of products made for kids, but good enough for grown-ups.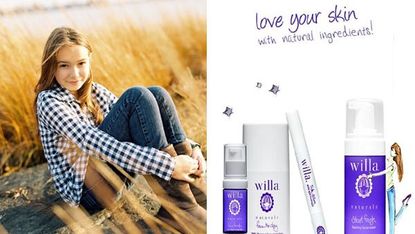 (Image credit: Archives)
I can still remember the smell of Noxema and the sting of Sea Breeze. That's how you knew they were working — as teenagers, we'd do anything to avoid being shiny. We also pressed brown paper bags to our faces to sop up oil. Yes, I'm pre-blotting papers.
Today's kids have it so much better. Skincare is kinder, no longer akin to swiping those baby faces with rubbing alcohol. It's also adorable — but not in a Hello Kitty way. Willa, a natural skincare brand that is the brainchild of an 11-year-old NYC cutie patootie of the same name, is making me wistful for adolescence. (This is a first). With the help of her friends, Willa came up with 17 products, all free of synthetics. It's adorable stuff — J.Crew picked up the line for Crewcuts — but also grown-up-approved. The Face the Day SPF 30 Tinted Face Protection is one of the best products of its kind: whisper-light, perfectly tinted and zinc-based. Plus, it's only $14.50, so you don't have to blow all your babysitting money in one place.
Elizabeth Dehn is the editor-in-chief of Beauty Bets, an award-winning blog chock-full of product reviews, wellness tips, and DIY ideas.