Gigi Hadid Wears Prabal Gurung's "Vote" T-Shirt Ahead of the Midterm Elections
On Sunday, Gigi Hadid was spotted in New York City for her Victoria's Secret Fashion Show fitting. She wore a vote t-shirt by Prabal Gurung to her fittings, ahead of NYC's midterm elections on Tuesday.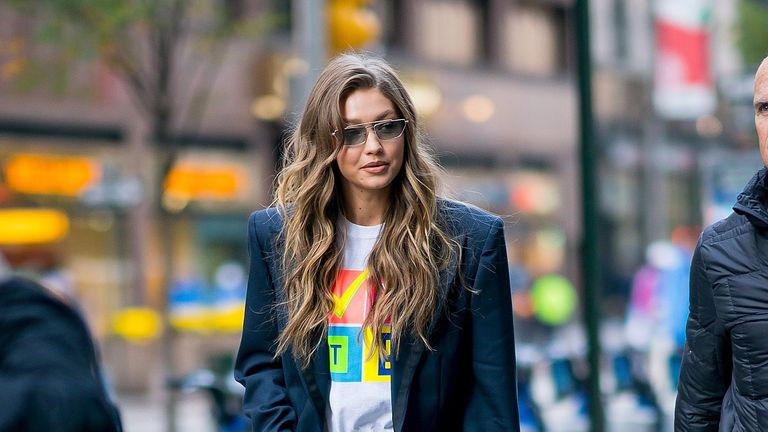 (Image credit: Getty Images)
New York's midterm elections are tomorrow (for a little cheat sheet, read this) and the elections are at the top of mind for everybody—including Gigi Hadid. On Sunday, the model stopped by for her Victoria's Secret Fashion Show fitting in New York City and took the opportunity to send an important political reminder: Get out there and vote. (Photographers were on hand to capture this moment, of course.) Gigi wore a colorful graphic top by Prabal Gurung that read "Vote" with an oversize blazer, jeans, and black booties from Stuart Weitzman. She carried a tiny orange Stalvey bag and wore a pair of blue-tinted sunglasses from Le Specs.
The spotlight was on her message telegraphed by her T-shirt, which isn't unusual for the model. The 23-year-old has been been vocal when it comes to her political views, having voted for Hillary Clinton during her presidential run, and, most recently, weighing in on the Israel-Palestine conflict (she and her sister Bella Hadid are both half Palestinian). It's clear that the model wants all her fans to head to the polls on Tuesday, November 6 no matter where they are.
She's not the only one encouraging people to vote. Fifty women, from Chrissy Teigen to Senator Elizabeth Warren, shared with MarieClaire.com the reason they're voting in the 2018 midterm elections. And, if you want to head to the polls in style, we've found similar tees to Gigi's below (her exact one is unfortunately sold out) in addition to other political merch.
RELATED STORIES