Eye Spy: Caption This Victoria's Secret Runway Pic!
Write a clever caption to this photo from last night's Victoria's Secret fashion show, and you may get on MarieClaire.com!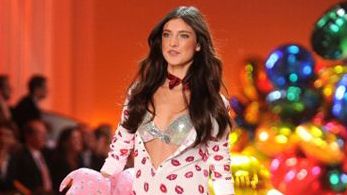 (Image credit: Dimitrios Kambouris/WireImage)
WINNING CAPTION

By quiggyllynn :

When trying to count pink sheep to sleep failed, she fed the mutton buttons instead.
----
Last night Victoria's Secret hosted their annual runway show in NYC. We snagged a photo of one of the brand's signature outrageous looks, and we want you to write a caption to go with the pic!
Just post it in the Comments section below — the funnier and wittier the one-liner, the better. The best caption will be posted right here later today.
Happy writing. May the best cap win.