Celebrity Shoe Crimes
These crimes against fashion put these celebs on MC's Most Wanted list.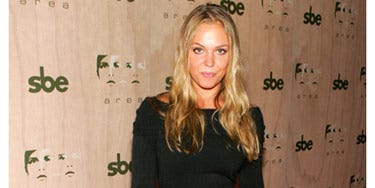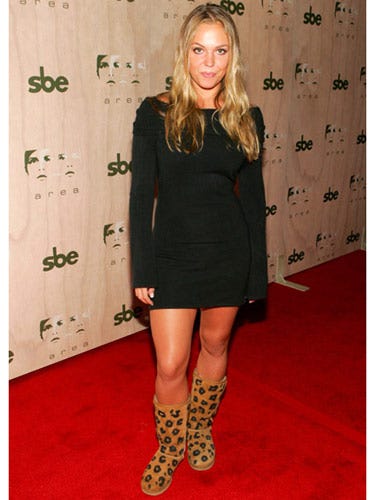 Celebrity Shoe Crimes
Agnes Bruckner's leopard-print Uggs have no place on the red carpet, especially when paired with bare legs and a LBD.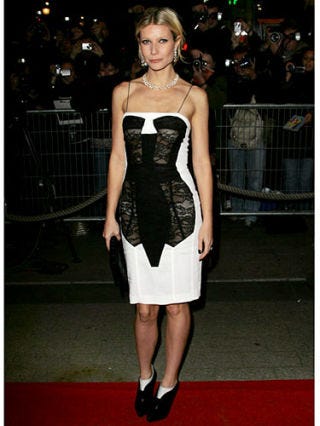 Celebrity Shoe Crimes
The black booties Gwyneth Paltrow is wearing would be cute on their own — but paired with white ankle socks they're an eyesore.
Celebrity Shoe Crimes
Is Lily Allen about to make a run for it? The Brit's sneakers are best left for the treadmill, not the red carpet.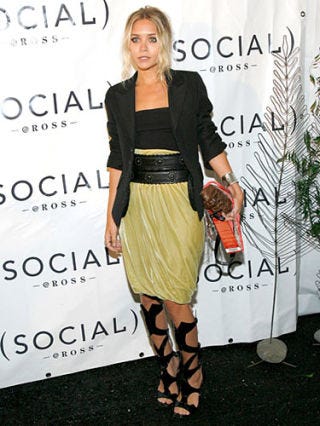 Mark Von Holden/Wire Image
Celebrity Shoe Crimes
Do those feel as uncomfortable as they look? These boots upstage Ashley Olsen's outfit — a classic pair of pumps would have pulled the look together without being overwhelming.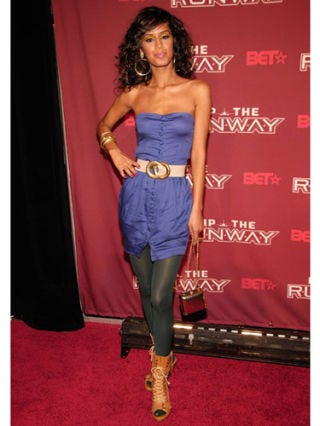 Celebrity Shoe Crimes
America's Next Top Model winner Jaslene Gonzalez looks like she's going after another title — America's Next Top Wrestler. An A for effort, but a peep toe doesn't distract from the fact that she's sporting lace-up wrestling shoes.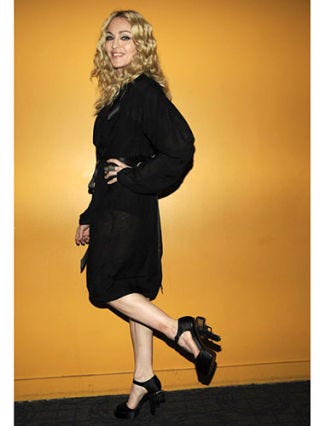 Celebrity Shoe Crimes
Madonna's crime? Carrying a concealed weapon — the heels of her shoes are little guns.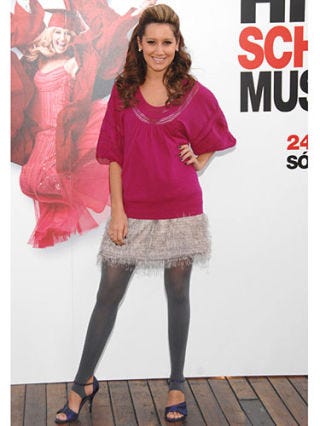 Celebrity Shoe Crimes
On their own, Ashley Tisdale's heels would be perfect, but we wish she would have decided against pairing them with stirrup leggings.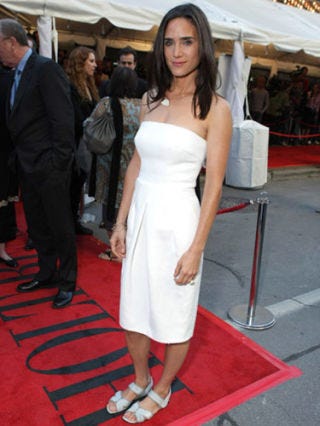 E. Charbonneau/Wire Image
Celebrity Shoe Crimes
Jennifer Connelly's chic white dress looks more like a bath towel when paired with flat, nursing-home sandals.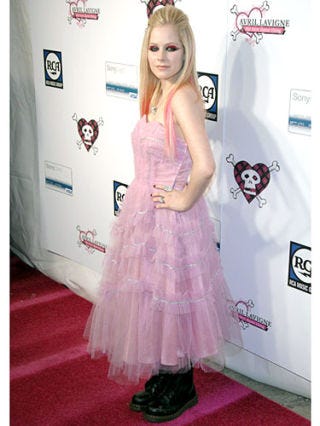 Celebrity Shoe Crimes
Avril Lavigne usually pulls off the punk-rock princess look, but it falls flat this time when she trades her signature skater-girl sneakers for men's work boots.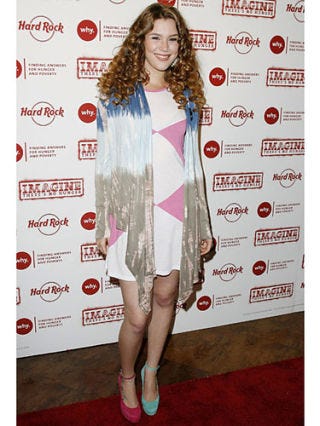 Celebrity Shoe Crimes
We can appreciate thinking outside the box, but we can't help but wonder if Joss Stone meant to end up with two different-colored heels on.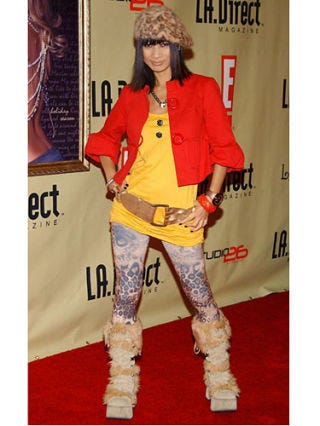 Jean-Paul Aussenard/Wire Image
Celebrity Shoe Crimes
Bai Ling never fails to shock with her style, and this time it's her boots that take center stage.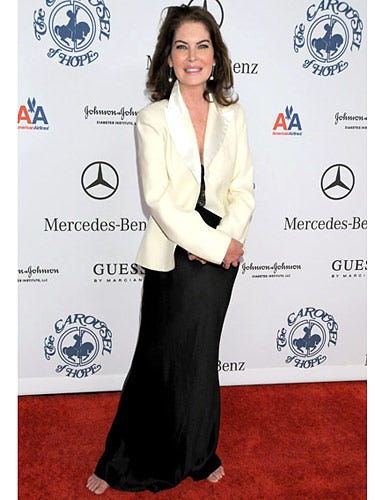 Child-Free Celebs
In 2002, Lara Flynn Boyle told Zap2It, "I love children and I love men, but I can't commit to either for the rest of my life. I am a very selfish person. I had such a great mom and I know that I'd never be that mom. I wouldn't want to bring a child into this world unless I could be. I think the institution of marriage is a great idea, but for me it's just an idea. And I don't believe that women can successfully have it all. I really don't." She's since changed her mind about marriage, tying the knot with businessman Donald Ray Thomas II, but she remains child-free.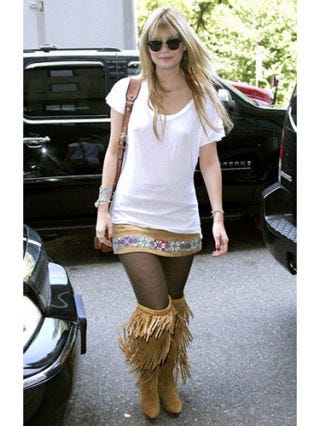 Celebrity Shoe Crimes
We know why Mischa Barton is hiding behind those sunglasses — she doesn't want to be seen in those fringed Pocahontas boots.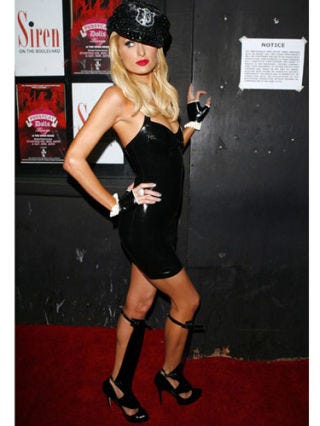 Jean Baptiste Lacroix/Wire Image
Celebrity Shoe Crimes
Paris Hilton's getup — not a Halloween costume — is a miss from head to toe. But her boots are the mullet of shoes — knee-high boot from the front, pumps from the back.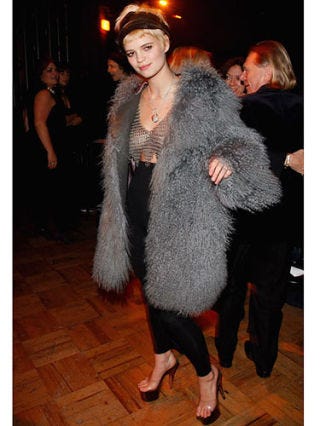 Celebrity Shoe Crimes
We're not sure what look Pixie Geldof was going for, but a giant fur coat paired with sky-high Lucite platform heels brings only one word to mind — and it's not classy.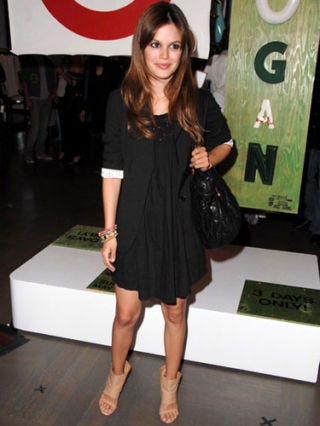 Celebrity Shoe Crimes
Can someone lend Rachel Bilson a pair of heels? Her open-toed paper bag booties don't do justice to the rest of her cute ensemble.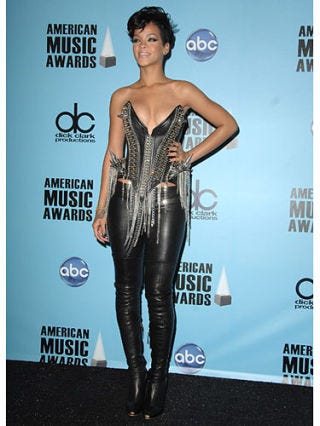 Celebrity Shoe Crimes
Skintight leather pants or skintight leather boots? Rihanna couldn't choose just one.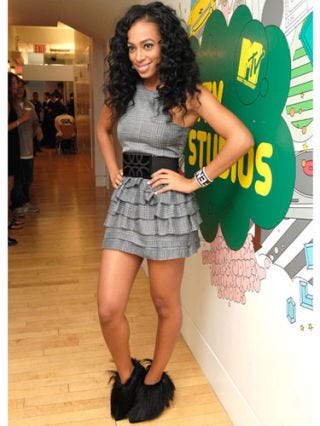 Celebrity Shoe Crimes
Beyoncé's sis, Solange Knowles, is trying to make a name for herself — but showing up in worst-dressed lists because of those moplike shoes isn't the way to do it.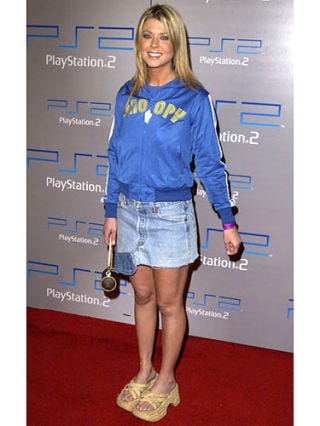 Celebrity Shoe Crimes
The hefty platform sandals on Tara Reid should have stayed in her closet — and paired with a sweatshirt and denim mini, she looks less like a red-carpet celeb and more like a sorority girl on a beer run.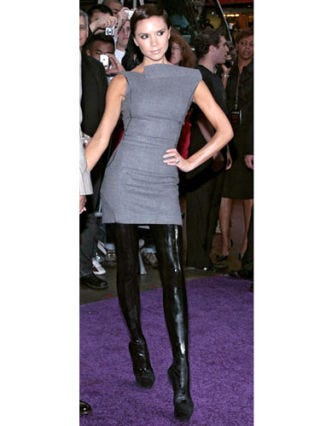 Celebrity Shoe Crimes
The always fashion-forward Victoria Beckham is sporting boots that are missing their heels, forcing her to balance on the balls of her feet. No wonder she's always scowling.
This content is created and maintained by a third party, and imported onto this page to help users provide their email addresses. You may be able to find more information about this and similar content at piano.io