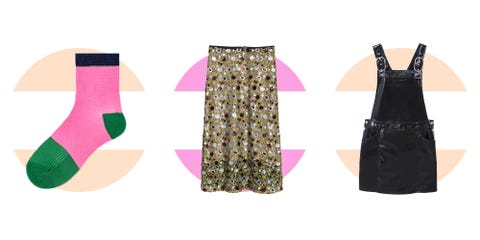 8 Other Reasons, $46
In accessories, the big story is clear acrylic, which these earrings incorporate as the weakest most transparent link in a chain.
Crap Eyewear, $58
The name = mood, always, while the shape = mood too (chunky, modish, heavy enough visually to make people wonder if your ears ache).
H&M;, $70
Yeah, baby, that's a calf-length, fully sequined skirt. Chuck it into the cart.
Mango, $60
With your frilliest, puffiest white shirt and some good-girl loafers. Dope.
Hysteria by Happy Socks, $18
Believe it or not, a pair of trophy socks can change your outlook on your closet. Wear with equally bright-colored sneakers, like a yellow Gazelle.
Raid, $43
Speaking of, here are some high-vamp kitten heels, which feel extremely right at the moment and work with pants both big and small.
Skinny Dip, $24
JEFF KOONS EARRINGS.
Uniqlo U, $60
Christophe Lemaire has made some of Uniqlo's best, most expensive-looking clothes, like this contoured, mock-neck dress. Click the button to see how it flares on the model.
Dream Collective, $40
You need a barrette, so why not make it a reference to your misspent youth?