The 18 Best Rain Boots for Women
So you're not that person at the office in wellies.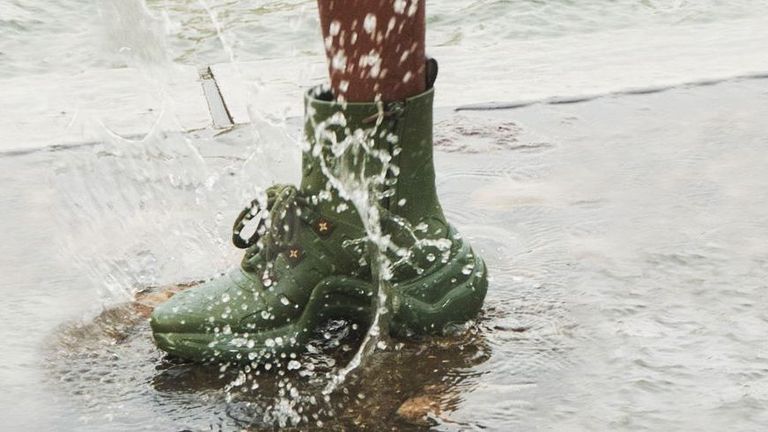 (Image credit: Louis Vuitton)
Rain boots are one of those functional wardrobe essentials that exist for a very specific occasion. It's safe to say that when you're being forced to go out in the rain, you're on your way to somewhere important (otherwise you'd be home in sweats with a cup of tea). Who wants to be that person in literal galoshes when you arrive at work or at a restaurant? (Spoiler: no one.) Chances are, you're not going to drag a change of shoes out in the rain as well, so why not find you a rain boot that can do both? The objective is to look like you're not really wearing a rain boot rain boot. It's more like: Here is a fabulous boot you just so happen to be wearing in the rain. That way, you're totally covered when you must face the weather head-on and not look like you're on the local Stormtracker team or on your way to trudge through a muddy field. We've rounded up cute rain best boots that barely look like rain boots, to keep your feet dry and your sense of style above water.
1/18
Asgard Short Rain Boots
These purple-hued boots from Asgard boast over 11,000 five-star reviews on Amazon and are available in a bunch of colors and prints. At just over $30, you can't go wrong.
2/18
HUNTER Original Tall Waterproof Rain Boot
Sometimes, when shopping for something new, you really do need to stick with the classics—and this is 100 percent one of those times. The original tall HUNTER boots are a failsafe rain boot, end of the story.
3/18
Madewell The Zip-Up Lugsole Rain Boot
This pair of cream-and-black booties by Madewell is made with MWL Cloudlift insoles that will make your feet feel like you're walking on a literal cloud. They're even storm-tested.
4/18
Petrass Rain Boots
How cute is the quilting on this pair of super-affordable rain boots from Petrass? They're one of the top-selling styles on Amazon right now, and have racked up nearly 3,000 five-star reviews in the process.
5/18
Chooka Polished Tall Rain Boots
These boots from Chooka have a fabulous pearlescent finish that will make you stand out from the rest of the early-morning commuter crowd.
6/18
Ganni Recycled Rubber Chelsea Rain Boot
These yellow booties from Ganni are made from 50 percent recycled rubber, features a dense lug sole, and slip on and off for easy wear on even the wettest of days.
7/18
UGG Chevonne Chelsea Waterproof Rain Boot
Yup, UGG makes some pretty comfy rain boots. This red pair is lined with cozy shearling so your feet stay warm all day long.
8/18
Ilse Jacobsen Hornbaek Short Waterproof Rain Boot
Rather than shearling, this pair of boots from Ilse Jacobsen is lined with a fuzzy shearling material. They're also made with a slip-resistant rubber sole!
9/18
Chloe Betty Rain Boot
These chunky-heeled Chloe boots provide traction as well as height and give your favorite leather mid-height boot a run for its money. Shoutout to the big zipper so you don't have to wrestle with the boot when you want to take them off.
10/18
Cougar Kensington Chelsea Rain Boot
A little shine, a little lift, and whole lotta style can be found in these patent pretties. They come in seven other shades, from sky blue to sage.
11/18
Sperry Saltwater Quilted Waterproof Rain Boot
Perfect for hiking (or just running to catch your train), these forest green boots from Sperry mean business. I mean—the shape is so iconic for a reason!
12/18
Burberry Zane Vintage Check Harness Rain Boots
TFW your boot is at ease on a motorcycle, in a puddle, or at a polo match.
13/18
Joules Molly Waterproof Rain Boot
Don't worry, your feet will "bee" happy (and dry!) when you wear these boots from Joules.
14/18
Zara Low Heel Rubberized Boots
What's knee-high, olive green, and dripping with style? These Zara go-go galoshes, of course.
15/18
Dolce Vita Stormy H2O Waterproof Chelsea Boot
Swap your favorite pair of black booties out for this rosy pink option the next time that the forecast calls for rain.
16/18
Tory Burch Hurricane Knee High Rain Boot
These tall boots from Tory Burch feature a classic beige lug-sole design that will keep you from slipping and sliding after rainwater turns into black ice this season.
17/18
Spring Step Yasmine Waterproof Chelsea Boot
The modern webbed sole on this pair of Waterproof Chelsea Boots from Spring Step lends extra support that will keep your feet from aching throughout the day.
18/18
Jeffrey Campbell Hurricane Waterproof Boot
The matte treatment of the rubber on these Jeffrey Campbell boots makes them blend super smoothly with any outfit. Try these with a boyfriend jean cuffed at the ankles and a blazer to seamlessly transition from commute to morning meeting.
Julia Gall is the Style Director at Marie Claire, covering all things fashion, as well as styling tips, wardrobe upkeep and sustainability. Check her out at @juliasgall.