Editors handpick every product that we feature. We may earn commission from the links on this page.
The 14 Best Rain Boots of 2021
So you're not that person at the office in wellies.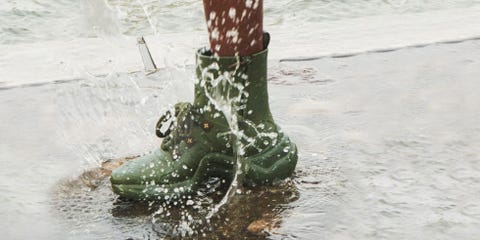 Rain boots are one of those functional wardrobe essentials that exist for a very specific occasion. It's safe to say that when you're being forced to go out in the rain, you're on your way to somewhere important (otherwise you'd be home in sweats with a cup of tea). Who wants to be that person in literal galoshes when you arrive at work or at a restaurant? (Spoiler: no one.) Chances are, you're not going to drag a change of shoes out in the rain as well, so why not find you a rain boot that can do both? The objective is to look like you're not really wearing a rain boot rain boot. It's more like: Here is a fabulous boot you just so happen to be wearing in the rain. That way, you're totally covered when you must face the weather head-on and not look like you're on the local Stormtracker team or on your way to trudge through a muddy field. We've rounded up our top rain best boots that barely look like rain boots, to keep your feet dry and your sense of style above water.

The Rain Boot
Everlane
everlane.com
$75.00
Everlane staples are the best staples, and this contrast-toed rain boot with its rubber treads and pull-tabs is like a waterproof, honey-dipped Blundstone, at home with rugged jeans and chiffon skirts alike.
Cloudy Waterproof Chelsea Rain Boot
Jeffrey Campbell
nordstrom.com
$44.96
It would just be a simple Chelsea boot if not for the satin-olive finish, heeled sole, and fully waterproof exterior.
Merry People Bobbi Rain Boots in Beet
madewell
madewell.com
$129.95
If dreary days get you down, cheery color-blocked boots in shades of cranberry and strawberry cream should sweeten things up.
Alice + Whittles™ Classic Ankle Rain Boots
Madewell
madewell.com
$120.00
A smart little boot with white rubber soles, and none of the bulbous clunkiness most other versions exemplify.
Betty Rain Boot
Chloe
nordstrom.com
$396.00
These chunky-heeled Chloe boots provide traction as well as height and give your favorite leather mid-height boot a run for its money. Shoutout to the big zipper so you don't have to wrestle with the boot when you want to take them off.
Kensington Chelsea Rain Boot
Cougar
nordstrom.com
$69.95
A little shine, a little lift, and whole lotta style can be found in these patent pretties. They come in seven other shades, from sky blue to sage.
Rainy Rain Boot
Marc Fisher
dsw.com
$49.99
The buckle detail on these shiny Chelsea rubber boots provides the extra design detail that adds a sophisticated touch. They will go perfectly with plaid trousers, turtleneck, and a classic trench—chic!
Zane Vintage Check Harness Rain Boots
Burberry
https://www.neimanmarcus.com
$390.00
TFW your boot is at ease on a motorcycle, in a puddle, or at a polo match.
Chelsea Rain Boots
A New Day
target.com
$13.74
Python print rain boots are for those who positively refuse to allow a spot of rain to ruin their big fits.
Low Heel Rubberized Boots
What's knee-high, white, and dripping with style? These Zara go-go galoshes, of course.
Women's Basel H2O Booties
Lucky Brand
macys.com
$79.00
If ever there was a time to buy bold, devil-may-care rain boot booties? Well, that time is now.
Nomad Pull-On Shiny Cowboy Rubber Rain Boots
Can't break out of your Western boot habit? Not to stress—these pointy-toed numbers do not sacrifice style in the name of weather and now, neither do you. Yee-haw!
LV Archlight Sneaker Boot
Louis Vuitton
louisvuitton.com
$1,010.00
Derived from Louis Vuitton's iconic Archlight sneaker that first appeared on the Spring 2018 runways, this rain boot is the fashion-forward statement shoe for anyone who respects a strong sneaker game. You'll be "stunting in the rain, just stunting in the raaainn."
Hurricane Waterproof Boot
Jeffrey Campbell
nordstrom.com
$64.95
The matte treatment of the rubber on these Jeffrey Campbell boots makes them blend super smoothly with any outfit. Try these with a boyfriend jean cuffed at the ankles and a blazer to seamlessly transition from commute to morning meeting.
This content is created and maintained by a third party, and imported onto this page to help users provide their email addresses. You may be able to find more information about this and similar content at piano.io