20 Times Kate Middleton and Pippa Middleton Basically Wore the Same Outfit
What's better than accidentally #twinning with your sis? Nothing.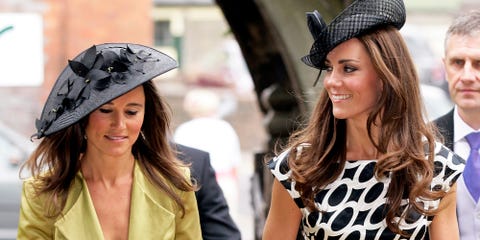 Max Mumby/Indigo
Getty Images
Kate Middleton and Pippa Middleton make my list as one of the most famous and well-dressed sister duos in the world. Even though Kate, as the Duchess of Cambridge, has to dress to impress, her lil sis Pippa is equally as fashionable. (Remember when her backside almost stole the spotlight at Kate's wedding?) Though the two now lead different lives, Pippa has said that she and Kate have a "normal, sisterly relationship" and like most sisters, they've worn similar outfits in the most serendipitous manner. Need proof? Ahead, 20 times Kate and Pippa #twinned so hard, I could hardly tell them apart. Don't ask me who wore the outfits better, though. I won't play favorites.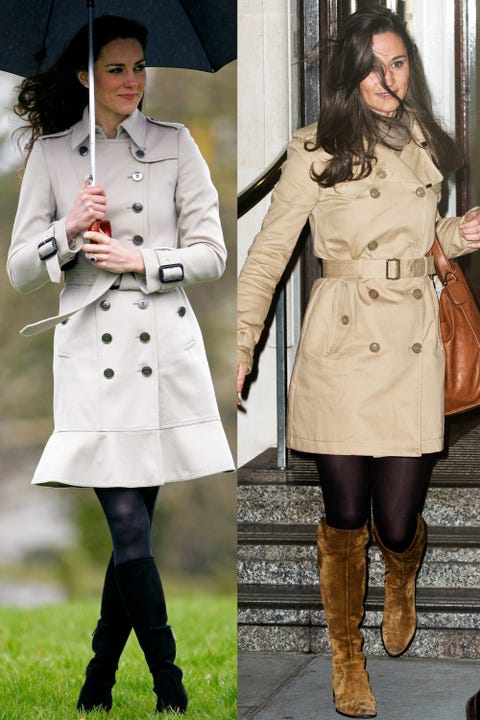 When They Wore Trench Coats, Tights, and Knee-High Boots
Let Kate and Pippa show you the perfect three-piece combination for fall. The sisters both chose belted trenches with tights and knee-high boots (black for Kate and brown for Pippa) while braving the windy weather. Kate's trench is from Burberry while Pippa's is from Superdry.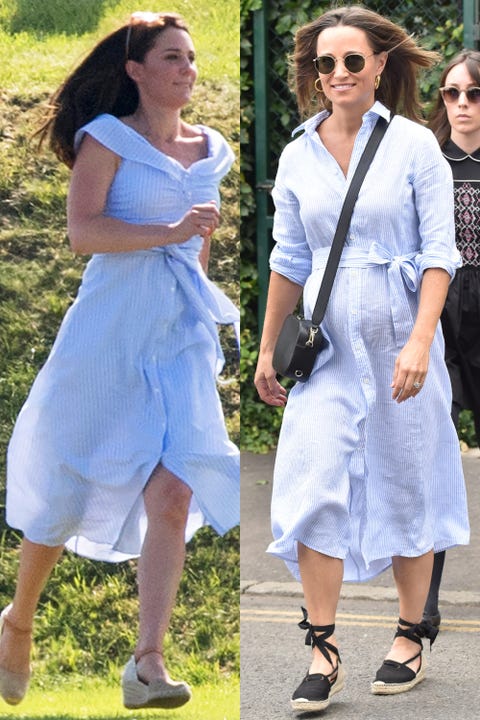 When They Wore Blue Striped Summer Dresses
Kate Middleton went with a sleeveless, blue striped Zara dress while at a charity polo match in June 2018. She ran around with her kids in Russell & Bromley espadrille sandals. A month later, Pippa Middleton debuted her own version of the blue striped dress when she attended Wimbledon. Kate's little sis wore a three-quarter sleeve shirtdress with built-in belt that highlighted her baby bump and...espadrilles.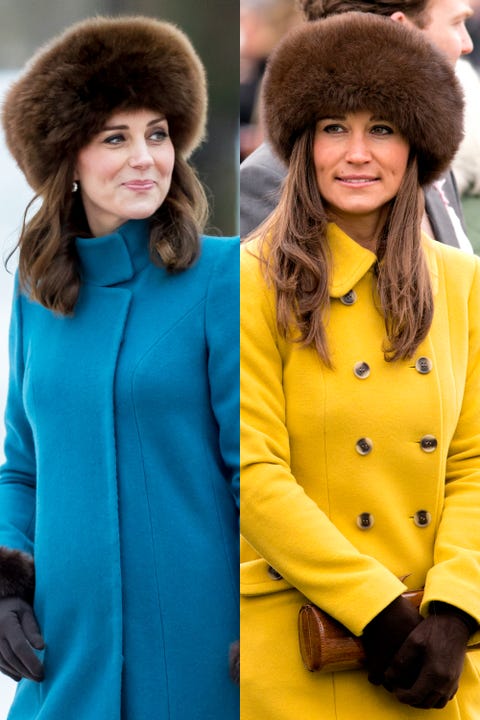 When They Kept Warm in Brown Furry Hats
For a visit to Norway in February 2018, Kate braved the cold in a blue Catherine Walker coat and a furry chocolate brown hat from Lacorine. The winter accessory was nearly identical to the one Pippa wore in March 2013, when she attended The Cheltenham Festival in London. Pippa, however, styled the hat with a bright yellow double-breasted coat and brown suede gloves.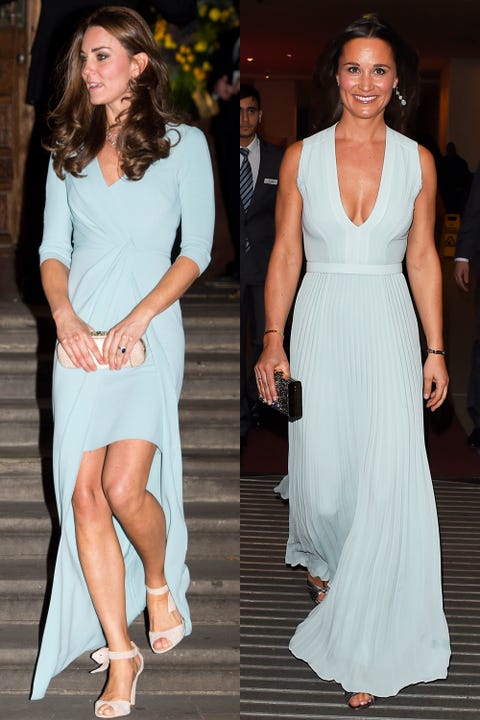 When They Opted for Baby Blue-Colored Dresses
Kate looked radiant in her high-low Jenny Packham blue dress at the 2014 Wildlife Photographer of the Year Awards Ceremony in London. In March 2015, Pippa donned a similar baby blue number to a fundraising ball for Disability SnowSport UK. The Hugo Boss design was slightly sexier than Kate's, thanks to a plunging neckline.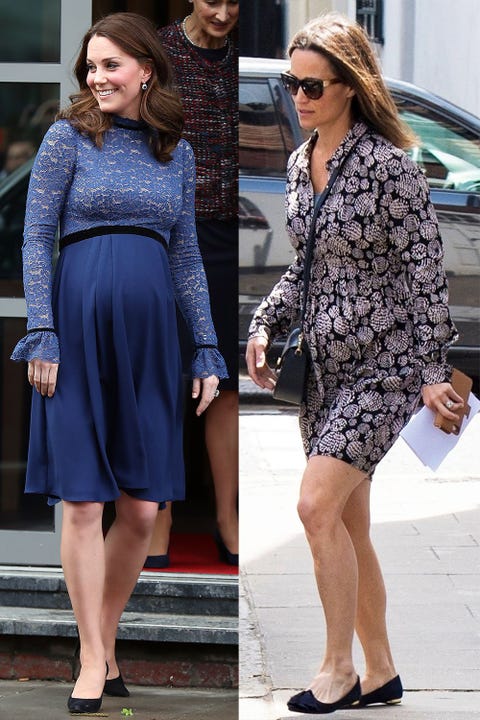 When They Both Wore the Maternity Brand Seraphine
While pregnant with Prince Louis, Kate wore a long-sleeve blue lace dress from Seraphine while opening the new Place2Be Headquarters on March 7, 2018. No surprise, when Pippa was pregnant she followed her big sister's lead and also picked out some an easy-to-wear dress from the same brand.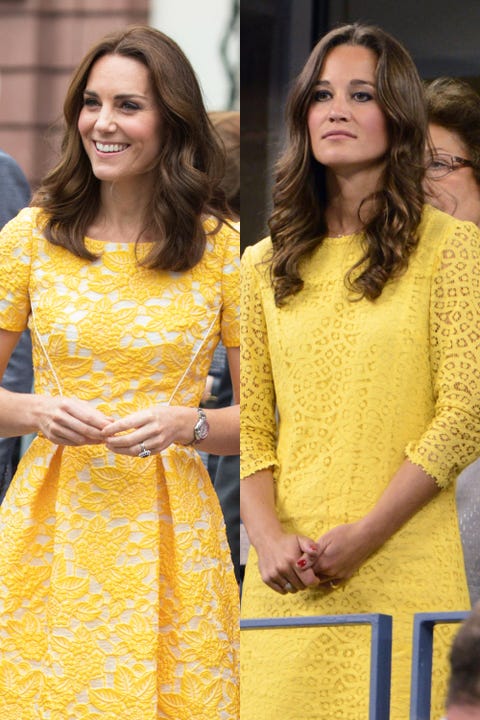 When They Stunned in Yellow Lace Dresses
In July 2017, Kate embarked on a three-day royal tour of Germany. For day two, she stepped out in a cheery yellow dress by Jenny Packham, one of her go-to British designers. The lacy material was similar to Pippa's Phase Eight dress, which she wore in September 2012 to the US Open. Both sisters can definitely pull off the bright hue.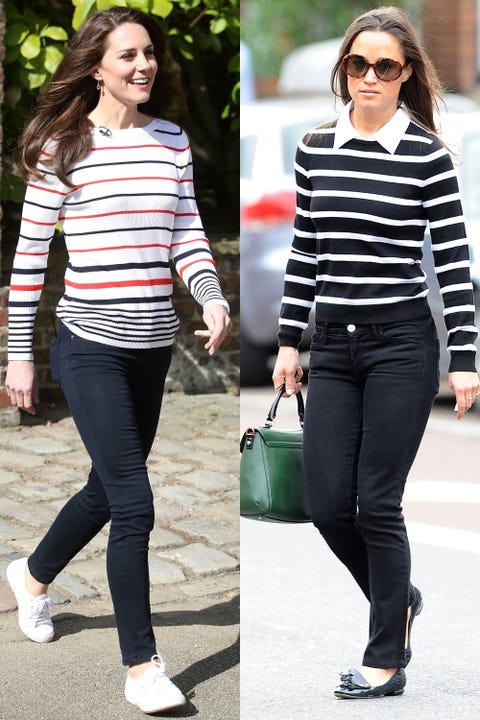 When They Kept It Casual With Striped Shirts
For the 2017 London Marathon, Kate kept her outfit sporty with a multi-colored Luisa Spagnoli striped top, a pair of blue jeans, and white Superga sneakers. Pippa channeled the same nautical vibes with her black-and-white stripe Alice & Olivia top while running errands in September 2012. She also wore her shirt with jeans, but traded in sneakers for a pair of flats.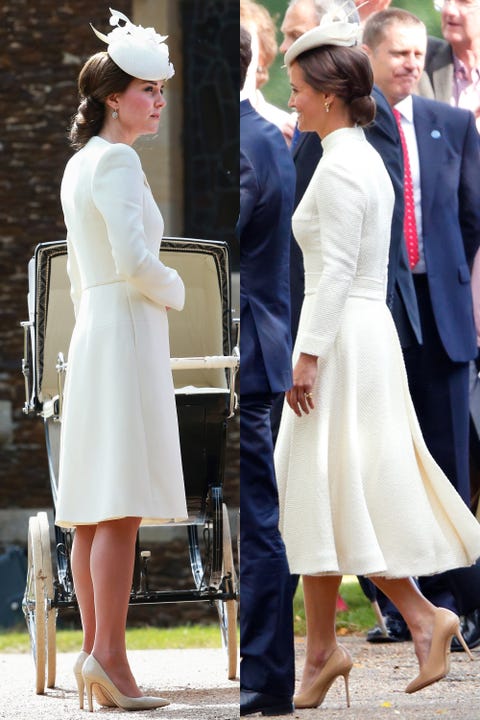 When They Wore White Coats to Princess Charlotte's Christening
For Charlotte's christening in July 2015, Kate wore a cream-colored Alexander McQueen coat with a pair of heels and a fascinator of almost the same shade. Pippa matched her older sister in a similar white dress and nude pumps. From the back, they practically looked like twins.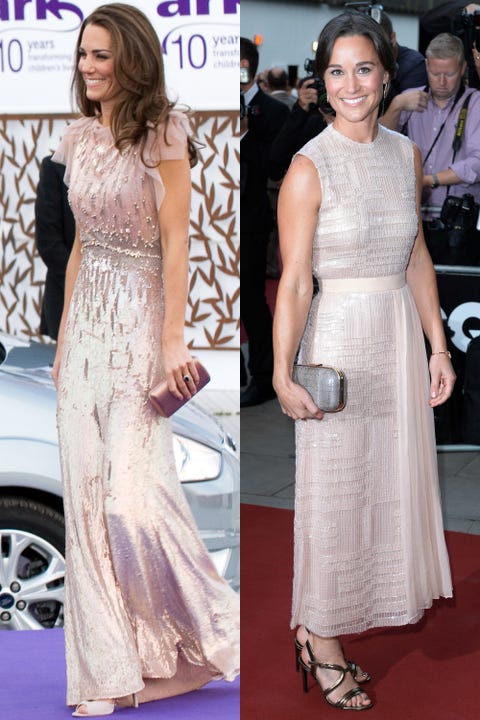 When They Sparked in Pink Gowns
In June 2011, Kate attended the 10th Annual Absolute Return for Kids Gala Dinner at Kensington Palace. She wore a sparkly dusty rose gown from Jenny Packham and peep-toe pumps. A few years later in September 2014, Pippa showed up to GQ's "Men of the Year Awards" in a shimmery pink BOSS dress of her own.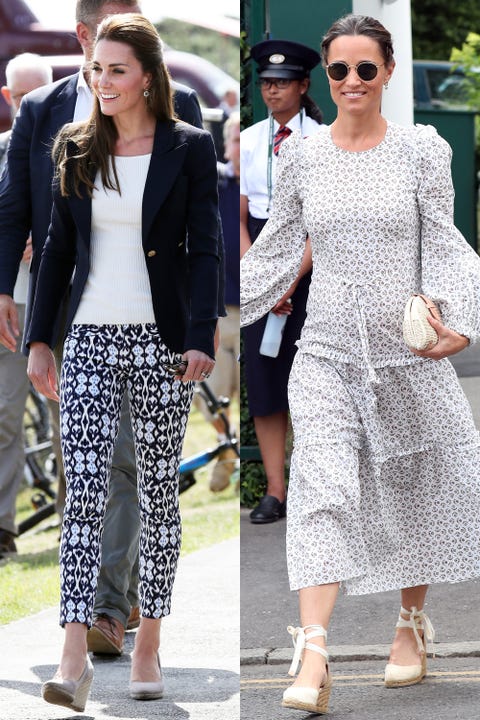 When They Stayed Comfy in Espadrille Wedges
Despite Queen E's abhorrer for wedges, Kate wore her Moonsoon Fleur beige wedges to the Tresco Abbey Gardens in September 2016. They paired perfectly with her Gap trousers, white H&M top, and Smythe blazer. Luckily, Pippa isn't beholden to any royal style rules, so she can wear her lace-up wedge espadrilles from Castañer all she wants.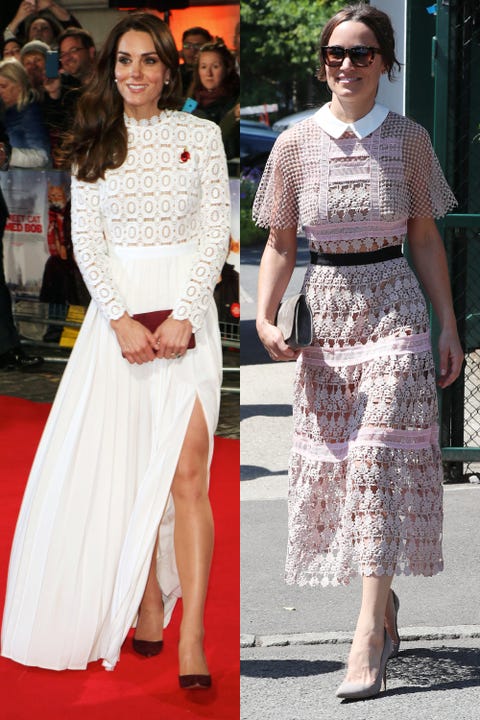 When They Wore Self-Portrait Dresses
Sisters often share a love for the same brands, and Kate and Pippa are no different. In addition to their love for J.Crew, the pair have both worn Self-Portrait at various times. Kate showed off a long-sleeved lace gown from the label in November 2016 at the premiere of A Street Cat Named Bob. Pippa opted for a lacy, semi-sheer midi dress from the brand in July 2017 for Wimbledon.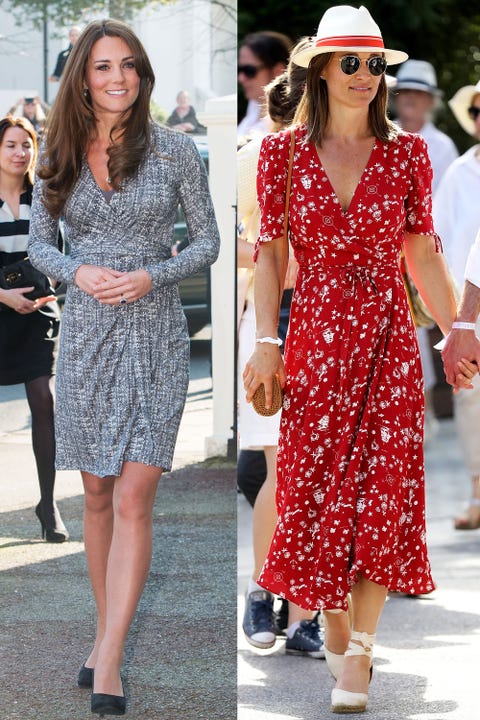 When They Both Wore Printed Wrap Dresses
Pippa's the queen of wrap dresses (we found proof), so she might have taught Kate a thing or two about this style. In 2013, Kate debuted this Max Mara wrap dress while pregnant with Prince George. Later, Pippa, who was also expecting her first child, a baby boy, chose a Ralph Lauren wrap dress for the French Open.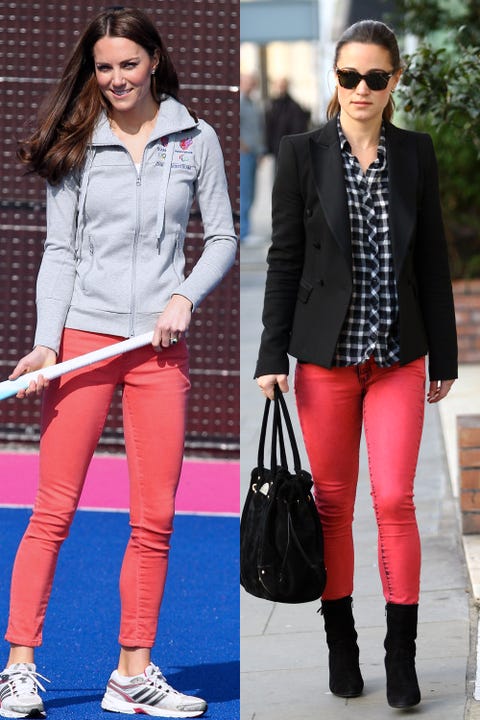 When They Wore Coral Jeans
While I stick to blue or black skinny jeans, the Middleton sisters aren't afraid to try coral-colored bottoms. Kate wore her bright jeans while playing a game of hockey in March 2012. Pippa was spotted in a pair of identical pants in January of that year. She styled hers with a plaid button-down and black blazer.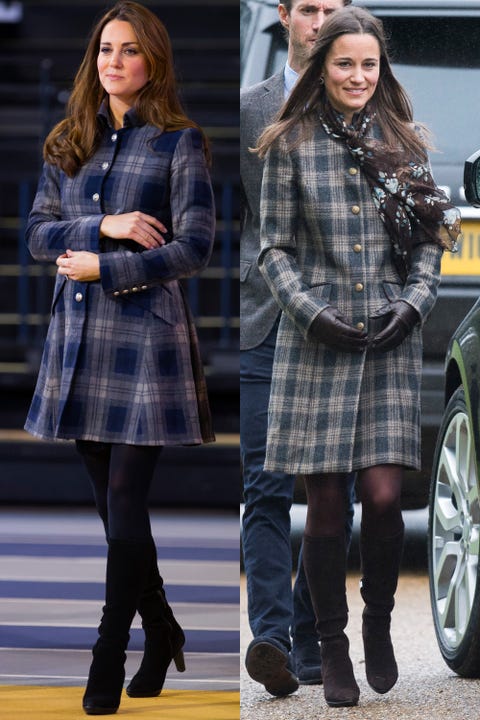 When They Wore Plaid Outerwear
If you ask the Middleton sisters, I bet they'd tell you plaid outerwear is a must-have seasonal piece. In April 2013, Kate visited the Emirates Arena in Scotland wearing her Moloh jacket with tights and black knee-high boots. Her sister owns a similar plaid coat, which she wore while attending church on Christmas Day in 2016.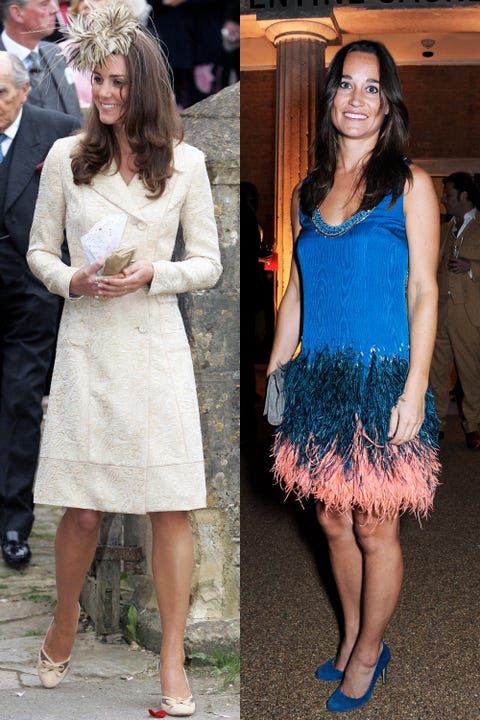 When They Chose Outfits With Feather Details
The way Kate and Pippa incorporated feathers into their outfits reveals how similar yet how different they are. While Pippa wore a bright feathered blue minidress in September 2013, Kate—being a royal and all—added only a touch of feather detailing with her fascinator for a wedding in May 2006. The look was less adventurous than her sister's, but suited the royal dress code.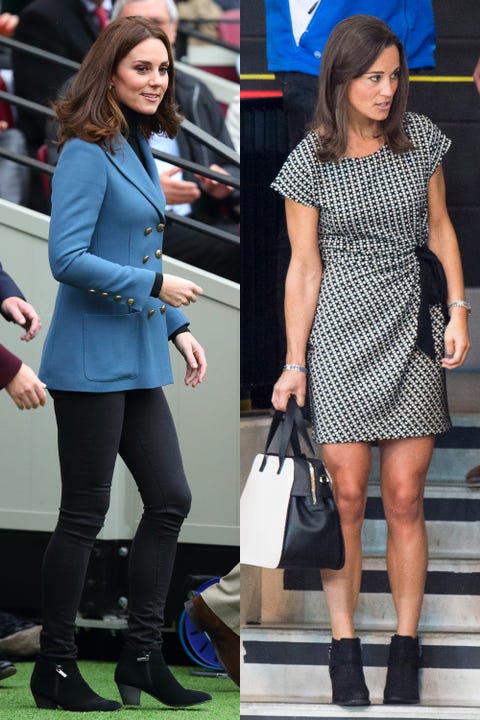 When They Wore Black Ankle Boots
The two share a love for black ankle boots and, really, who doesn't? (Royals! They're just like us.) Kate rocked the footwear style in October 2017 when she attended a graduation ceremony. Pippa chose to pair her booties with a printed minidress for the 2014 Invictus Games.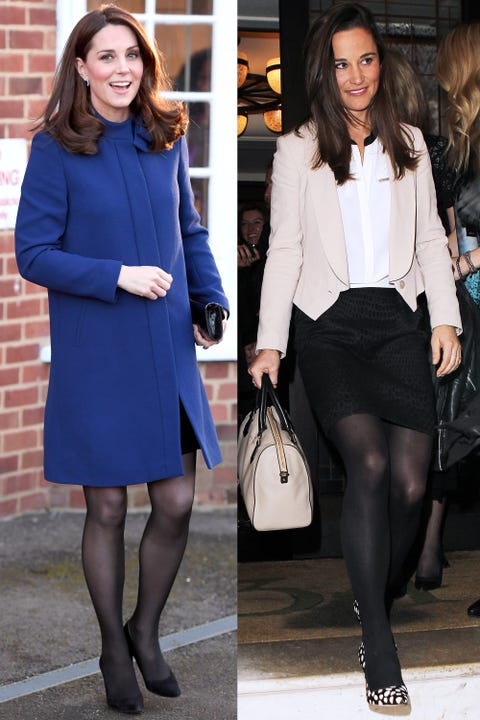 When They Both Wore Tights
Tights are a necessity, especially when the weather gets cold. Kate loves to layer hers under dresses while Pippa wears them with skirts. The ladylike footwear is part of the royal dress code, which means the accessory is as prim and proper as it gets.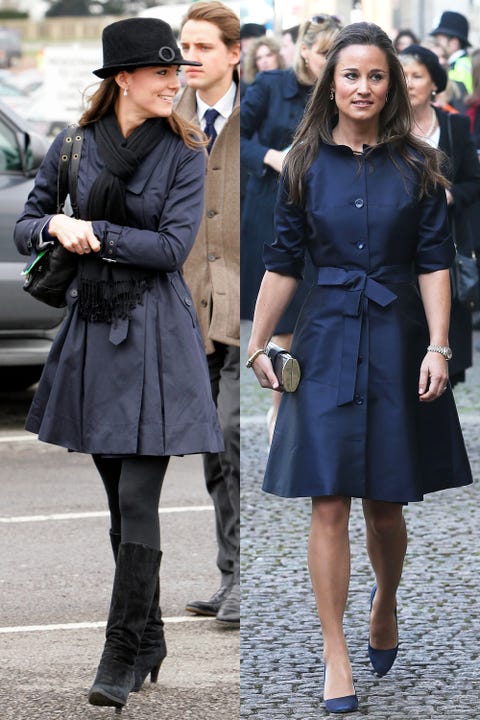 When They Wore Classic Navy Trench Coats
Kate has a taste for the classics. Just take a peek at her navy belted trench coat from March 2008. She wore the timeless Ted Baker outerwear to The Cheltenham Horse Racing Festival with a pair of gray tights and black boots. Pippa echoed her sister's preference for navy trench coats when she wore one to a memorial service in March 2014.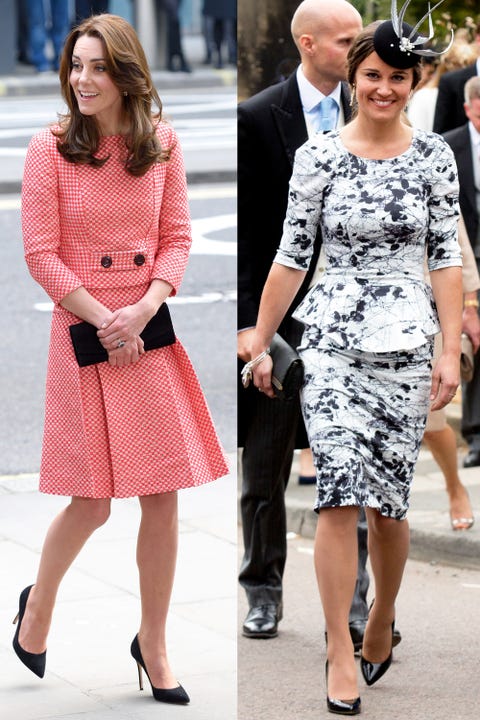 When They Tried Out the Skirt Suit Look
Kate's more formal engagements call for skirt suits like this Eponine London set she wore 2016. Though she is frequently spotted in them, lil sis Pippa also wears sets on special occasions. The socialite showed off this black-and-white printed two-piece while attending the wedding of Melissa Percy and Thomas van Straubenzee in 2013.
This content is created and maintained by a third party, and imported onto this page to help users provide their email addresses. You may be able to find more information about this and similar content at piano.io