10 Non-Embarrassing Halloween Costumes That Won't Cost a Fortune
Obviously my non-existent boyfriend and I are dressing as Ariana and Pete this year.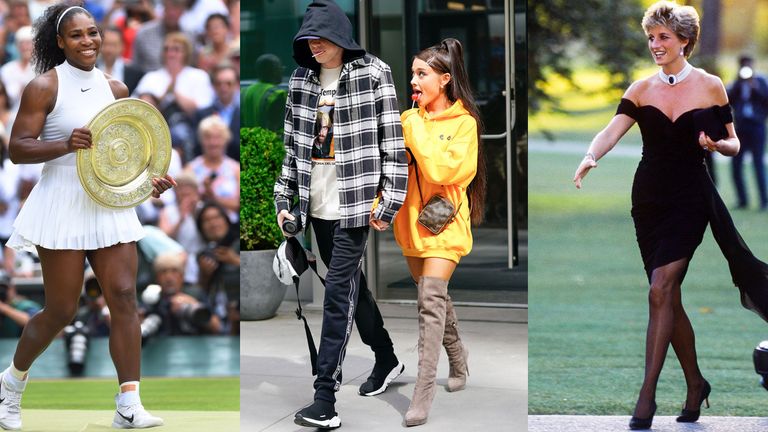 (Image credit: Getty Images)
No, Halloween is not the one time of the year when you can appropriate any culture you want, thanks for asking! However, you can channel celebrities, athletes, and pop-culture icons in an outfit that—surprise—doesn't blow your monthly shopping budget. Because, really, who wants to spend money on something you're only going to wear one day out of the year? Pick from these fun, not-super-expensive options, below.
1. Princess Diana
Tell them you're wearing Princess Diana's '94 "revenge dress," and they'll know exactly what you're talking about (if they're over the age of 20). Instead of accessorizing with a diamond necklace that belongs to the royal family, a choker will do.
Speechless dress, $59
Forever 21 choker, $10
2. Cher
The best part about channeling the iconic singer is you can wear the long black wig, flare jeans, and bohemian top year-round, rather than just buying pieces that'll only work for one night.
'60s wig, $20
American Eagle jeans, $20
Romwe top, $10
3. Ariana Grande
Grab a hoodie, thigh-high boots, a lollipop, and a boyfriend who has BDE, and you're all set. Don't forget one very crucial component: the ponytail.
H&M hoodie, $25
H&M boots, $30
Pack of lollipops, $4
Tinder, free
4. A Gymnast
Because we're all winners here, take notes from Simone Biles, Aly Raisman, McKayla Maroney, and the rest of the fierce five by wearing a leotard and a medal around your neck. If you're not too thrilled with the current state of the country and don't want to spend the money on a patriotic leotard, a plain bodysuit will do the trick.
Gap leotard, $9
Gold medal, $2
5. Holly Golightly from 'Breakfast at Tiffany's'
The rom-com genre is officially making a comeback, which is even more of a reason to throwback to the '60s with Holly Golightly from the classic rom-com, Breakfast at Tiffany's.
Forever21 dress, $8
Spritz pearl necklace, $5
Claire's tiara, $9
Forum Novelties gloves, $5
6. A Tennis Player
Let world-renowned tennis players like Serena Williams and Maria Sharapova inspire your costume this year, then sign up for those tennis lessons you put on your resolutions list...nine months ago.
Vineyard Vines tennis dress, $44
7. Sabrina from 'Sabrina the Teenage Witch'
Ahead of The Chilling Adventures of Sabrina reboot, remind everyone who the OG Sabrina is. The black cat is optional (so are the shoes, apparently), though it is Halloween...
ModCloth top, $45
H&M pants, $35
8. A Flight Attendant
Look, it's you, the flight attendant who helped land Post Malone's plane safely.
Flight attendant costume, $25
Forever21 bandana, $6