15 Cute Laptop Backpacks That Provide Both Fashion and Function
Bye-bye, tote bag.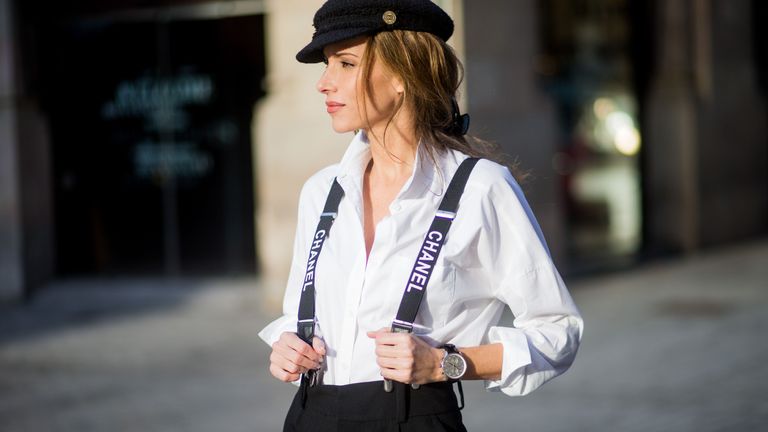 (Image credit: Getty Images)
I know what you're thinking: "Laptop backpack" traditionally refers to the bulky, functional-not-fashionable backpacks your parents carted around in college. But times have changed, and thankfully, so have the selection of women's backpacks that can carry your 15-inch laptop and your workout clothes and that bottle of wine you bought on your way home and still look cute. Don't believe us? Look no further than the below for cute work backpacks that'll fit everything you need and some stuff you...probably don't, but why not throw it in there anyway? Give your right shoulder a break and trade in your old tote for one of these beauties.
1/15
MZ Wallace Metro Backpack
Best for Long Subway Rides
This plush, quilted nylon backpack from MZ Wallace is polished, sophisticated, and versatile for day or night use. The backpack comes with a removable pouch for smaller essentials and two interior cell phone pockets—one for your work phone and one for your personal.
2/15
HERSCHEL SUPPLY CO. Little America Backpack
Best Take-Everywhere Backpack
This cute salmon backpack from Herschel is the definitely of a carryall. You can use it for weekend trips, a hike, or just for your commute—it's truly the bag that does it all.
3/15
Longchamp Le Foulonne Leather Backpack
The Sleek Backpack
This structured backpack from Longchamp comes with an interior laptop sleeve, so you'll never have to worry about having everything from your glasses to your phone get crushed under your computer.
4/15
Madewell The Lorimer Backpack
The Everyday Backpack
If you're looking for an option that won't cost you a fortune, looks luxe, and works for everyday use, consider this pick from Madewell. The buttery soft leather will wear with time, giving it the perfect lived-in feel.
5/15
AWAY The Backpack
Best For Travel
This pick from Away was designed for hands-free travel. It's made from water-resistant nylon and contains three massive compartments that can hold up to a 15" computer. If you have another suitcase from AWAY, this backpack comes with a trolley sleeve that attaches to all of the brand's wheeled options.
6/15
Fjällräven Kånken 17-Inch Laptop Backpack
The Work-To-Weekend Pick
This bright yellow backpack from Fjallraven is made from a lightweight, durable nylon fabric that's so easy to clean. If you need an option that works for travel and for the office, this one is for you. It's 17 inches long, so it will hold any size computer.
7/15
Senreve Maestra Bag
Best for Style Points
If you have a 13" computer, this option from Senreve is for you. It works as a tote or a backpack, and looks stylish either way. The stain-resistant texture also means that it will be super durable for years of constant use.
8/15
Calpak Kaya Laptop Backpack
The Work-to-Drinks Pick
If you need a no-fuss backpack that won't look super out-of-place at your next happy hour sesh with your colleagues, this one from Calpak is a must-buy. The simple square silhouette and black detailing makes it look so timeless.
9/15
Zella Women's Zella Nylon Backpack
Best For Moms
This backpack does it all. It has plenty of pockets to store all your must-haves (including a few bottle holders!) for a day-to-day staple.
10/15
TIMBUK2 Hero Backpack
The Rustic Pick
This oversized option from TIMBUK2 will hold your laptop and so much more. The rolled closure at the top gives the pack a sporty feel, while the sleek single closure means that it'll make for an no-fuss commuter bag.
11/15
Coach Cargo Carrie Backpack
The Retro Pick
If you have a 13" laptop, consider this smaller option from Coach. The compact design is decked out with Coach's classic turnlock closure and gold hardware for a vintage twist on an otherwise classic pick.
12/15
The Marc Jacobs The Backpack
The Logo'd Pick
This utilitarian pick from Marc Jacobs comes with a bold logo and an interior laptop sleeve. The olive green colorway is a different play on neutrals, so swap your black one out for this bolder option.
13/15
Tory Burch Piper Gingham Zip Backpack
The Printed Pick
If you're tired of neutral accessories this year, consider trying a printed option like this one from Tory Burch. It's still black and white, so it's not too much if you love a low-key backpack.
14/15
Rains Field Backpack
The All-Weather Backpack
You'll want to break out this waterproof backpack whenever it rains or snows—this accessory can handle anything Mother Nature throws at it. It can fit most 15-inch laptops, plus a generous front pocket allows you to stick pens, gum, snacks, and other miscellaneous objects in there with ease.
15/15
Cuyana Large Leather Backpack
The Supersized Backpack
Cuyana took its coveted backpack and created a larger version of it. This one can hold even more of your work essentials, from your laptop to gym sneakers and even lunch. Yet the bag still maintains a pretty and feminine aesthetic for anyone who wants to look stylish on the go. (Take away the handle strap if you want a cleaner feel.)