Editors handpick every product that we feature. We may earn commission from the links on this page.
32 Eco-Friendly Gifts That Your Friends, Family, and the Planet Will Love
Make every day Earth Day.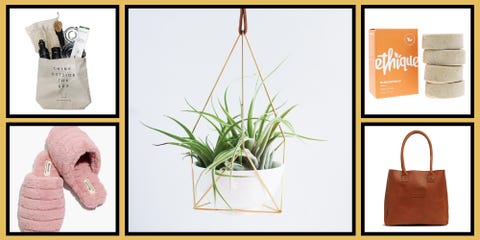 Eco-friendly gift-giving—is there even such a thing? More stuff inevitably means more plastic and waste, plus more emissions from manufacturing. With that said, a number of brands have responded to the call for more ethical, transparent processes by leaving a smaller carbon footprint. By now, there are a number of innovative solutions: Each of these brands really prioritizes some aspect of sustainability, from zero-waste to recycled materials to transparency in production. In each case, they're moving away from "fast fashion"—goods made quickly and cheaply, designed to fall apart or stop working after a couple of uses. These clothes, jewelry, and accessories will last your recipients for years without ever needing to be replaced. These options are a few of the ways to give the perfect gift without ignoring climate change and waste, and each of these items will work as a thoughtful gift to give, or ask for.
This content is created and maintained by a third party, and imported onto this page to help users provide their email addresses. You may be able to find more information about this and similar content at piano.io