Exactly How to Layer Necklaces, According to a Stylist
It's so much easier than it looks.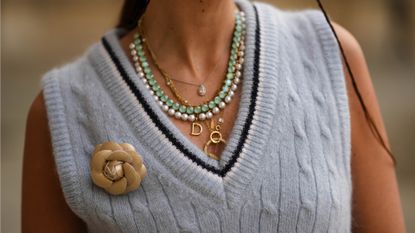 (Image credit: Edward Berthelot/Getty Images)
I'm going to go out on a limb and say your favorite fashion girls are experts at accessorizing. Maybe they know when their 'fit needs that extra touch with a hair ribbon or their wrists are stacked with just the right amount of bracelets to look cool. I'm also willing to bet they know how to layer necklaces and make it look effortless. Well, if you're anything like me and tend to throw on random necklaces and pray for the best, you know that expertly layering necklaces is anything but effortless.
However, I'm happy to report that achieving that cool-girl look by layering your jewelry isn't rocket science. But if you don't believe me (I, too, needed some convincing), take it from Alison Bruhn, fashion stylist and co-founder of fashion media company, The Style That Binds Us. Since I'm a tad helpless when it comes to layering necklaces, I turned to Bruhn to help ease my woes, and that she did. Bruhn assures, "Layering isn't a 'science,' rather it is a way to have fun and be creative."
Below, I've shared Bruhn's expert tips and some of our favorite layering necklaces to help you on your own styling journey. From how to start your necklace set to mixing textures, you'll be well on your way to becoming a layering pro in no time.
How to Start Layering Necklaces
Before you start rummaging through your jewelry box for every necklace you own, you want to ensure you have one vital piece: a layering clasp. "The first thing I always suggest is to purchase a layering clasp," Bruhn says. A layering clasp, like the one below, works by connecting your necklaces together so they stay in place and untangled. They also make it incredibly easy to take off all of your necklaces at once.
You're also going to want to start simple. The art of layering necklaces is all about stacking complementary pieces, but you don't want to go overboard. Bruhn recommends starting your necklace stack with three pieces. "More than 5 can easily become a tangled mess even if you're using a layering clasp."
Choose a Focal Point
For your necklace stack, you're going to want to choose a focal point, a.k.a. the star of the show, Bruhn says. "It's especially nice if the pieces tell a story, with at least one necklace in the group having special meaning for you." So maybe it's your family heirloom passed on for generations, or maybe it's a long pendant you found at the thrift store. Whatever that special piece is to you, that's the piece you want to highlight in your layered look. Bruhn recommends choosing that piece first and then assembling your other layers around it.
Mix Textures and Lengths
This is where all of the fun comes in. When you've got your layering clasp and focal piece in hand, now's the time to get layering. Rather than grab similar necklaces to your special piece, get creative with it! "You don't want the grouping to look 'forced' or rigid," Bruhn advises. "Spice your pairings up by mixing chains, pendant necklaces, and colorful beads." Bruhn compares layering necklaces to creating a work of art—adding different textures and styles always adds more pizazz, she says. You may also want to consider adding a piece with gemstones such as a tennis necklace for a touch of glamour.
Keep in Mind Your Face Shape
Another tip to keep in mind when building your layered look, Bruhn says, is to pay attention to your face shape, coloring, and neck length. "Silver or white gold near my skin can cast gray shadows up on my face, but gold gives me a glow because I have warm undertones in my skin," she says as an example. Meanwhile, Bruhn explains that chokers look best on those with longer necks since they create the illusion of a shorter neck. If your neck is shorter, however, you can still cheat the look of a choker style with a slightly longer necklace. Once you understand your coloring and shape, you can find the styles that best complement you.
Pay Attention to Your Outfit
The top you choose to pair with your layered necklace look can make or break your outfit, so as a general rule of thumb, always try on the top you're going to wear as you're creating the necklace layers. Bruhn explains, "You don't want part of the necklace to fall beneath the top you've chosen, or be too long so that it catches on a button, etc."
As for what tops look best with a layered necklace moment, you've got plenty of options. "V-neck and scoopneck tops, strapless dresses, spaghetti straps, anything that gives room for multiple necklaces can work," Bruhn says. And if you want your layered necklaces to be the focal point of the look, Bruhn recommends staying away from dramatic prints and multicolored pieces of clothing that would compete with the jewelry grouping.
Relax and Experiment
All in all, the most important thing to consider when layering necklaces is to relax and experiment. Try on different combinations and even your whole jewelry collection until something resonates. "The point of layering necklaces is to create interesting unique looks, so relax and enjoy the process," Bruhn says. "Don't let this be a stressor, there is no right or wrong combination."
Meet the Expert
Alison is a national style and image consultant with clients across the country. She studied at the Fashion Institute of Technology in New York City, and holds a Color certification from the Image Resource Center of New York. She is a member of the Association of Image Consultants International.

The purpose of her work is to empower women through creating a visual brand and transforming their style to ignite a new path of confidence and independence. She works with both private clients and groups.
Brooke Knappenberger is the Editorial Fellow at Marie Claire, where she writes across the board from fashion and beauty to books and celebrities. As a pop culture junkie, Brooke obsessively consumes and writes about the latest movie releases, streaming TV shows, and celebrity scandals. She has over three years of experience writing on fashion, beauty, and entertainment and her work has appeared on Looper, NickiSwift, The Sun US, and Vox Magazine of Columbia, Missouri. Brooke obtained her Bachelor's Degree in Journalism from the University of Missouri's School of Journalism with an emphasis on Magazine Editing and has a minor in Textile and Apparel Management.