Sarah Jessica Parker Lets You in on a Few Secrets About Her Brand-New Shoe Line and HBO Show
We chat with the actress-cum-shoe-designer at her Zappos Couture pop-up shop.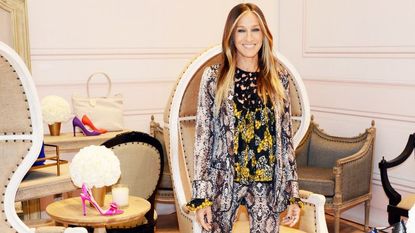 (Image credit: Courtesy of Zappos Couture)
Marie Claire Newsletter
Celebrity news, beauty, fashion advice, and fascinating features, delivered straight to your inbox!
Thank you for signing up to Marie Claire. You will receive a verification email shortly.
There was a problem. Please refresh the page and try again.
A dyed-in-the-wool New Yorker, Sarah Jessica Parker—as well as her Sex and the City alter-ego Carrie Bradshaw—are as synonymous with the city as a perfect dollar slice. But believe it or not, there's another bustling city that holds a special place in her heart: Las Vegas.
In fact, Parker is so enraptured by Sin City that she's dedicated her latest SJP by Sarah Jessica Parker line to the land of bright neon lights and all-or-nothing dreams. The Strip Collection, as it's cheekily called, launches today exclusively with Zappos Couture online and at a pop-up boutique at The Shops at Crystals in Vegas. (Don't forget to grab a Zappos promo code before you get yours.)
The collection features eye-catching updates to SJP's hallmark silhouettes with a red-hot color palette, twinkly embellishments, and jeweled brooches inspired by vintage styles that Parker thrifted herself.
We caught up with Parker at her launch party to talk about the collection, getting dressed shoes first, Sin City adventures, and her new show Divorce, which has officially been picked up by HBO. *Clinks champagne*
Full disclosure, we're drooling over the entire Strip Collection. Could you talk about that design process?

"Well, a lot of these shoes are silhouettes that are part of our essentials now. One of the pillars of this collection has been color as neutral and the idea of what's appropriate and what's not is just sort of malarkey. It inspired me to break all the rules and really shed any limitations that I was feeling. I thought 'What does Vegas mean to people?' 'What does that sort of decadence, naughtiness, sparkle, bright light, and sort of crazy that bounces off the strip and how do I put that in a shoe?' It was the fabrications, ornamentation, sparkle, light, and a sense of decadence, really!"
The embellishments are gorgeous—we love the brooches, especially!

"Actually, I'd been finding old brooches and shoe clips from the turn of the century and a lot of what you're seeing, you're not going to see those anywhere else because they are based on old pieces I found from vintage."
Well, now that you mention your vintage collection, we must know: where do you go hunting?

"Everywhere! I mean, I've been collecting vintage forever since like 1983 and I have a huge amount and everywhere I travel in the world I will find something—and if someone tells me there's no vintage, I know that's not true. Whether it's the Middle East or Western Europe, or New York or St. Louis, I just try to find them–and if they don't have a vintage shop, I'll go to Goodwill. There's a lot of treasure out there in the world and it's often what's affordable and what makes us feel different, so I'm just always looking for it."
We couldn't agree more–and it seems like you incorporate personal details from growing up in your designs including your signature grosgrain ribbon. What are some other significant details?

"Well, grosgrain is obviously a big part of it and it's a nod to my mother, but beyond that, it has a lot to do with a period of shoes. The late '70s in New York was a really great time in the shoes business and there were a lot of really beautiful, cool, and interesting shoe stores along Madison and 57th street. It almost seemed like they were just designing for their own amusement. I'm sure there is a period of your growing up life that for some reason sticks in your brain more than any other and even if you don't use it in your work, it's something that is probably important to you. For me, it was that late '70s period in New York. They were mashing all these crazy colors together in a single sole and I wanted to find a way to tell that story again."
Do you remember the first pair of "adult," shoes you ever bought. You know, the kind that scream, 'I've arrived'?

"The first pair I bought on my own would have been... I'm trying to think the year I didn't ask my mom for money. My guess would be in 1986, when Manolo Blahnik came to Los Angeles. I was working there and happened to have a friend and their mother owned a store on Sunset Plaza. She said there's a trunk show and the designers name is Manolo Blahnik. I didn't know who he was and I did not have any stinking money, like it was scary. But I had an American Express card and it was a rainy day and like four of us showed up for this trunk show. Can you imagine only four people showing up for Manolo Blahnik today? I ordered six pairs of shoes and I paid for them on my card, which was reckless of me, but that was the first time I ever bought what I knew to be a beautiful shoe. That was the first real investment in a shoe I ever made."
At Marie Claire, we have an entire issue dedicated to the notion of getting dressed Shoes First. Would you call that your style M.O.?

"I would say yes, but I sort of back into it. I wouldn't say every day when I'm running the kids to school, going to the market, or running errands in the dead of winter, but when I know I'm getting dressed for something...it's not that I pick the shoe first necessarily—it's that I know that the shoe will finish the look. In my mind, there's like a gravitational pull."
Totally agree. So, let's talk Vegas for a second. What does this city mean to you?

"I worked here a long time ago. I did a movie here called Honeymoon in Vegas. So, I'm quite nostalgic about it because It was a very special time in my life. I was working with very special people, so I have those memories, which strangely enough, don't really have to do with the big, bad, naughty Vegas. Most of the time I spent here was making a kind of lovely, old-fashioned movie about a couple that really finds love here. Those are kind of my feelings about Vegas. They don't match with the theme of this kind of decadent place of entertainment and adult behavior, so I think I have this kind of surprising nostalgia about it."
But still, you must have some wild Vegas memories, no? What was the craziest?

"Nicholas Cage jumping out of an airplane when I played opposite of him in Honeymoon in Vegas was a pretty great amazing memory. I was in a full showgirl outfit, and he was in an Elvis costume. It was pretty freaking great. [Laughs]"
We can only imagine! So, our entire office has been abuzz about your new HBO show Divorce. We must know, is your character Frances a clothes horse?

"I'm so happy to hear that! She's a working person who probably has about six pairs of shoes and two purses at most. I think she's interested in clothes, but her life doesn't allow her to be indulgent. And like everything I've done, I tell the story of what he or she wears. We have this amazing designer named Arjun Bhasin and he does a lot of amazing movies all over the world. I think everything I used was from a thrift shop. I believe my coat, which we found on Etsy, was like 69 dollars and my shoes were from a thrift shop—they were falling apart and we repaired them at the last minute. My purse is an old Coach bag that's off Etsy too."
Divorce is a heavy topic to take on—what about it attracted you to this role?

"It's a landscape that I think is really interesting, you know. Marriage is challenging and sometimes it can work and sometimes it doesn't work. I think people retire from it and give up, and some people have a diligence and then it kills them. For me, telling that story is really interesting. And it's funny! Thomas Haden Church plays my husband and he's freaking brilliantly funny. Molly Shannon plays my friend and then there's Talia Balsam! They're all really funny, smart actors, so I think this is a wonderful role. She's a real person having a real experience at a specific time in her life and I think a lot of people will relate to her story because a lot of people are in marriages, just out of marriages, wish they handled their marriage differently, have regrets about how it ended, still feel angry about a marriage, or love being in one."
You should also check out:
20 Questions with Sarah Jessica Parker
Sarah Jessica Parker On Street Style, Social Media, and Sex and the City 3
Celebrity news, beauty, fashion advice, and fascinating features, delivered straight to your inbox!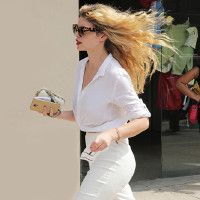 Lauren is the former beauty editor at Marie Claire. She love to while away the hours at coffee shops, hunt for vintage clothes, and bask in the rough-and-tumble beauty of NYC. She firmly believes that solitude can be a luxury if you've got the right soundtrack—that being the Rolling Stones, of course.