The Best Celebrity Shoes of the Week
Including one pair that's on sale for $40 right now. This is not a joke.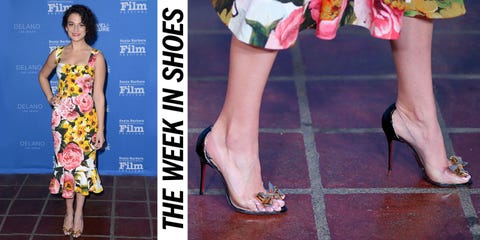 For us regular folk, it's probably a good policy to
spend less on shoes than bags
—after all, they go on your feet, they wear out so quickly, etc. Celebrities, of course, don't have to consider cost, but isn't it nice when they do? That's why we're so excited to include an astoundingly affordable pair to shop this week, along with the usual eat-off-brand-pasta-for-a-month variety.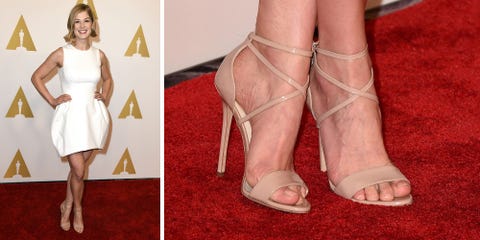 Rosamund Pike in Brian Atwood Sandals
White dress + nude heels = the formula for looking tan and tall and lean. Rosamund's "Tamara" sandals sold out long ago, but
these Brian Atwoods
would have looked just as cool with this ensemble.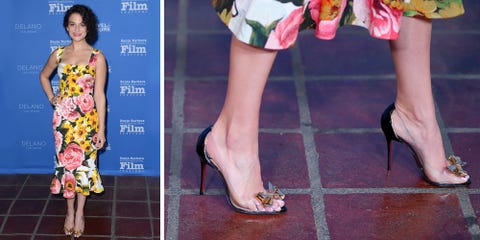 Jenny Slate in Christian Louboutin Pumps
These are like little-girl dress-up shoes but with an actual, red-lacquered heel! The actress and comedienne make them work with a floral Dolce & Gabbana dress. (P.S. We're hunting down that polish color.)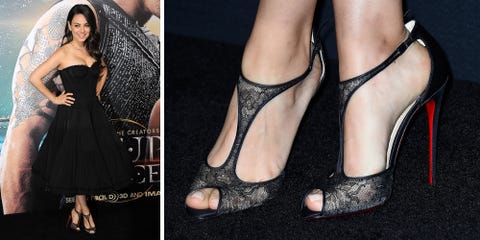 Mila Kunis in Christian Louboutin Sandals
How do you make a poufy princess dress even better? Add
lace T-straps
for even more texture and visual interest.
Reese Witherspoon in Gianvito Rossi Sandals
Everything about this expertly color-blocked look deserves that emoji with two hands that are actually high-fiving and not praying. Try these while you're waiting for this particular pair to become available—they're also
monochromatic T-straps
, except you can wear them now without contracting frostbite.)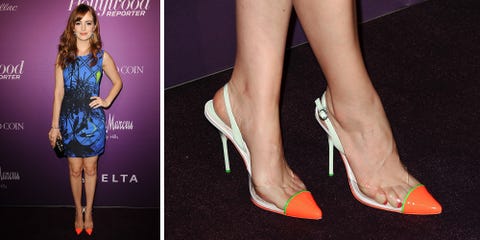 Ahna O'Reilly in Sophia Webster Slingbacks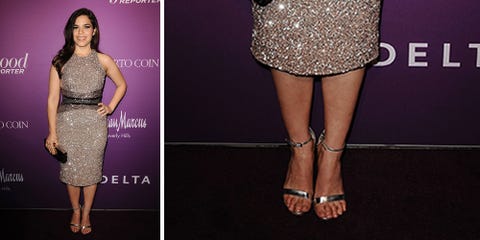 America Ferrera in Aldo Sandals
As promised, the insanely cheap-and-cheerful pair! You'd never know
they only cost $40
, right?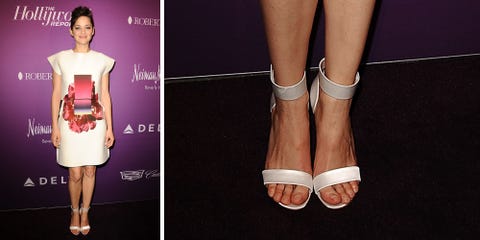 Marion Cotillard in Nicholas Kirkwood Sandals
The secret behind these white ankle-straps? They've got a pearl hidden in the curve where the sole meets the heel. "Investigate" more closely
here
.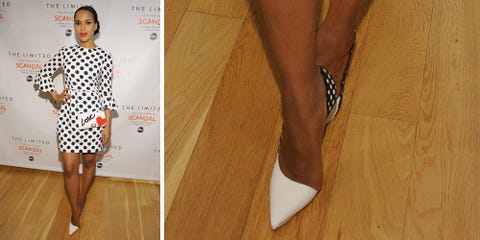 Kerry Washington in Sophia Webster Pumps
This is like a 700 on the cuteness scale, thanks to the polka-dot backs on
Olivia Pope's
the
Scandal
star's
d'Orsay heels
.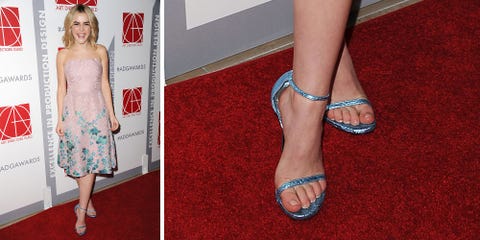 Kiernan Shipka in Stuart Weitzman Sandals
Hollywood is such a Nudist colony right now—everybody has a pair of these minimal
Stuart Weitzman heels
. And why not? They come in every color imaginable/go with anything.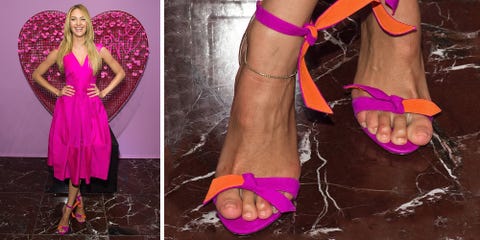 Candice Swanepoel in Alexandre Birman Sandals
Another star might have paired this Antonio Berardi dress with safe black or *flinch* white pumps. Not Candice—these
two-tone Alexandre Birmans
100 percent
make
the look.
This content is created and maintained by a third party, and imported onto this page to help users provide their email addresses. You may be able to find more information about this and similar content at piano.io