Try-Hards vs. Try-Harders: Two Different (but Equally Chic) Approaches to Celebrity Style
Choosing teams has never been harder.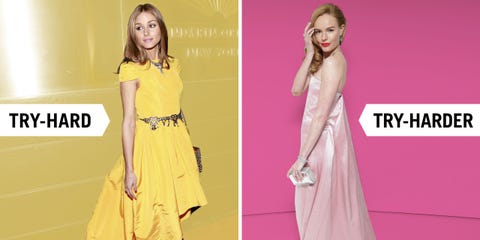 There are two types of people in the world: those who try really hard to look like they've made an effort, and those who try really hard to look like they haven't. (Note: Neither is better than the other, and "try-harder" totally doesn't mean they should—it just sounded better than "Girl Who's Known for Her Minimalist, Effortless Style.") Here, we've rounded up seven celebrity pairs wearing similar outfits in very different ways. Most people are lying when they say "everybody's a winner," but this one time, it's actually true.
The Moschino Sweatshirt
There's ADR, Queen of the Try-Hards. Then there's Jourdan Dunn, who's made Jeremy Scott's golden arches the focal point of her otherwise all-black outfit.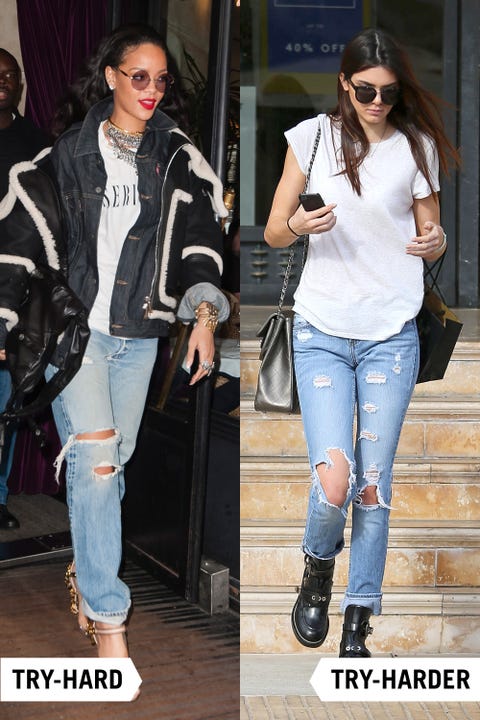 The T-Shirt and Ripped Jeans
Exhibit A: Rihanna, who's layered on all her current favorite jackets plus jewelry plus sunglasses. Exhibit B: Kendall Jenner, whose biggest statement are those Balenciaga boots.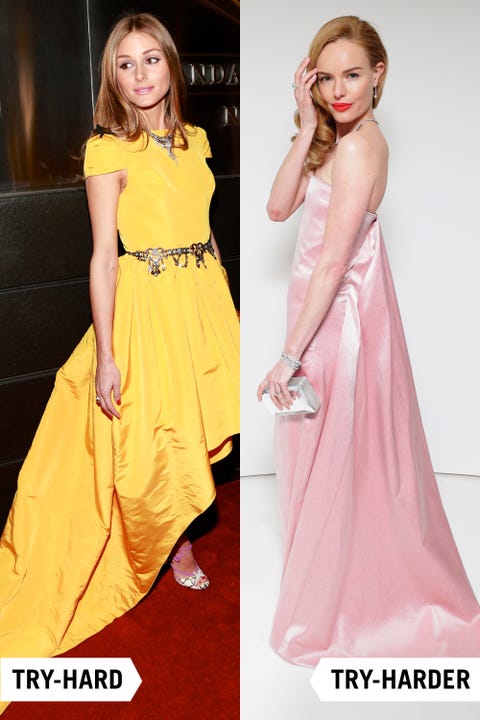 The Katie Ermilio Evening Gown
This one's a toughie. Olivia's piled on a whole Claire's store worth of accessories: a vintage necklace, a silver cuff, a Zara belt, a speckled clutch, and tasseled, ankle-tie Jimmy Choos. (Whew.) Kate, on the other hand, accessorized her Watteau-back dress with naught but a red lip and some dainty jewels.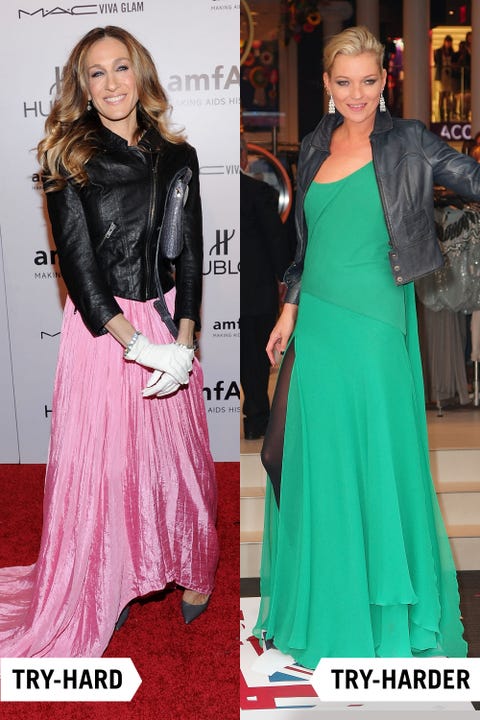 The Leather Jacket and Dress
Don't be fooled: SJP's also got a jeweled bib necklace under there, along with the white gloves. Mossy, on the other hand, styled her ensemble with scraped-back hair, small earrings, and pumps.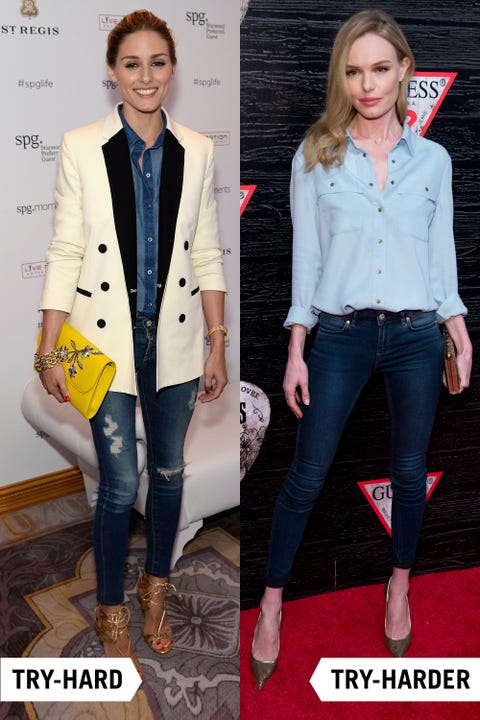 The Canadian Tuxedo
For Olivia, it's "I have to add a blazer and gold heels and a yellow bag and a bunch of jewelry, because that's what I do." For Kate B., it's denim shirt, jeans, done.
The Jacket + Sweater + Leather Leggings
They're both wearing the same sweater/leather leggings/jacket combo but with their own personal spins. Kendall keeps it to the bare minimum, while Olivia, ever the idiosyncratic dresser, creates a more involved version with layering and, duh, accessories.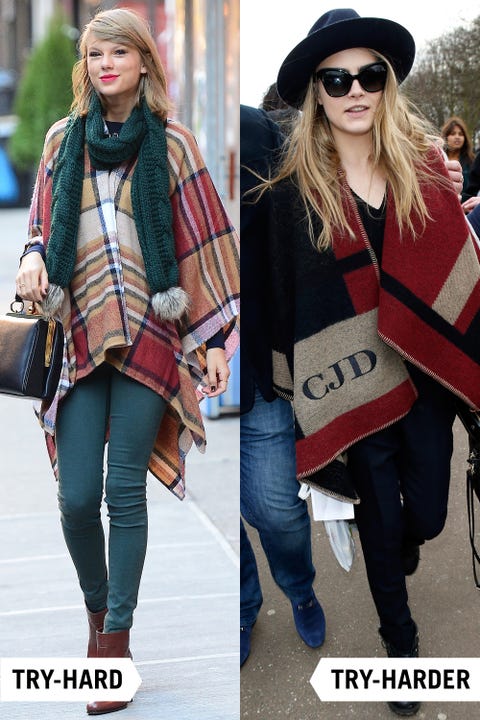 The Blanket Coat
In one corner, we've got Taylor Swift, who's picked up every tone in her plaid poncho (and then some) with her pom-pom scarf, bottle green jeans, cognac boots, and structured bag. In the other corner, there's Cara Jocelyn Delevingne, letting her Burberry monogram do the talking.
This content is created and maintained by a third party, and imported onto this page to help users provide their email addresses. You may be able to find more information about this and similar content at piano.io