What 9 Editors Would Wear if They Could Do Prom Over
If only we could redo the rest of the night 🙈.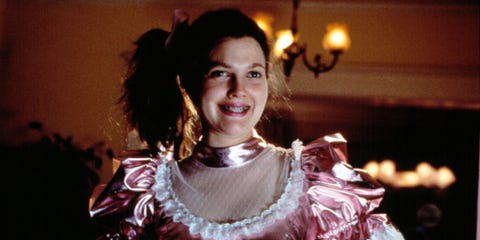 Help me with this: Is it prom season yet? You know—that night that turns out to be neither very chic nor very important to a young person's development? Because real prom is not quite so fun as imagining how you'd fix it five to 15-ish years later, nine Marie Claire editors chose what they'd rather have worn—with some vintage pics thrown in.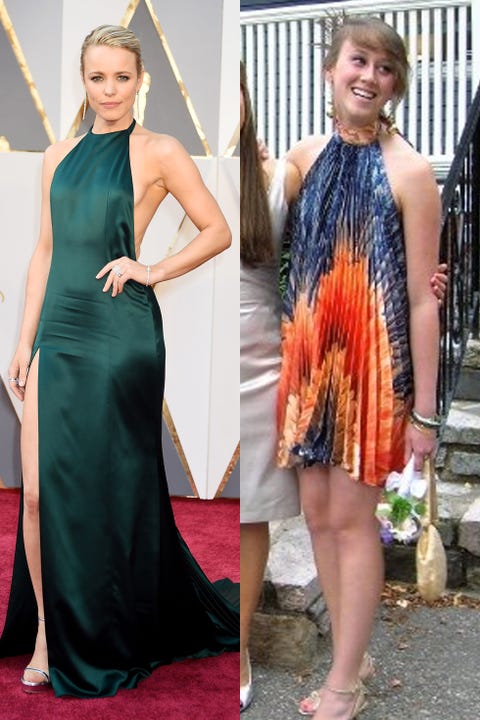 Rosa Heyman, social media editor
"If I could do prom over again, I would steal Rachel McAdams' dress from this year's Oscars. I was—and still am—really into the low back thing (see my first attempt at prom—the orange and blue dress that resembles a fan) but I've never worn a high slit. Does this hue of green look good on me? I don't know...but it would probably look better than this dress that I matched with a peacock feather (A PEACOCK FEATHER!) in my hair."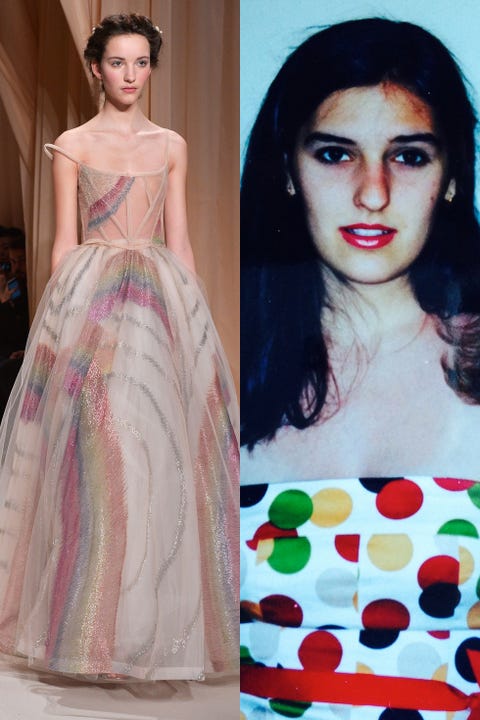 Mehera Bonner, contributor
"This Spring 2015 Valentino dress is part of a collection inspired by my two favorite things other than Doritos: Chagall and Dante. This particular gown doesn't have the embroidered stanzas that were the collection's hallmark, but it does have adult Lisa Frank rainbows, so basically it's all coming together. Tragically, it didn't come together for me during prom, because I looked like this." (We don't know what she's talking about either.)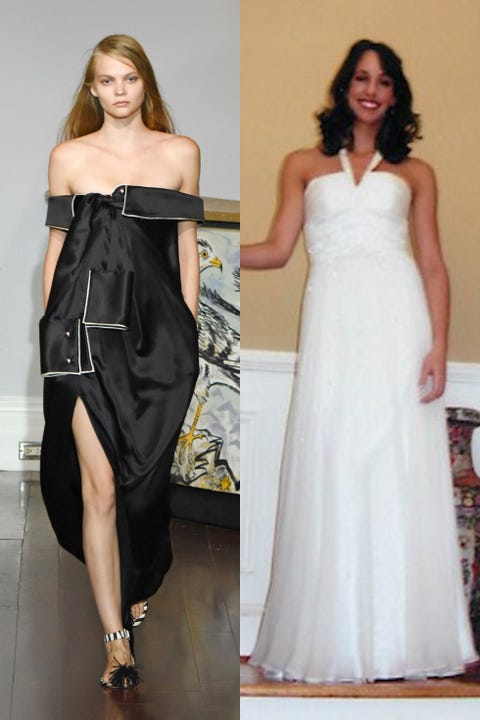 Jessica Pels, site director
"I took zero style risks in high school, so my prom dresses were all the same: classic, sparkly, and, with the exception of this one, strapless column silhouettes. Yawn. I'd be more daring this time around, that's for sure—I love this slinky, sultry, relaxed-but-provocative Monse number (which, for the record, looks 100 percent like something Rihanna would throw together for a dinner date). It would totally go over my date's head…which is kinda the point of being a little older and a little wiser: I don't really care what my date thinks!"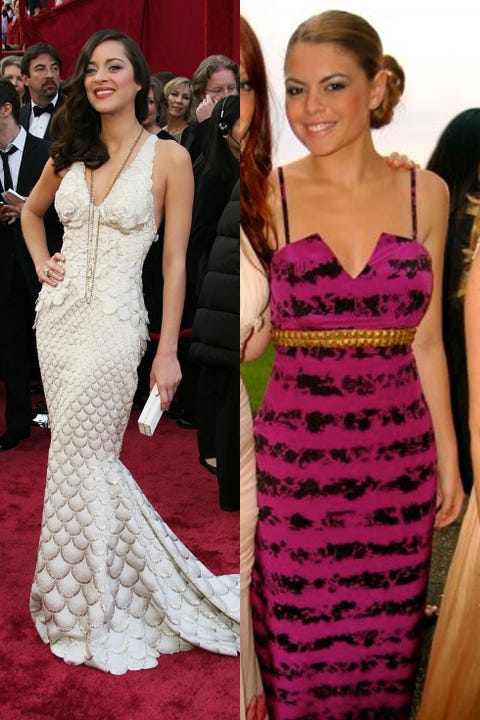 Lauren Valenti, associate editor
"The Jean Paul Gaultier Spring 2008 Couture fishtail gown Marion Cotillard wore to the Oscars is my favorite red-carpet moment of all time. I'd die to wear it today—let alone at at my senior prom. It's so, SO French in that it's an effortless yet exquisite celebration of the female form. And can we talk about that scalloped embroidery?"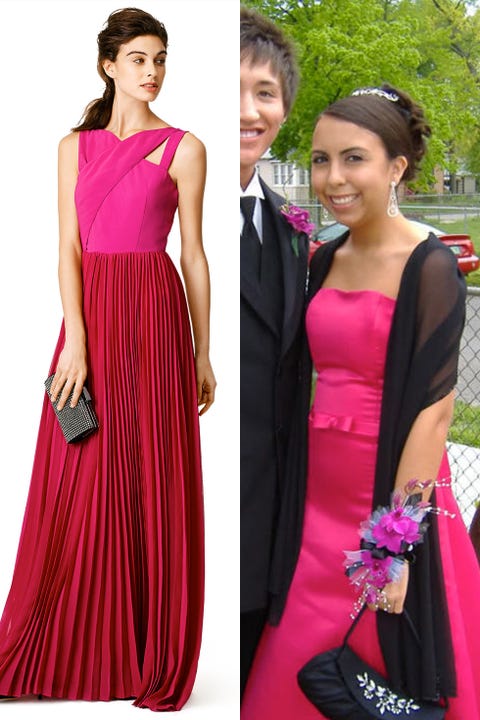 Samantha Leal, senior editor
"Sorry to say I'd probably wear something very similar to what I wore to my *actual* prom (sans see-through shaw)—something bright, but classic. (I know I'm in the minority.) This Sachin & Babi dress is kind of perfect, especially with its low back and twirly skirt. And you best believe if Rent the Runway had existed back then I'd definitely be all over that. My dress currently sits in my hometown closet, and I couldn't fit into that sucker if I tried—my hips certainly don't lie."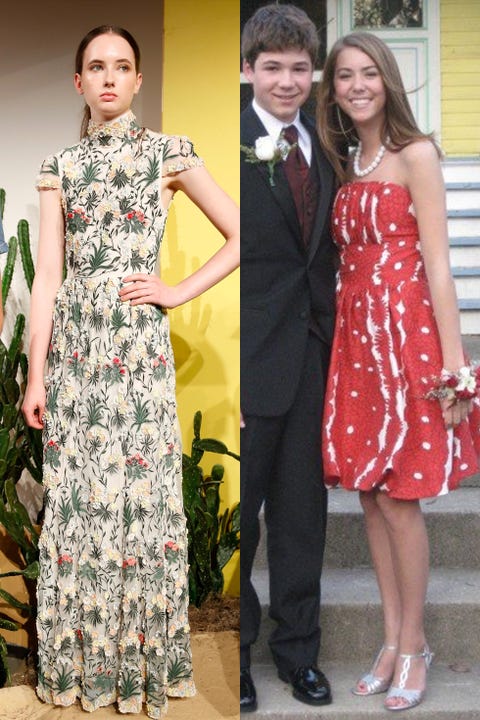 Lane Florsheim, features assistant
"This Alice + Olivia gown is the grown-up upgrade to the floral dress I wore to prom my sophomore year, complete with the then-very-on-trend bubble skirt. Similar graphic florals, just add embroidery! BRB, setting up a Kickstarter for my hypothetical grown-up prom dress..."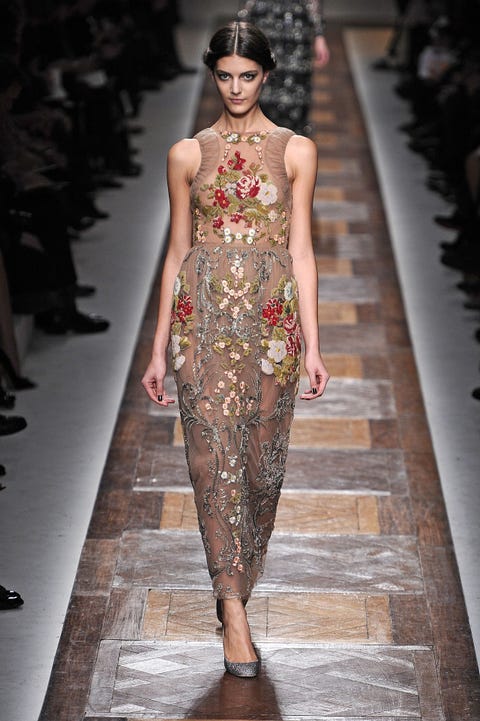 Lori Keong, assistant editor
"I'd be the girl going stag in a floral Valentino dress (casual!). I've had this dress saved on my desktop forever, even though it's several seasons old. It's classic, feminine, and so beautiful—the kind of dress you want to wear again and again. I wore my older sister's gold beaded dress to my own prom, which speaks to how timeless it was."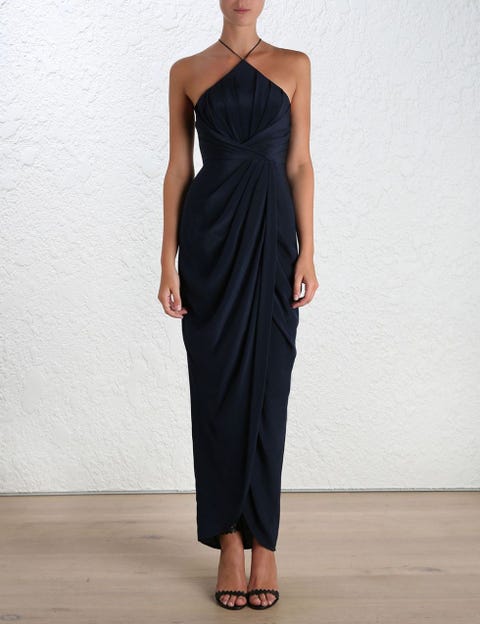 Andi Henke, beauty assistant
"If I could do prom over, I would wear something simple and timeless like this Zimmerman dress that I could accessorize simply and wear again in college and after. I would wear my hair in beachy waves and my favorite gold hoops. I saved all of money for months from my high school retail gig to buy a ridiculous gold lamé dress, only to by dumped by my boyfriend and not go to prom at all. Moral of the story: Don't let others ruin moments that are supposed to be lifelong fun memories. Do your thang!"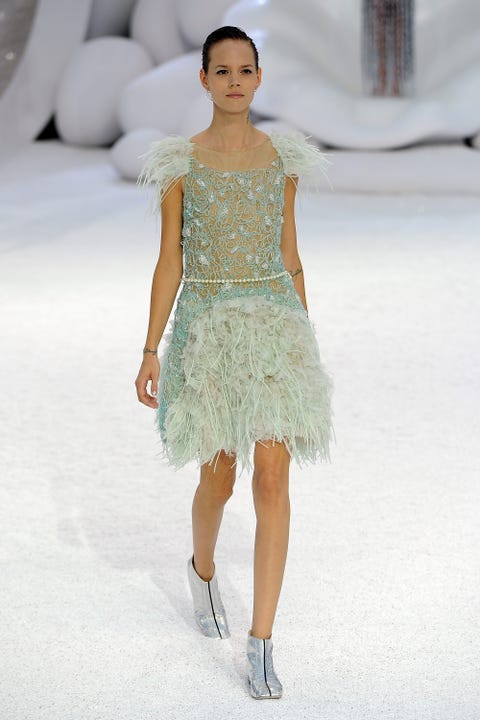 Chelsea Peng, assistant editor
"I wouldn't have gone to prom if you paid a) me and b) Clément Chabernaud to be my date, but if Uncle Karl were like 'Here, take this Chanel Spring 2012 dress, complete with the boots and the pearl body jewelry,' I'd consider it."
This content is created and maintained by a third party, and imported onto this page to help users provide their email addresses. You may be able to find more information about this and similar content at piano.io