Editors handpick every product that we feature. We may earn commission from the links on this page.
Trench Coats to Help You Embrace Fall in Style
This season's designs include leather and two-toned colors.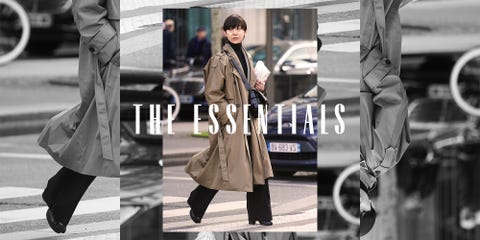 As the story goes, the trench coat was invented for the soldiers of WWI as a kind of weather-resistant replacement for the heavy wool jackets that were too bulky for the day's trench warfare. But this tale isn't entirely true: The trench coat, as we know it today, dates back to well before the war—almost 100 years before in fact. In the 1820s inventor Charles Macintosh created the very popular "Mackintosh" rainproof coat. Its rubberized cotton design was an instant hit, as it would keep its wearer totally dry from external elements. That said, internal elements, like sweat (and smell), were also trapped. So, in the 1850s, British tailor John Emary for Acquascutum and Thomas Burberry took it upon themselves to improve on "The Mack," creating lighter more breathable (read: less smelly) coats. By the time WWI came around both brands were well equipped to outfit military officers in khaki colored, lightweight, weatherproof coats. The rest, as they say, was history.
Trench coats are built to withstand weather, designed to walk the runways, and are beloved as a key fashion piece that have grown well beyond the classic beige-and-belted styles. The newest iterations are crafted in leather and vinyl with prints and ruffles that add refreshing new details. Whether you're investing in a trench for the function, the fashion, or both, there's one below that will have you feeling timeless. Our hearts are set on these modern iterations of that very same coat that has been through war and back and continues to come out ahead.

This content is created and maintained by a third party, and imported onto this page to help users provide their email addresses. You may be able to find more information about this and similar content at piano.io