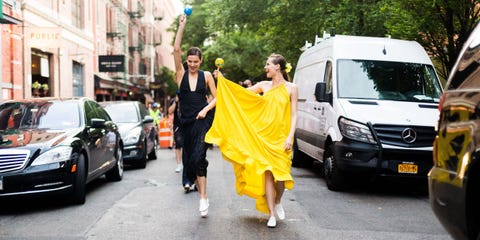 Nothing whets your appetite to the point of pinching leftover Chilean sea bass from other people's plates like the prospect of being with the same partner for 50 years. (Even if it's not your own rehearsal dinner.) But why not look the picture of propriety while wrestling with your commitment issues? Here, 10 pre-wedding party dresses that can handle as much fish consumed in anxiety as you can throw at them.
Shoulder ties and a fluted hem, because shouldn't your skirt match your drink glass of choice?
BUY IT: Aritzia, $70; aritzia.com.
Fabulous if you are the one getting hitched. Just don't do what you normally do around sauces.
BUY IT: Rebecca Vallance, $480; net-a-porter.com.
Be a goddess in blue-gray (who eats two bread rolls *and* her entire dinner à la Princess Charlene).
BUY IT: H&M, $50; hm.com.
To go with the runny yolk on the BEC you will inevitably order at 4 a.m. later that evening.
BUY IT: J.Crew, $188; jcrew.com.
So pretty you'll still cut a distinguished, Barot-esque figure when you're explaining to a nice police officer why you're jumping a playground fence in the middle of the night.
BUY IT: Saloni, $375; net-a-porter.com.
Stylist: "What you want?" You: "Make me look like a fluttery, shimmery moth." Done.
BUY IT: Mango, $80; shop.mango.com.
Okay, but tablecloths make really good belly camouflage until the wave of self-consciousness passes and you feel like dancing again.
BUY IT: Topshop, $170; topshop.com.
We might have a shoulder-tie problem, but this flirty little red number ain't one.
BUY IT: & Other Stories, $95; stories.com.
A ruched waistband with waist-whittle ribbons, so any insecurities can just waltz right on outta here.
BUY IT: Zara Studio, $189; zara.com.