I Spent Hours Scrolling Nordstrom's Spring Sale—These 30 Pieces Are Worth Your Money
I gasped.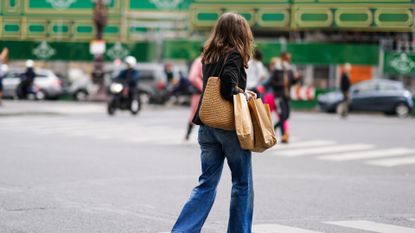 (Image credit: Edward Berthelot/Getty Images)
As someone who writes about fashion on a near-daily basis, I'm constantly scouring the web for newsworthy deals. With most days now lingering near cooler temps and with summer on the horizon, I'm looking high and low for transitional pieces right now. Think breezy linen pants, light jackets, and versatile tops. Well, I'm excited to say that I've found all of these pieces and (much) more at Nordstrom's Spring Sale.
To make way for the new season and for a fresh batch of closet newness, Nordstrom is having a massive sale from now until April 9 with discounts of up to 60 percent off best-selling brands. Everything from summer dresses and shoes to classic button-down shirts and denim shorts is on steep discount. Not only that, but you can also score jewelry, sunglasses, and handbags on sale, too.
This sale is truly a big one—as in over 14,000 discounted pieces big. But don't worry, I did all of the heavy lifting for you. Ahead, I've rounded up the best spring-to-summer pieces from every major category that are worth adding to your closet. You may want to hurry, though. Pieces were literally selling out as I wrote this story.
Shop On-Sale Tops
Shop On-Sale Bottoms
Shop On-Sale Dresses
Shop On-Sale Shoes
Shop On-Sale Bags
Shop On-Sale Accessories
Brooke Knappenberger is the Editorial Fellow at Marie Claire, where she writes across the board from fashion and beauty to books and celebrities. As a pop culture junkie, Brooke obsessively consumes and writes about the latest movie releases, streaming TV shows, and celebrity scandals. She has over three years of experience writing on fashion, beauty, and entertainment and her work has appeared on Looper, NickiSwift, The Sun US, and Vox Magazine of Columbia, Missouri. Brooke obtained her Bachelor's Degree in Journalism from the University of Missouri's School of Journalism with an emphasis on Magazine Editing and has a minor in Textile and Apparel Management.