President Obama Gave a Moving Response to the Las Vegas Shooting
And Hillary Clinton didn't mince words about gun control.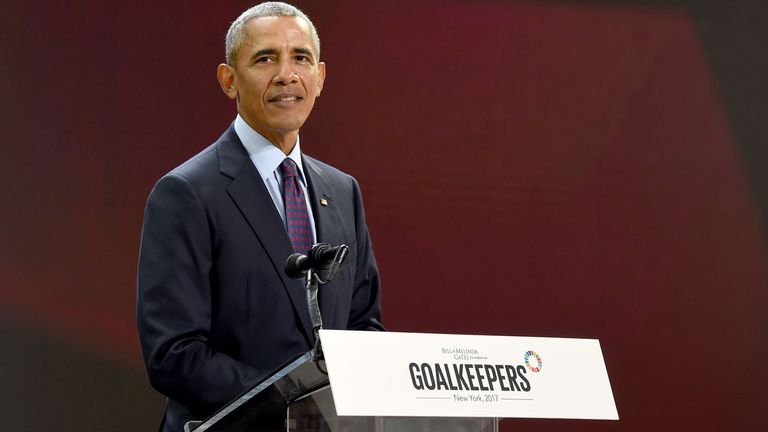 (Image credit: Getty Images)
At least 58 people were killed and more than 500 were injured Sunday night in the deadliest mass shooting in modern American history. Now, politicians like President Obama, President Trump, and Hillary Clinton are speaking out about the attack.
On Monday, Barack Obama tweeted his and Michelle's condolences to everyone affected by "another senseless tragedy."
Michelle & I are praying for the victims in Las Vegas. Our thoughts are with their families & everyone enduring another senseless tragedy.October 2, 2017
See more
Obama was an avid campaigner for gun control during his presidency, memorably breaking down in tears on live television over the Sandy Hook massacre, which left 20 children and six teachers dead. In 2015, he said that his failure to pass gun safety laws was the "biggest frustration" of his time in the White House.
Related Story
Hillary Clinton also paid tribute to those affected by the Las Vegas shooting, using Twitter to call for politics to be put aside to ensure such a tragedy isn't repeated.
Las Vegas, we are grieving with you—the victims, those who lost loved ones, the responders, & all affected by this cold-blooded massacre.October 2, 2017
See more
Our grief isn't enough. We can and must put politics aside, stand up to the NRA, and work together to try to stop this from happening again.October 2, 2017
See more
President Trump responded to the events in Nevada in a televised address calling the attack an "act of pure evil." He said the nation is united in shock, sadness, and grief, and pledged to travel to Las Vegas on Wednesday.
The Associated Press contributed reporting.
Olivia is ELLE's Digital News Editor covering pop culture, royal, lifestyle and women's news and features. Previously a features writer for Hearst's digital brands and lifestyle reporter at The Independent, she's amassed a healthy - and varied - expertise of Meghan Markle, women's and reproductive health issues and all 10 seasons of Friends.