I Let My Tinder Matches Dress Me for a Week
Tinder, you guys: You're doing it wrong.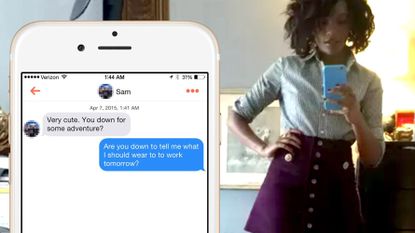 (Image credit: Danielle Prescod)
I have been single for a very long time, too long if you ask my mother or most of my friends. I find dating in New York City extremely problematic for a number of reasons, yet thanks to Facebook and Instagram, I am constantly confronted with other people's couple-y bliss. This makes me bitter but also somewhat hopeful that love is actually all around (get it?) it's just, you know, you just have to know where to look. These days, you look for love on apps. The most popular of these apps is Tinder, of course. So a few weeks ago, I re-signed up for Tinder, my little heart filled with the possibility that I could maybe actually meet a worthwhile guy. Of course, those dreams were crushed in about two minutes.
Tinder is the absolute worst. It is a cesspool filled with rude, crude, and desperate men. But I was intrigued by an upgrade to the app, the "moments" feature, that allows users share the minutia of their days with their matches. I loved this! And just like my favorite oversharing app, Snapchat, the photos dissolve (poof!) into thin air in 24 hours time. This was exciting to me because I am a chronic oversharer. I started putting up all kinds of moments: Me doing my nightly facemasks (What? You should know what you're getting!), me in the back of taxis, me going to yoga, me putting on glasses so that I looked smarter while watching House of Cards, etc. This of course, led to more creepy messages, but still I pressed on because I love an audience.
Then, one Saturday, I was dressing to meet my friends and none of those selfish fools were answering my texts so I was forced to get dressed without any outside input. Naturally I turned to Tinder to solve my problem. I put on the jeans and top I wanted to wear and then on my right foot, a thigh-high Sergio Rossi boot, on my left a cropped ankle boot from AllSaints with a stacked heel. I asked Tinder, "What boots to wear?? Short or tall" The responses flooded in immediately. I was pleased with the results, and just like when that girl decided to use Tinder to find someone to help shovel out her car this winter, I had finally found my real use for Tinder. I have a lot of matches because I am very beautiful I swiped right to everyone, and now my many matches would definitely come in handy, by helping me get dressed! So every day for one week, I gave my 1000+ Tinder matches two choices. I told them what I was doing and asked for advice. Here's what happened.
I got some predictably pervy responses, but also some excited ones:
Then, after some prompting, some votes started coming in (I mean you can't just like it and say nothing. This is not Instagram).
It really upset me when votes were tied because that meant that I couldn't get dressed until a new one was in.
This day was successful though. A lot of people complimented my outfit.
Next up is a weekend look for a Zumba class with my mom.
But then one of my worst fears of online dating came true that is that a random person recognized me from the Internet. Terrifying! But he still voted so I pressed on.
This look was a disaster. Zumba was so hot that I had to take off my t-shirt. Then I looked like a skank in an exercise class where everyone else was middle aged.
Then we entered the flares vs. skinnies debate, which to me, at this current moment in fashion, is a no brainer. But my Tinder matches, they struggled.
Then, my fashion fan came back with a lot to say:
Then this guy, who hates flares and women:
And this one really knows what's up:
This look I had to jazz up with a ton of necklaces. I have never worn that sweater like that in my life. I can't believe I even gave them that choice but I was sure they would pick the flares.
Finally, for the next day, we moved back to more feminine looks:
They started getting sassy with me:
They also tried to change their mind, but surety is an important quality in a man so I put the kibosh on that.
By the last day, I was miserable. I wanted to stop, but I am nothing if not committed to a story, so I let them choose between two pants options.
By this time, they care about me, which I guess is sweet in a twisted way.
Since I hated a lot of what they were dressing me in, I decided to dress myself for two days when I had important things to do. They are not happy about it either:
So in the end, I wore only 2 outfits that I actually wanted to wear, had to block about 200 people, and made 0 love connections. But I did get this fun story, and a little insight into the single male psyche along the way. (They just don't get flares, do they?)
You should also check out:
4 Ways to Make Him Think the Breakup Was His Idea
11 Super Weird Things All Couples in Long-Term Relationships Do
Danielle Prescod is a 15 year veteran of the beauty and fashion industry. She is currently working on her first book for Little A Publishing. Last June, she co-founded a DEI consulting firm with Chrissy Rutherford called 2BG Consulting. She is a lifelong fashion obsessive who spent her formative years in uniforms at prep school and relished in the opportunity for self-expression (and attention) that fashion provided. She primarily dedicates her time to researching how subjects like feminism and social justice intersect with pop culture. Danielle graduated from NYU's Gallatin School of Individualized Study.