I Texted With 10 Guys on Tinder Using Only Charlotte York Quotes and Here's What Happened
"I don't want to be the 'up the butt' girl!"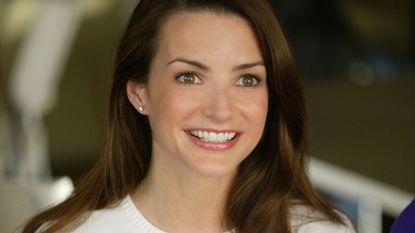 (Image credit: HBO)
After seeing how guys reacted to Carrie Bradshaw's and Samantha Jones' best lines on Tinder, I wanted to find out how they'd react to another big, bad, bold personality from the SATC crew: everyone's favorite neurotic, monogamy-thirsty prude, Charlotte York.
1. This Guy Who Was Down
Oh, it was the vagina journal comment that threw you off? Not the marriage one? Just wanna make sure we're on the same page here, okay.
2. This Guy Who Was Like, "No, Thank You"
For the record, ignoring is a soft pass. This is a hard pass.
3. This Realist
He sent that second message and I was already OMW to his place with five back issues of the Knot and fabric swatches.
4. This Disrespectful Mans
Come on, dude. That Christy Turlington softball wasn't even that weird.
5. This Curious Dude
Petition to make New Haven's new slogan, "New Haven, Connecticut: Unfortunately We're the Only One"
6. This Guy Who Just Didn't Understand My Love for Harry
He asked!
7. This Skeptic
Not unless you count this!
8. This Guy Who Just Wanted a Status Update
What stage am I in?
9. This Guy Who Hit Me Back With an Equally Fab Samantha Line
Where'd he pull that from?
10. And This Guy Who Was Already Over My Shit
Turns out, I'd already tried sending him nudes on Bumble! Gotta get that multi-platform engagement so I know it's real.
Texting as Charlotte was probably one of the most fun Tinder experiments I've done in a while (but Carrie is still my number one). Yeah, Samantha Jones and American Psycho quotes are interesting exercises in coolness and all, but TBH, Charlotte's earnest desperation felt like the ultimate experiment. She's so crazy and out there that her lines made me, a normally neurotic girl going 11/10 on any given thing, feel relatively chill and laid back. After all, you can't help but respect a woman trying to live her truth as aggressively as Charlotte.
Follow Marie Claire on Facebook for the latest celeb news, beauty tips, fascinating reads, livestream video, and more.
Celebrity news, beauty, fashion advice, and fascinating features, delivered straight to your inbox!