Where You Should Sit on a Plane for the Best Service
BRB, changing every seat we have booked for the holidays.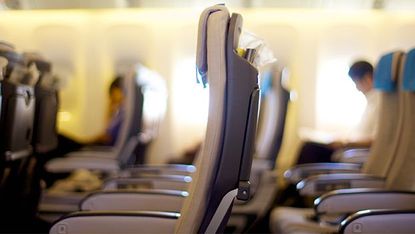 (Image credit: Archives)
Marie Claire Newsletter
Celebrity news, beauty, fashion advice, and fascinating features, delivered straight to your inbox!
Thank you for signing up to Marie Claire. You will receive a verification email shortly.
There was a problem. Please refresh the page and try again.
There are lots of factors that come into where we choose to sit on a plane. They might vary according to how fearful a flier we are, how late we are at booking our seat or our preference when it comes to window and aisle seats.
But according to some cabin crew, there is another important factor that we might be missing from our list, and that's where we'll get the best service.
Of course, if you've got the money for it, then the best service will always be at the very front of the plane in first or business class, but if you're flying economy, apparently where you sit could make a difference, too.
Flight attendant Annie Kingston told Oyster: "While most passengers tend to choose seats that are at the front of the aircraft, so that they can disembark first and have a better chance of securing their preferred meal option, flight attendants know that if you're sitting towards the back, you'll receive the most attentive service.

"The reason is simple: We like to avoid responding to call bells from the front of the plane because answering one means potentially flaunting whatever item the passenger has requested to everyone else along the way.
"This can cause a problem since planes often don't have enough extra vodka, pillows, earplugs, and toothbrushes, or the time on shorter flights to deviate from the service schedule. For passengers sitting near the back of the plane, however, it's much easier to slip in that second mini bottle of wine."
Extra wine? We're never sitting at the front of a plane again.
Celebrity news, beauty, fashion advice, and fascinating features, delivered straight to your inbox!
Jess Edwards is the Editor of Cosmopolitan.com/UK, overseeing all things digital.