This Company Will Pay You $60,000 to Live in Cancun for Six Months
Dream job alert.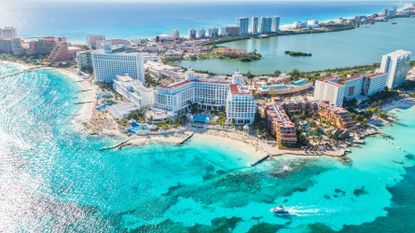 (Image credit: Getty Images)
In new dream job news, Cancun.com is hiring a new CEO to represent the vacation paradise of Cancun, Mexico as well as the nearby Riviera Maya and Yucatan Peninsula, but it's not what you think. It's EASIER than you think! You don't need an MBA or, quite honestly, any experience at all to qualify to be the next "Cancun Experience Officer." As long as you have a valid passport and are at least 18 years old, you can apply.
So, what does the job entail?
In addition to living and working in Cancun for six months—all expenses paid—you'll also make $10,000 per month in exchange for experiencing Cancun's hotels and restaurants, participating in local volunteer opportunities and sharing it all on social media.
You heard us right. You can make $60,000 by sharing how you're living your best life in Cancun for six months.
"We can't wait to get started on our search for a CEO to be the face and personality of Cancun. Getting paid to live and travel around Mexico is a once in a lifetime experience," said Chad Meyerson, general manager at Cancun.com. "It's truly one of the most remarkable travel destinations, and we want to make sure we find the right person to help us show the rest of the world everything Cancun has to offer, from the culture and community to its beautiful hotels and pristine beaches."
Essentially, TravelPass Group and Best Day Travel Group, the co-owners of Cancun.com are looking for an outgoing person who can handle the responsibility of generating videos, social media content and blog posts for Cancun.com and its social channels to promote travel to Cancun. Most importantly, the ideal candidate must be available to live in Cancun full-time between March to August 2018.
If this sounds like you, you have until Friday, December 17, 2017 to submit a one-minute video describing why you're the best for this job here.
Lyndsey Matthews is the Destination News Editor for AFAR; previously she was a Lifestyle Editor across all of Hearst Digital Media's brands, and a digital editor at Martha Stewart Weddings and Travel + Leisure.