5 Reasons to Skip the Resort for an Adventure Cruise
Take it from somebody whose life was just changed by one.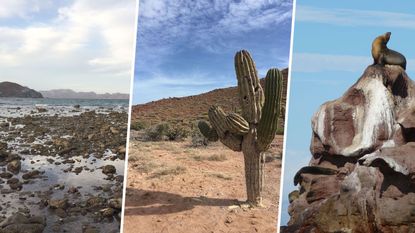 (Image credit: Design by Betsy Farrell)
Remove a New Yorker from her native concrete habitat and chances are she's going to feel out of her comfort zone pretty quickly. Imagine my anxiety, then, when—in the middle of the Pacific Ocean (with no bottom in sight)—I felt an arm around my shoulders directing my attention to something massive beneath the water heading straight toward me. "LOOK! LOOK!" I heard our guide shout in my ear. I ducked my head beneath the water only to find myself face to face with a giant gaping mouth.
This wouldn't be the first time on this expedition—an adventure cruise through the Baja California islands with National Geographic and Lindblad Expeditions—that I would experience a total first for me.
The nature trip is seven days in the Pacific with a full crew and about 60 fellow guests, and it ensures once-in-a-lifetime encounters with local wildlife (see: the massive whale shark above). All of which is to say: If you've only ever known the typical cruise liner experience of sand and tanning oil with a drink in hand, there's something way better out there. Here's why.
For starters, if it's your first time "living" on a smaller boat then your average cruise liner, the ride on the National Geographic Seabird might take some getting used to. The boat tends to dip and rock you like a baby, but once you've got the hang of it, it's not so bad. And thankfully they have enough anti-nausea medication to keep you content when you're on the open ocean and knocked out completely when you're asleep (basically me, every single night).
Most cabins fit two people comfortably in twin beds, with a bathroom that also functions as a convertible shower. It's kind of like a cozy summer camp experience, except the cabins are cleaned every day while you're away exploring and the service is truly first-class (you return back to your bed every night to find a different flavored chocolate on your pillow).
Oh, and did I mention that you're privy to some of the most incredible animal displays right on your (figurative) doorstep? The ship's light attracts sea creatures that feed and seek prey in its glow. One night, we witnessed a circling, teeming squad of rays in a fish feeding frenzy. Another night, someone motioned me to the back deck, where a beautiful bioluminescence display (where thousands of sea creatures naturally emit light in the water) was playing out, a new wave of brilliant color receding with every wave.
The ship docks off a new island almost every day, from the beautiful greenery of Isla San Jose, to the desert-like hills of Isla Esperitu Santu, to the white-spackled rocks of sea lion den Los Islotes. Riding the small Zephyr boats out to each new island every day promises an entirely experience.
While exploring the islands, you won't have to do anything that's out of your comfort zone and daily excursions often range in difficulty. Prefer taking the leisurely scenic route? Go on a shutterbug-friendly slow nature hike with the resident naturalists who can point out the local flora and fauna, along with cool facts about their biology.
Prefer to flirt with danger? Take a steeper, adrenaline-boosting hike on uncharted trails up the hillside with seasoned nature specialists and hikers who can spot you if you're feeling unsafe.
Afternoon excursions allow for more time to relax on the beach with a book, or to take off on the water in kayaks, paddleboards, and snorkel gear.
Once you get the hang of snorkeling with angel fish and IRL Dorys, there are two activities that have you actually swimming among large sea creatures (consider the whale shark). There's nothing like being up close and personal with playful sea lions who nip at your flippers and circle your body like swimming puppy dogs. Even when you're out there being zapped by teeny tiny jellyfish and plankton, you just have to appreciate the moment for what it is. You're in the middle of the ocean in what looks like a Planet Earth video! The views are incredible! Soak it in all in!
As a super anxious person, I came into this thinking, "I can't snorkel. I can't breathe. This isn't going to work." But the undersea specialists worked one-on-one with me to make sure that I was comfortable in the water and the rest was history. I can now say in retrospect that the experience of swimming alongside a whale shark was one of the most terrifying but rewarding moments of my life. Resilience goals 2017, as they say...
If you're thinking that you don't have the sea legs to stomach all of this open ocean, too, there are also opportunities to shop at the flea markets, watch the local artisans create trinkets, munch on local goodies, and explore on-shore in the towns of Los Cabos and La Paz. Everyone is super friendly and you'll probably be tempted to take home some hand-painted glassware in your carry-on.
When you're with a small crew who share Zephyr boats, see each other at meal times, and take the same hikes and excursions, you get to know each other fast. The camaraderie on my boat with strangers from far-flung areas of the U.S. like Washington and Georgia and Michigan was real, and something I've missed on trips where I kept to myself in a foreign environment. The one shared quality of people going on these types of trips is an innate sense of curiosity, and it made for some truly engaging conversations.
4. The Food Is *Incredible*
Every meal on the Seabird is slightly different. After the early A.M. wake-up call, camp-style, everyone gathers for a buffet breakfast of morning staples like fresh fruits, toast, and bacon and eggs, with a selection of speciality coffees to suit those who only sip on lattes and au laits.
The chefs and kitchen crew work with 100 percent organic ingredients from local farms, which is probably why everything tastes so freakin' good.
Lunch varies from themed meals like Mexican tacos and BBQ cookouts—a saving grace when you've just returned from an exhausting morning on shore—served with fresh fruit spritzers and a soup of the day like carrot ginger or lemon farro.
Dinner is even more sumptuous, from a personalized pick of a main course for dinner, along with a starter course and dessert. Imagine fresh seafood, delicious salads, and tasty meat cooked and plated to a tee, along with island-fresh fruit juice, and a choice of delectable desserts. Highlights include an herb-encrusted rack of lamb, red snapper with veracruzana sauce, gnocchi with brown sage sauce, and Mexican wedding cookies with salted caramel goat milk ice cream. Farm to table enthusiasts, eat your heart out.
For boozehounds, there's a stacked selection of wines to choose from and a bartender on board to serve up your favorite cocktails. Personally, I couldn't participate, but hats off to all those who have the stomach to drink on a boat. 🙏
5. You'll Learn More About Local Culture and Wildlife (and Yourself) Than You Can Imagine
The resident experts, trained naturalists, and underseas specialists on board are some of the most patient and knowledgeable people I've ever encountered and they work super hard to make sure you're getting something out of the trip. After lunch and dinner, they offer educational presentations on everything from the history of Mexico to photo classes to explainers on how to identify every variety of tropical fish you'll spot underwater.
A huge aspect of all the Lindblad Expedition trips, too, is to teach guests about the natural habitats and species of the regions they visit, and how important it is to preserve these spaces. You learn a lot about endemic species (AKA flora and fauna you won't spot anywhere else in the world), but also how animals and plants survive when they're living in a salty, arid environment. It's the ultimate trip for the person who was always eager to learn in biology class, and even for those who weren't 🙋, there's always a fascinating take-away.
After all of the crew members bid adieu to all of us at the Port of Los Cabos to scatter for our respective airports, the resident doctor and nerves-soother Mary Maxwell Young gave me a hug and marveled, "You did things you never even thought were imaginable!" I can't help but feel that she was right. This scaredy-cat New Yorker will never be the same, knowing that she's got the courage to grapple with anything—whale shark-sized or otherwise—in her path.
Helpful Tips
1. Don't be afraid to take risks. On the trip, you'll be presented with a couple different opportunities that might make you go "nah" because they're just plain scary. Jumping into waters full of tiny jellyfish might not be the most comfortable way to observe fish, and scaling large boulders might not be your cup of tea, but honestly, how many opportunities do you get to do that? Take advantage of what's out there before the FOMO sets in.
2. On that note, bring long leggings...for the jellyfish. If you have a low pain threshold and get cold easily, you might need more protection than your average cropped wetsuit can give you, so bring either tights or leggings to layer underneath (and maybe a henley to protect your arms). For the excursions, a smaller backpack, shoes you don't mind getting wet, sunglasses, and some good waterproof sunscreen is key.
3. You'll want to have a camera. This is the ultimate trip for shutterbugs and it pained me not to own a DSLR when we were exploring the idyllic, serene islands. Your average iPhone 7 can do wonders, but if you're serious about photography, here's the time to pull out all the stops to capture all the #views and the wildlife. A waterproof go-pro might be a necessary splurge, too, to shoot the best underwater footage. I'll leave you with this gem:
Follow Marie Claire on Facebook for the latest celeb news, beauty tips, fascinating reads, livestream video, and more.
Celebrity news, beauty, fashion advice, and fascinating features, delivered straight to your inbox!